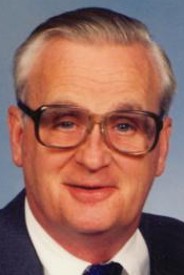 Patrick A. Resh, 73
Patrick A. Resh, 73, of Lancaster died of natural causes on Thursday, March 9, 2006, at Hospice Essa Flory Center.
Born in Lancaster he was the son of the late Eugene F. and Elizabeth M. Baker Resh. He was married to Doris A. Yecker Resh for 52 years on July 24th, 2006.
Patrick worked 20 years at both the Local Union #19 as a Sheet Metal Worker where he retired in 1973, and later at St. Anne's Catholic Church as a Maintenance Mechanic where he retired in 1994.
He was in the Navy and the Air Force as an Airman First Class where he served in Korea for one year.
Surviving besides his wife are six children; Michael A., married to Theresa Fulmer Resh of Holtwood; Lawrence P. Sr., married to Louise Geib Resh of Willow Street; Margaret M., married to Jan Gayman of Columbia; Patrick J., married to Sherri Good Resh of Lancaster; Timothy J., married to Kimberly Bixler Resh of Mountville; Joanne M. Resh of Mountville; 12 grandchildren; 5 great grandchildren; three brothers; Eugene F. Resh Jr. of Lancaster; Francis Resh of Woodbury, NJ; William Resh Jr. of PA; two sisters; Elizabeth Brady of Lancaster; Patricia Douts of Glenmoore. He was preceded in death by one brother, William Resh Sr.
Mass of Christian Burial will be held at St. Anne's Catholic Church, 929 N. Duke St., Lancaster on Monday at 11:00am. Friends may call at the Charles F. Snyder Funeral Home, 414 E. King St., Lancaster on Sunday evening from 6:00pm until 8:00pm and again at the church on Monday morning from 10:30am until time of service. The rosary will be recited at the funeral home on Sunday evening at 7:30pm. Interment at St. Mary's Catholic Cemetery. In lieu of flowers contributions may be made to Hospice of Lancaster County, P.O. Box 4125, Lancaster, PA 17604.
Leave a condolence on this Memorial Page