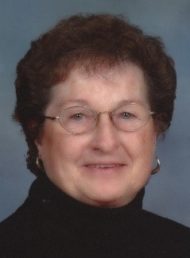 Patricia R. Bostick, 86
March 26, 2020
Patricia Rita (McElwee) Bostick, 86, of Lancaster, passed away peacefully on Thursday, March 26, 2020 at her daughter Rosemary's home in Meadowbrook, PA after a courageous six year battle with lung cancer.
She was born in the PA coal mining town of Mount Carmel to the late Gerald Francis and Stella (Wasielewski) McElwee. Pat shared 58 beautiful years of marriage with her beloved husband and soulmate Frank W. Bostick before his passing in 2013.
A graduate of Kulpmont High School, she completed her studies at St. Joseph's Hospital School of Nursing in Lancaster and became a Registered Nurse. Pat began her career in labor and delivery at St. Joseph's Hospital, transitioning to geriatric nursing at the Paul Heisey Nursing Home for many years. The Bostick family moved to Ivyland, PA in 1977 where she worked part time at various nursing homes in the Bucks County area. Pat and Frank returned to Lancaster in 1986, where they were able to spend the rest of their years together with their family and lifelong hometown friends. Pat continued working and finally retired from nursing at the age of 75 from The Long Home in Lancaster.
Pat was a parishioner of St. Joseph's Catholic Church, and previously while raising their family, were active members at Sacred Heart, where she devoted much of her time to church and school activities (Women's Guild President, Cub Scout Troop Leader, and much more). She also enjoyed all these years with their friends at the Knights of Columbus, and luncheons with her nursing buddies and the St. Joe's Golden Hills Club.
Pat is survived by her five devoted children: Patrick J. Bostick and wife Cindy of Lititz, PA; Rosemary Bostick and husband Paul Vidas of Meadowbrook, PA; Gerald F. Bostick, husband of the late Diane, of Orlando, FL; James E. Bostick and husband Liam of Salem, MA; and Daniel T. Bostick and wife Rachel Woods of Nashville, TN; as well as seven adoring grandchildren (Gerry, Patrick, Courtney, TJ, Adam, Sarah, Max) and five cherished great grandchildren (Ellie, Trey, Benjamin, Griffin, Rhys). In addition to her beloved husband Frank, Pat was preceded in death by their sweet first born infant son Franklin Bostick III.
Pat is also survived by two of the 8 siblings: Andrew in MS, and Joseph in CT; as well as her loving cousins who were like siblings to her: Mary Lou Lammers, Mark, and Tom McElwee (all from the Lancaster area) and Jeanette Jensen of Seminole, FL.
A private burial will take place in St. Joseph's New Catholic Cemetery. In light of the current global pandemic, a future Mass at St. Joseph's Catholic Church and "A Celebration of Pat's Life" will be announced to all at a later time.
In lieu of flowers, memorial contributions may be made in Patricia Bostick's name to The Nursing Foundation of Pennsylvania: www.TheNFP.org [Scholarship Fund] to aid current and future nursing heroes.
Leave a condolence on this Memorial Page
Condolences to the Family
April 14, 2020
Bosticks' , we are saddened by your loss. Will keep your family in our thoughts and prayers.
Jeff, Carolann, & Tim Duke
April 09, 2020
Dear Bostick Family,
My parents Jerry and Tine Goldbach were life long friends. Frank and Jerry went to LCHS together and later Patrick and I went to Sacred Heart and LCHS. Both your parents attended my wedding and I still have the sewing kit your mother gave me as a wedding shower present. Pat was a good friend of Tine as well and there were many fun times that were had playing cards as well as the shenanigans that they all enjoyed as part of the Knights of Columbus. Your mom lived a long and well lived life having seen her children grow and also give her grandchildren. While these are sad times for all, I hope you find joy in memories of your mom.
Fondly Brian and Peggy Schooling
April 07, 2020
At this very hard time,I want to send my sympathyto all the family,and prayers for each of you.I remember your parents from way back in Sacred Heart days.Love,Judy Weaver
April 07, 2020
I knew Pat from eating at OHallorans ,over many ,many years . First with her husband , and later after he passed away. We had many , many great conversations , many about her family. She was a neat , and classy person ,and I enjoyed her immensely. So sorry for your loss , condolences to all . Deepest Sympathy. Gail Smith
April 05, 2020
Thoughts and prayers for Pat's family!
Marie Haney
April 03, 2020
To Jim Bostick and family,
I'm so very sorry about the loss of your mother, sister, and grandmother, Patricia. I hope that happy memories of her sustain you throughout your grief.
With respect,
Wendy R Sheppard
April 01, 2020
Pat, Resemary, Gerald, Jim and Danny:
Deeply saddened, you have my deepest sympathy in the loss of your wonderful mother. She was a great lady and friend. We have many fond memories of our family get-togethers.
Leo Kaufhold
March 31, 2020
So sorry for your loss Jim bostick.
Maris prost
March 31, 2020
I would like to extend my thoughts and prayers to family and friends of Pat. My heart goes out to all of you during this difficult time. To Pat – I want to thank you for allowing me the opportunity to meet and engage with your son, Jim Bostick. He is a good, caring human being that most likely benefited from a loving and strong family. May you find peace and happiness in the ever after…
Peggy Johnson