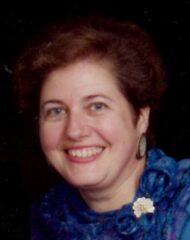 Patricia Jayne Feirick, 77
January 06, 2022
Patricia Jayne (Young) Feirick entered heaven January 6, 2022, just 4 days shy of her 78th birthday. Pat, as her friends called her, was born to the late Jane L. Mowrer & Richard E. Young on January 10, 1944. She grew up in Strasburg, PA graduating from Lampeter Strasburg High School in 1961. In 1964 she married Larry Lee Feirick and had four children.
Pat enjoyed life and lit up the room with her smile, quick humor and expressive eyes. She loved flowers and decorated her home each summer with interesting, eye-catching plants. Pat loved to cook and bake and was known for sharing food generously. Pat loved to read and encouraged a life-long interest of reading within her children. She was outgoing and hosted game and puzzle days with friends and family. She was a caring person who made room within her heart to love others. She also had a deep love for her dogs, finding much happiness with a dog by her side.
Pat was musically gifted and participated in church choir, the Agape Trio and bell choirs at Long Memorial United Methodist Church, Lancaster and First United Methodist Church, Lancaster. Also civically minded, Pat volunteered at the Ronks and East Lampeter Primary and General Elections. She volunteered in the Art and Craft Department at the West Lampeter Fair.
Pat came to know the Lord in 1967. Her favorite verse was Ephesians 2: 8 & 9, For by grace are you saved through faith, and that not of yourself, it is the Gift of God, lest anyone should boast. She was a member of Calvary Church, the Overcomers Sunday School Class and served 5th graders in Children's Church for over 20 years.
An only child, she is survived by her husband Larry, and their 4 children: Lee Lee (Esther Stralnic) Feirick, Jeffrey (Carol Barber) Feirick, Melody (Greg) Dillman, and MJ Feirick. Her surviving eight grandchildren in order by birth are Jedd (Kim Wertz) Dillman, Thomas Feirick, Cole Dillman, Alicia (Peter) Shuey, Rory Feirick, Calvin Feirick, Cathy Feirick, and Josiah Feirick. She was very pleased to learn just prior to her death that her first great grandson will arrive this June.
Due to the COVID-19 pandemic, Pat's memorial service and celebration of life will be delayed until Saturday, May 7, 2022. Details will be published at a later date. The family asks that you not send flowers. In lieu of flowers, contributions in Pat's memory may be made to Hospice & Community Care or Pet Pantry.
Leave a condolence on this Memorial Page
Condolences to the Family
January 21, 2022
wE WISH TO EXPRESS OUR SYMPATHY TO THE FAMILY, YOU ARE IN OUR THOUGHTS AND PRAYERS. gENE & sARA kUTZ
January 16, 2022
I'm so sorry to hear of Aunt Pat's passing. My thoughts and prayers go out to all of you.
Kim Binderup Showalter
January 16, 2022
Larry, I am so sorry for your loss.
our families prayers are with you and your family.
January 14, 2022
Dear MJ and family ,
Heartfelt condolences on the loss of MJs mom whom MJ loved dearly and would talk about her so much. MJ made so many long trips to Lancaster .A mother is so special but please know we are all here with you to encourage, cheer and hold you up ..
January 14, 2022
So sorry to hear of Pat's passing. The amount of memories growing up with her as a second mom are endless. She brought joy to so many through her musical gifts, her cooking, her laughter and stories. My mom couldn't have had a better best friend and they were able to celebrate their birthdays again together this year. May the Lord comfort you all during this time of loss and comfort you in the knowledge that we will all be reunited again one day.
Love you all,
Shannon
January 13, 2022
I always took pleasure in seeing Pat for her cardiac care. She would brighten the office with her cheerful smile. Take comfort in knowing she helped bring happiness into this world. I will keep your family in our prayers.
January 12, 2022
So Sorry to hear of Pat's passing. I remember having such a good time playing handbells with her at church. I am wishing you peace at this time

January 12, 2022
Condolences to the entire family.
Kris and Lee Bitner
January 12, 2022
Our thoughts and prayers are with the Feirick family at this difficult time. We knew Pat and her little "Buddy" here at the NHVH Veterinary Hospital for many years. She was always friendly, kind and a pleasure to see at her appointments, and of course enjoyed seeing Buddy. We are sure she will be missed by all and our thoughts and prayers are with her friends and family.
January 12, 2022
Larry
So sorry to hear of Pat's homegoing! She was always was great classmate & was always glad to see her at reunions . My thoughts& prayers are with you & the family at th his difficult time.

January 12, 2022
So sorry for the loss of your wife and mother. Our deepest condolences to the entire family.
Jim and Tammy Martin
January 11, 2022
Our thoughts and prayers are with Larry and the entire family during this difficult time.
January 11, 2022
Dear Larry and Family,
I was so sorry to hear of Pat's passing. I can just imagine mom taking Pat all around Heaven and showing her everything!!! So many memories I hold dear of our families being together. It has truly been an honor and privilege having had you and Pat a part of and influence on my life.
May the Holy Spirit comfort and strengthen you all during this time of sadness and parting. Hold dear to the promise of that grand reunion in Heaven of all the saints of God. Won't eternity be wonderful!!! No more sickness, sadness or parting…being forever together with our Lord and Saviour, Jesus Christ, Who made the Way for all who believe and receive His free gift!!

With heart-felt sympathy and love,

-Cristel 😊
January 11, 2022
Pat was always a special person in my heart. Perhaps she made everyone feel this way, but I always thought she had picked me out as special. I met her as one of the many 5th grade girls she served. Later she encouraged me as we practiced handbells together and then drove me home. She was one of the nicest and most jovial people I think I'll ever
January 10, 2022
On behalf of the entire Harris family, we would like to offer our sincerest condolences to Jeff and the entire Feirick family on the loss of Patricia – May her memories be a beacon of light in your journeys ahead – god bless you all !!!
January 10, 2022
It is very sad to hear demise of Mother of MJ
Our Heart felt condolences and let Jesus give lot of strength to the family to bear this loss.Rest in peace.
Pearls family
January 09, 2022
So sorry for your loss. She was a wonderful lady who will be sadly missed.
Marilyn and George Nyland
January 09, 2022
My sincere sympathy and condolences to you and your family on the loss of your mother may god bless you all!!😢🙏🙏
January 09, 2022
Susan and I extend our deepest sympathy to all of you for your loss.