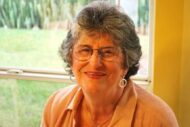 Patricia Ann Galbaugh, 83
August 15, 2021
Patricia Ann Galbaugh, age 83, passed away at her home, on Sunday August 15, 2021. Born in Lancaster PA to Edward and Ellen Elizabeth Benner on May 10, 1938, Patricia was one of nine children. She grew up in Columbia PA and attended Columbia High School. She was a retired waitress and was a member of the Mountain Rock Church of Christ in Hershey.
Patricia is survived by her husband of 49 years, Russell Galbaugh; her children, Ellen Houshower, Judy Swope, Lowell Hoover and his wife Angie; her 11 grandchildren, 15 great- grandchildren and one great- great-grandchild; her siblings Mary Ellen Kready, George Snyder, Rick Snyder, Sandy Hoover and Larry Snyder. She was preceded in her death by her three sons Lowell, Raymond and Rodney, her siblings Jack Benner, Dolly Dukeman and Ed Benner and her granddaughter Patty May.
Pat will be remembered as being a godly woman who passionately loved her family. She brought beauty to a broken and hurting world with her compassion, love, and strength. Her life touched and impacted everyone who met her. Well known for her inspiring walk with God, Pat's greatest gift was the ability to bring out the best in people, making them feel believed in and valued. To know Pat was a privilege and an honor.
Pat has gone to the place she has longed for, hoped for, and dreamt about for so long – eternity with her God. And there Pat is reunited amidst great celebration by those she loves. Free from pain and suffering she waits for us.
A celebration and remembrance of Patricia's life will be held on Saturday, August 21, 2021, at St James Church, 505 Woodcrest Ave, Lititz, PA at 3pm. Flowers may be delivered to 1 Crest Drive, Lititz. Memorial contributions may be made to St Jude's Hospital at 501 St. Jude Place, Memphis, TN 3810.
Leave a condolence on this Memorial Page
Condolences to the Family
September 07, 2021
So very Sorry for your loss, Pat ( Mrs. Galbaugh) to me growing up in the Becker development, was always a Positive influence on everyone she met.In our thoughts and prayers 🙏 Mike and Mildred Metzler
September 01, 2021
Russ We are so sorry to hear of Pat's passing Our prayers for you and your family Ken and Nan
August 21, 2021
Hi I worked with Pat at the store for many years. What a beautiful woman and a absolute pleasure to have as a friend. Always enjoyed seeing her and Ellen at Matthew 25. Had many a good memories of them both. Will be very missed. Love to all.
August 21, 2021
Sorry to hear about Pat.
August 19, 2021
Pat was an amazing person that brightened up every room she came into. Was lucky to have her as a patient for many years. Will miss her her generosity and her infectious smile!
God bless you Pat!

Tom Andersen MD
August 18, 2021
My prayers goes out to the family

Donald McMullen
August 18, 2021
I had the privilege of having Pat work with us at the Curiosity Shoppe. She loved the customers and they loved her! She brought a genuine warmth and a lovely laugh with her whenever she worked! I personally adored her. She would talk about the family that she loved so much and so intensely. She also said, many times, how lucky she was to have such a great husband and partner in life! People like Pat are treasures and I will ALWAYS smile when I think of her and that mischievous grin. I love you Pat, rest well dear friend.
Services

Saturday, August 21, 2021
3:00 PM
St. James Church
505 Woodcrest Ave
Lititz, Pennsylvania 17543

Map and Directions