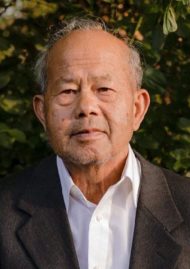 Pang Seng Yang, 82
October 27, 2020
Pang Seng Yang (Paj Xyeem Yaj) was born on July 8, 1938 in the village of the Mojsab, Xiengkhouang, Laos. He passed away on October 27, 2020 at the age of 82 in his home with his family by his side. He was the son of Zoov Nus Yang and Mee Moua. He was the husband of Xia Moua for over 60 Years.
Pang Seng brought his family to the US in 1979 to escape persecution in Laos after the Vietnam War.
Pang Seng retired as a maintenance worker/general laborer at Terre Hill Concrete where he worked for over 20 years. He was very crafty and loved to weave baskets. With his kind heart, he gifted them to many people. He loved to garden and do yard work, but what he loved most of all was his family and friends. He always welcomed people into his home. He was a member of the Hmong Alliance Church, Leola, PA.
Pang Seng and Xia had four children; Nhia Hawj (Herr Yang and Mai Neng Lee Yang), Txawj Pes (Petou and Mai Thao Yang), Huab (Houa & Tswv Choj Lee) and Xaslev (Sam and LaoXang Thao). They also welcomed their two nephews, Ntxoov Nrua (Doua Lee) and Toob Loob (Long Lee), into their home and loved them as their own. They had three daughters who preceeded in death: Mai, Dia, and Ger. They have a total of 26 grandchildren and 13 great grandchildren. He had four siblings; Niam Tsav Vaj Moua, Pojsua, Foom and Txhiaj Fwm.
Funeral services will be held from 6:00 PM to 9:00 PM on Friday, November 6, 2020 at Charles F. Snyder Jr. Funeral Home & Crematory, 3110 Lititz Pike, Lititz, and again from 9:00 AM to 11:00 AM on Saturday, November 7, 2020. Interment will follow at Weaverland Mennonite Cemetery, East Earl, PA.
Leave a condolence on this Memorial Page
Visitation

Friday, November 06, 2020
6:00 PM - 9:00 PM
Charles F. Snyder Funeral Home & Crematory
3110 Lititz Pike
Lititz, PA 17543

Map and Directions

Visitation

Saturday, November 07, 2020
9:00 AM - 11:00 AM
Charles F. Snyder Funeral Home & Crematory
3110 Lititz Pike
Lititz, PA 17543

Map and Directions

Services

Saturday, November 07, 2020
11:00 AM
Charles F. Snyder Funeral Home & Crematory
3110 Lititz Pike
Lititz, PA 17543

Map and Directions