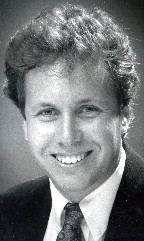 Oscar J. Retterer, III
Oscar J. Retterer III, of Lititz, passed away Wednesday, January 16, 2013 in his residence surrounded by his loving family.
Born and raised in Bowling Green, OH, he was the husband of Celeste A. DiMarco of Lititz, and the son of Virginia Alice (Castanien) Retterer of Ohio and the late Oscar J. Retterer, Jr.
Oscar held degrees from Bowling Green State University and the University of Toledo. He was employed by Franklin & Marshall College as the Director of Instructional and Emerging Technologies.
In addition to his wife and mother, he is survived by three daughters: Claire, Ella, and Olivia Retterer, all of Lititz; and two sisters: Sherry Mortenson and Deborah Chapman.
He simply asked that his friends and family remember him as he was.
A private service will be held at the convenience of his family and a memorial reception is planned for a later date.
Please omit flowers. Memorial contributions in Oscar's memory may be made to www.cjdsurveillance.com. To place a condolence online, please visit SnyderFuneralHome.com. Charles F. Snyder, Jr. Funeral Home& Crematory 717-560-5100
Leave a condolence on this Memorial Page
We were so sad to hear of Oscar's death. Claire has been such a good friend to our family and we have been praying for all of you during this difficult time. Take good care of yourselves!

Kate & Lance Couturier
To Claire and family,
This is a quote that is inscribed on the wall of the chapel at the American cemetary at Omaha Beach in Normandy, France. "Think not only upon their passing; remember the glory of their spirit."
If you can remember the glory of your father's spirit, it may help guide you as you grieve his loss.

My condolences,
Kathy O'Hara
(Meghan Sandkuhler's Mom)
Celeste, Claire, Ella & Olivia,
We were so sorry to hear of Oscar's passing. You will continue to be in our thoughts and prayers.
Jim & Kim May
My sincere condolences for your loss. My prayers go out to everyone in your family. I will remember Skip as he was.
Beth Ann Herringshaw Rife
Class of '73
I want to offer my condolences to Oscar's family. I am so sorry that he was the victim of CJD, the rare brain disease. My wife, Cynthia, a Lancaster resident, died from CJD in June 2007. Prior to the onset of the disease, she was a normal, bright and healthy lady. Once symptoms began, she declined rapidly, was diagnosed at Johns Hopkins in Baltimore and died at Lancaster Hospice.
I have talked with other CJD families and have found that conversation can be very helpful. Please contact me if, at some time, you might like to meet. Thank you.
Peter D. Faber (husband of Cynthia J. Faber)
717-392-5911
Wow, Celeste! Across the years (decades, even!), and across the miles, a lifetime ago since Alice Prout _all (remember the missing H)…and news comes to me of Skip's untimely death. I am so very sorry for your loss, Celeste. Please know that I hold you and your daughters in my heartfelt prayers. I never fail to think of Skip when I hear "Innagaddadavida"….
Carol Brown Castello
Napoleon, Ohio
BGSU Freshmen Class of Fall '73
Dear Celeste, Claire, Ella & Olivia,
We are deeply shock and sorry to hear passing away of our dear friend Oscar. Words seem inadequate to express the sadness we feel and we are thinking of you during this difficult time. Eternal Memory!
With our sincere sympathy,
Berhane Teclehaimanot and Rishan Habtu
berhane.teclehaimanot@utoledo.edu
Sylvania, Ohio
Celeste and family,
I was extremely saddened to read about Skip's passing. My sincere condolences to you and your extended family.
I am now working at St. Vincent's and his obituary was posted on the bulletin board of the laboratory lunch room. I believe Dan Goodenow posted it. I am working there part time in microbiology second shift. It's been a long time since the CBC days and our great conversations.
Please do feel free to contact me via email at any point in the future.
Thinking of you and your family.
Judy Dilworth