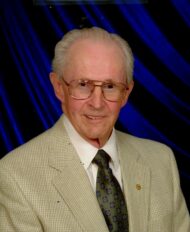 Oren E. Spangenburg, 88
March 16, 1933 - November 11, 2021
Oren E. Spangenburg of Luther Acres, Lititz, went home to be with his Lord on November 11, 2021.
He was born in White Plains, NY on March 16, 1933 to Oren Douglas and Lucy Marie Hoover Spangenburg. He and his late wife, Shirley, were married at the Quarryville Methodist Church in 1957 and celebrated 55 years of marriage on May 11, 2012.
Oren was the CEO of Garden Spot Badge Company in Lititz, which he founded with his wife in 1961. He did both national and international marketing of awards, specializing in horse shows and agricultural fairs. The company was sold in 1985. After his retirement, he researched his family genealogy and wrote a book- "Spangenberg/Spangenburg Heritage".
Oren was a member of the Lititz Church of the Brethren where he participated in several ministries and was a member and teacher of the Friendship Sunday School Class. He was also a proud member of the Lions International since 1970. He was most recently active in the Baron Stiegel Lions Club. He received the Melvin Jones award, which is the highest award given to a Lion for humanitarian deeds.
A charter member of his trade association "Recognition Awards", Oren served on their board of directors for five years and was president for two years. He was honored with the Hall of Fame Award for his years of dedicated service to the association. He also served on the board of directors for the Norlanco Credit Union and Harb-Adult, a housing program that provided shelter and support to the homeless.
Oren traveled extensively with his wife throughout the USA and touched several continents. In 1980, he served in Haiti teaching citizens how to set up production lines for assembly of products. In addition to traveling, Oren enjoyed fishing, reading, camping, computer club and dancing to big band music.
Surviving are two sons: Gary, husband of Kim, East Petersburg, and James, husband of Stacey, Lititz. He was preceded in death by his wife, Shirley Maxine Seifried Spangenburg; a son, Scott Douglas; and a sister, Donna Cecelia Spangenburg Karwoski of Georgia. Additionally, he is survived by his companion, Sarah Elizabeth Challenger; five grandsons: Jordan, husband of Jennifer, Mountville; Justin, husband of Brittany, Manheim; Ryan, East Petersburg; Tyler, Lititz; and Connor, Malvern; as well as five great-grandchildren. He was eagerly awaiting the birth of his sixth great-grandchild.
A Celebration of Life Service will be held at Lititz Church of the Brethren on Saturday, November 20th at 10:00 AM, with a visitation period to follow. Please omit flowers. If desired, a contribution in his memory can be made to the Deacon Trust Fund at Lititz Church of the Brethren. Interment was held by the family at Old Zion Cemetery in Brickerville.
Leave a condolence on this Memorial Page
Condolences to the Family
November 18, 2021
Our Condolences from Bill Tomlinson & Family, Quarryville, Pa.
Services

Saturday, November 20, 2021
10:00 AM
Lititz Church of the Brethren
300 W. Orange St
Lititz, PA 17543

Map and Directions