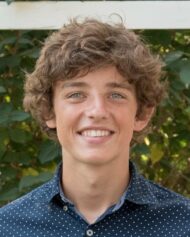 Nathan C. Longenecker, 19
October 08, 2021
Nathan C. Longenecker, age 19, passed away on Friday evening, October 8, 2021, at home with his family around him. He was under the care of hospice following a courageous eight-month journey with brain cancer. He was the son of Lynn and Laurie (Eshleman) Longenecker, brother of Maria Longenecker and Jesse Longenecker, Lancaster, PA.
Nathan was a first-year student at Eastern Mennonite University, Harrisonburg, VA, when he was diagnosed in February 2021. He was studying mathematics and computer science and was honored as a Yoder/Webb scholar receiving a full tuition scholarship. In his short time at EMU, he found a home with friends and professors, and was just beginning to explore many hopes and dreams for the future.
He graduated from Lancaster Mennonite High School in 2020, where he played soccer, enjoyed production adventures with the tech crew, sang tenor in the Campus Chorale, and played violin in the pit orchestra.
Nathan found joy in disc golf, longboarding, fishing, family camping trips, board games and time with his cousins. He spent some of his formative years in Santa Cruz, Bolivia where he lived from ages 6-9 with his family. He was a member of Blossom Hill Mennonite Church, a faith community that nurtured and loved him from birth to death, rooted in the foundation that he is "known and loved by God".
Nathan was a gentle, kind, deep thinker. He was light-hearted but could also be fiercely competitive. Friends gave the following words to describe him: intelligent, considerate, beautiful, stubborn, talented, lovable, persuasive, selfless, go-with-the-flow, warm and light-bringing, nurturing and helpful.
He leaves behind a loving network of family, friends and neighbors, including his maternal grandparents, Leon and Melba Eshleman, Manheim PA, and paternal grandparents, Charles and Barbara Longenecker, Lititz, PA.
A memorial service will be held on Sunday, October 24 at 2:30 pm at Akron Mennonite Church, 1311 Diamond Street, Akron, PA. Visitation time from 1:00–2:00 pm prior to the service. Masks are required when inside the church. A private burial was held at the Akron Mennonite Church Cemetery.
Contributions can be given in Nathan's honor to the Mennonite Central Committee, Eastern Mennonite University or Hospice and Community Care.
Leave a condolence on this Memorial Page
Condolences to the Family
October 30, 2021
So sorry for your loss. May you all receive what you need at this time.
Valentina Satvedi Leydon
October 28, 2021
I went to middle school with Nate and I still remember how kind he was to everyone. He always had something funny or nice to say. I'm praying that your family feels God's peace through this🤍
October 25, 2021
Nathan and I were on the tennis team and many musical productions together during high school. We weren't really close because my English was poor and I was nervous around people. But Nathan was one of the sweetest people I've ever met, and he definitely made me more comfortable talking English to others. He always put a smile on his face and just was so easy to talk to. I'm really sorry to hear this happened, I wish Nat rest in peace!
October 25, 2021
I went to high school and middle school with nathan, we were never close but grew up with eachother. we was always smiling and a joy to be around rest easy nate.
October 24, 2021
I went to middle school with Nate and I lost contact with all my friends when I transferred. He and I had almost every class together for two years, including orchestra and I always knew how much of a nice and caring person he was. He was incredibly funny and so very smart. He always knew exactly how to make you feel better if you were sad about something. I wish that I had been able to talk to him after I left LMS. I'm so sorry that this happened, I know that now he isn't in any more pain though and that God is listening to him joke around and maybe even play his violin
October 23, 2021
God be with you. Mark & Alice Jantzen (John's family)
October 18, 2021
Dear precious friends,
I hold you close during this time.. my soul feels sad thinking about you saying goodbye to your son. I cannot imagine the sense of loss. But also what a blessing Nathan was to do many people young and old. Can't you hear his laughter? Can't you see his face when in the midst of a prank? Such great memories. And the warmth he shared .
he gave so much and fought so hard and blessed so many. You remain in our prayers. Mark and Angela
October 17, 2021
Dear Lynn, I'm so sorry to learn of Nathan's passing. He sounds like a wonderful young man with so much to offer the world. I'm praying for you and your family here in Burundi, where you've made such a contribution to educating Twas. We have two Twa seniors at the University of Burundi who will graduate next year as qualified English teachers. I observed one of them in his student teaching placement last week and he did a very good job. He went to primary school at the Hope School. As you live into your grief over Nathan, know also the difference you've made in the life of Théogène and his community. May the Holy Spirit, the Comforter, pray for you with groanings too deep for words.
Jodi Mikalachki
October 16, 2021
Mi más sentido pésame no hay palabras de consuelo pero si un abrazo fuerte de sentimiento para toda tu familia Estamos con el corazón pArtido estamos en oración por toda su familia pidiendo fortaleza y resignación 🙏🙏
Yazmin Jonathan y Arlene
October 16, 2021
Lynn and Laurie, holding you in our hearts…. Jon and Marjorie Rush
October 16, 2021
Although I never had the true privilege of knowing Nathan, in my journey with you on Caring Bridge, I felt close to Nathan and your family through prayer and support. My deepest sympathy to you and all your family as you grieve the loss of your wonderful son, brother and grandson. In his short life, he left a legacy of love, wisdom, perseverance and courage. May you be comforted by the beautiful memories you shared with Nathan, who will forever be in your hearts. M
Joani Greiner
October 16, 2021
Dear Longenecker Family,Although I did not have the great fortune to know Nathan personally, I had heard many wonderful things from others who did, while he was in his courageous battle, over this past year. His obituary authenticates what a genuinely stellar young man he was. My heart breaks for all of you. May his memories bring you comfort. His bright light will truely shine on. Sincerely with much love and sympathy,The Ziegler Family(Former Fellow McCaskey Band Family)
October 16, 2021
Dear Lynn and Laurie, Maria and Jesse, you have all been near to my heart during this journey. With our families/children of the same ages and the sudden tragic loss of my own older brother, I feel a familiarity with your journey. When my brother Scott was advising his broken-hearted step daughter who had just lost a high school romance and didn't know how she was going to go on, he suggested, "Stay curious. You will soon find out." Scott's wife Nedra reminded us all of that after his funeral and, not knowing how she would go on with out him, decided that she would stay curious and find out. In the days, weeks, and years ahead, you will find out how you will continue living: prayerfully, thoughtfully, together, knowing that you are deeply and dearly loved. Knowing that love is eternal.
Much love,
Kristen (Graber) Mark, friend of Lynn and Laurie's from EMU class of 1994

October 15, 2021
So sorry for your loss. Always enjoyed seeing you guys on the disc golf course.
John Prescott
October 15, 2021
I attend Groffdale where Tom Eshleman is the pastor. He shared many times about Nathan and we prayed for him. May you feel God's peace during this time of loss.
October 15, 2021
I have many memories of Nathan from when he was younger and I was temporarily living with Billy and Amanda. I have one distinct memory of playing on a pogo stick with him and his sister on your front lawn. What an amazing man he grew up to be and it is clear he touched so many lives in his time here. I am so sorry for your loss. Sending your family so much love and light. ❤️ Xo – Lara
October 15, 2021
I did not directly know Nathan, but a few years ago, I took photos at some Lancaster Mennonite soccer games and recognized his picture on the Lancaster Online obit. My condolences on the loss of your son…he seemed like a nice young person. My church pastor lost his son in 2009, who also played soccer at LMH.
Justin
October 14, 2021
There are no words to describe the feeling of losing a child. What comforts us is that they always live in our being, like the first day we brought them to this world.
Our deepest condolences. Vielka, Mario, Mario E. Cedeno, Eros Cedeno, and Pamela.

October 14, 2021
May you feel the love and support and care from the community during this long and winding path called grief. Few must travel this path and so my prayer is that you all can find the arms of God holding you up when the way seems unclear. My heart is with you Laurie and family! Love Carrie Bair
October 14, 2021
Thinking of your family and praying through this difficult loss. What a joy it was to watch Nathan play soccer at Lancaster Mennonite. I clearly remember watching him play at Hershey stadium. He made a difference.
Laura Walker
October 14, 2021
Condolences to the Longenecker family. May God fill you w love and peace as you remember his life in the midst of such a deep loss. Thinking of you during this time.
Jana Meyer
October 14, 2021
Laurie and Lynn, we remember your beautiful little family from our few years at Blossom Hill. What a wonderful young man Nathan grew to be and how full he lived his 19 years. We are so so sorry for your heavy loss. Hugs and prayers.
June and Marc Hershberger
October 14, 2021
Dear family of Nathan Longenecker,
Our hearts go out to you in the loss of your son who showed much promise for you as parents and grandparents. [Ivan graduated at LMS in 1950 with Charles]. May you find comfort in our Lord who walks with us in our grief as we experienced in the loss of our 6 month old son in Somalia in 1960. Grief never goes away completely and can be helpful as you comfort others who experience grief.
Our prayers are with you as a family,
Ivan and Mary Ellen Leaman
October 14, 2021
Dear Longenecker Family,
It is during times like these that we realize how limiting words are. May you find comfort in the knowledge that Nathan's kindness, laughter, and spirit will live on in each person who knew and loved him. I am sending love and healing thoughts.
Sachi Smith
October 14, 2021
I learned last Saturday of Nathan's passing from Mark (my nephew) and Kristin Broich. I had met you only briefly several months ago but nevertheless wanted to let you know of my heartfelt sympathy for you and your family. Please know that others feel your deep sadness and send their love and support.

Connie Callman
October 14, 2021
I am so sorry to hear of this loss in your family. May God give you strength.
Arli Klassen
October 13, 2021
Very sorry for your loss. He was very young
Wanda Torres
October 13, 2021
It is so hard to lose a son. Parents should not have to bury their children. My condolences to you all.
John Sharp
October 13, 2021
I am so sorry for your loss! My thoughts and prayers are with you!
Anita Zendt wansley
October 13, 2021
I am so sorry for the enormous loss of this wonderful young man! I understand losing a bright young adult child. You will be on my mind and in my prayers.
Joy Clymer
October 13, 2021
Mis condolencias a todos por esta gran pérdida. Los mantengo en mis oraciones!
Katherine Cruz
October 13, 2021
Our hearts are with the family. We are deeply sad for your loss-Rigo, Maritza,Yaritza,Elizabeth
October 13, 2021
My heart aches for you. What a beautiful child/young man. I can see that he will be sorely missed.
Jeanette Noll Bontrager
October 13, 2021
Dear Family and Friends,
My deepest condolences for your loss. Praying for comfort for you as you traverse this journey.
Peace and Blessings,Celeste
October 13, 2021
I am so sorry for the loss of your son. My prayers are with you ~Joselyn
October 13, 2021
Nathan, though our time together was short, I treasured every interaction from the interview where we met to our final Zoom call together. Reading back through your journal from Discrete Math, you said in early September, "I am trying to soak up every day because obviously there is a lot of uncertainty about this year." And from what I could see, you truly did soak up every day, leaving a disproportionately strong impact on all those around you including myself. May you be at Peace now, Nathan, and rest assured that you lived your 19 years to the fullest.
Daniel Showalter
October 13, 2021
So sorry for your loss. My thoughts and prayers are with your family.
Martha Bynum
October 13, 2021
Our prayers have been with you as we have followed these very difficult months.Our prayers continue for you and your children. A beautiful son.
Helen and Vern Jantz
October 13, 2021
I was not privileged to know Nathan but I've followed his story since learning of his cancer diagnosis. Praying for his family and friends as you continue to walk this hard journey.
Loren Swartzendruber
October 13, 2021
Our deepest sympathies for Nathan's early departure from this life. Your family has been in our thoughts and prayers throughout your difficult journey and will continue as you grieve Nathan's death. May you find peace and comfort through the support of friends and family.
Dennis Clemmer
October 13, 2021
Our deepest sympathy at the death of Nathan. Know of our continuing prayers and support as you walk through this grief. May your memories give you comfort, and may you ever feel his presence with you.
Christine Miller
October 13, 2021
My heart goes out to the family. I am so sorry for your loss. You all are in my prayers. May Gid give you peace during this time.
Janet Simms
Jadyn Taylor & Jordan Lilly
October 12, 2021
With the utmost respect for the way your family and Nathan have traveled this journey together with faith, with deep sadness for the trauma this has brought to you all, and heartfelt prayers for the grieving to come. Lord have mercy.
Linda Espenshade
Visitation

Sunday, October 24, 2021
1:00 PM - 2:00 PM
Akron Mennonite Church
1311 Diamond St.
Akron, Pennsylvania 17501

Map and Directions

Services

Sunday, October 24, 2021
2:30 PM
Akron Mennonite Church
1311 Diamond St
Akron , PA 17501

Map and Directions