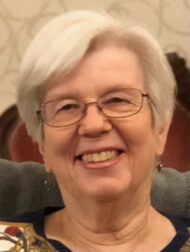 Nancy Wilker Fitch, 83
September 17, 2021
Nancy Wilker Fitch, 83, of Willow Street (former longtime resident of Holmdel, NJ), passed away peacefully on September 17, 2021 in the company of loved ones. Born in Allentown, PA, Nancy was the daughter of the late Conrad and Lorene (Haas) Wilker of Palmerton, PA. She was also the loving wife of the late Scott Fitch.
Nancy was a cum laude graduate of Wilson College where she majored in Mathematics and minored in Economics.
Nancy started her career at Bell Labs in Murray Hill, NJ as a senior technical assistant and later worked as a computer programmer both at the Labs and at several telecommunications companies. While at Bellcore she earned the prestigious Distinguished Member of Technical Staff award for her work with network traffic management, circuit-design methods, and critical interfaces between operations systems and network elements.
Nancy was a founding member and very involved congregant of the Lutheran Church of the Good Shepherd in Holmdel, NJ; she served on numerous church committees and also as president of the church council. Nancy was active in the League of Women Voters and PEO International, an organization that provides scholarship opportunities for women.
Nancy had many interests. She was an avid reader, enjoyed traveling, spoiled her family with wonderful cooking and baking. She loved playing bridge, attending concerts and the theater, supporting environmental causes, spending time at the beach with family and friends, and sharing her quick wit with everyone.
Nancy is deeply missed and will always be loved by her son Daniel, daughter Jennifer, stepson Gerrit and stepdaughter Ellen, as well as their families; Dan's wife Fiona and daughters Kate, Máire, and Emilie, Jen's children Robbie and Kylie, Ellen's husband Jim and children Ian, Sylvia and Teddy.
Memorial contributions in Nancy's name can be made to The Sierra Club or PEO International.
Sierra Club
National Headquarters
2101 Webster St Suite 1300
Oakland, CA 94612
P.E.O. International Headquarters
3700 Grand Avenue
Des Moines, Iowa 50312
Leave a condolence on this Memorial Page
Condolences to the Family
October 14, 2021
Jen, Dan and families: Nancy was One of a kind. She was a loving mother to Jennifer and always offered her best advice. It was an honor to spend the time with her I did. We know where Jen gets her love of games. Prayers and strength to you all.
The Calorio Family.