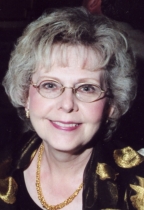 Nancy Sue Anderson, 63
Nancy Sue Anderson, 63, passed away surrounded by her family June 18, 2008 at the Essa Flory Hospice Center after a fourteen-week battle with cancer.
Born in Gary IN, she was the daughter of the late Clarence and Dorothy
(Sprague) Bocken . Nancy settled in Lancaster with her husband and four children in the summer of 1984. She was a loving wife and mother who dedicated herself to her family. She enjoyed cooking, shopping and reading.
Nancy was married for forty-five years to Tom Anderson. She was a member of Lancaster County Bible Church. Surviving besides her husband, are four children: Joy Lynn, married to Dan O'Neill of Wake Forest, N.C , Alicia Marie Anderson of Maytown, Cynthia Sue, married to Brian Thomas of Manheim and David Thomas Anderson married to Chizuruoke of State College, eight grandchildren and a sister Marcia, married to Larry Poulsen of St. John, Indiana.
Relatives and friends are invited to attend two viewings at 6-8PM , Friday June 20th, 2008 and 10-11AM Saturday June 21st,2008 with funeral services at 11AM at the Charles F. Snyder Jr. Funeral Home Inc 3110 Lititz Pike, Lititz PA 17543. Private interment will be held following the funeral. In lieu of flowers, contributions may be made in her memory to Hospice of Lancaster County, 685 Good Dr., PO Box 4125 Lancaster, PA. 17604-4125.
Leave a condolence on this Memorial Page
Tom and Family,
I was saddened to hear of Nancy's death. May the "God of all comfort, who comforts us in all our troubles" (2Cor.1:4) be near to you during your time of grief. "I will strengthen you and help you, I will uphold you with my righteous right hand."(Isaiah 41:10)
Mike Bedwell, Houston,Tx. (Hammond, Indiana Morton High School class of 1962)
Our condolences to the family of Nancy Anderson. May the memories of her love give you all comfort during this difficult time and may you take solace in knowing that she's no longer suffering, but at peace with the Lord.
With deepest sympathy,
Edward and Abby Brevick
Family ties are not easily broken, and although it has been years and years since we have been in touch, the Forster family has been praying for you, Tom, during the past months. Aunt Doris has kept us up to date. My parents, Bud & Betty Forster, and my siblings, Dan Forster and Lynore (Forster) Mathis, join me in sending our sympathies and prayers to you.
I remember when you and Nancy met and started dating. I remember your wedding. I also remember the sweet, gentle, Christ-like spirit which characterized both you and Nancy…even when you were playing softball with Calvary Baptist Church in Highland!
God is good, all the time. All the time, God is good. May the same Goodness that has carried you through 45 years of marriage continue to sustain you in these days.
With love,
Pat (Forster) Quinn
Dallas, Texas
Joy and family,
We are deeply sorry for the loss of your mother. I hope that you can find some comfort in knowing that she is in Heaven rejoicing with the Lord. Please know that we will continue to pray for you and your family.
With deepest sympathy,
Danelle and Alex Betancourt
Dear Tom
Deepest sympathy to you and your family. You all are in my thoughts and prayers.
May God bless. Jeanette Andrew (CROSSMARK)
Sorry to hear of the Passing of Nancy We Have you in our Prayers
Don & Betty Parrish
My Deepest sympathy goes out to you and your family at this time of loss. You all are in my thoughts and prayers.
May God bless.
SCOTT HAHN
Plano, Tx
(CROSSMARK)
My prayers are with you that the Lord will help you through this difficult time in your life. I pray it brings each of you comfort to know that she is in heaven with Christ.
Brenda Baldwin
To: David and the Anderson Family
David, I was very saddened to hear about the loss of your mother. My thoughts and prayers are with you and your family. I have found memories of your family while we were children and young adults. With your faith, I have no doubt you'll stay strong and she's in a better peacefull place.
With Simpathy,
Jason Brunick and family (Hempfield '96)
Dear Tom and Family,
My heartfelt sympathy go out to you and you family at this most difficult time. I will keep you in my prayers.
Bessie Bamberger (Crossmark)
Tom,
We know how much you adored and loved Nancy and that her death will leave an incredible void in your life…We also know you and your family will find strength and comfort in your faith now that the Lord has taken Nancy into his eternal kingdom…our thoughts and prayers will continue to be with you during this incredibly difficult time.
Don & Lauren Brown

WE JUST GOT HOME FROM A VACATION AND DORIS HAD SENT THE OBITUARY TO ME TOM, I KNOW YOU WILL BE LOST WITHOUT HER BUT GOD IS ABLE TO FILL THE LONESOME HOURS FOR YOU. I KNOW YOU ARE TRUSTING HIM.
LOVE AND PRAYERS ARLENE AND RAYMOND
Just a note to let you know you are in my prayers constantly.
I have been there and I know God never fails.
He tells us in his word he will never leave us or forsake us.
Just keep that promises in mind always.
May God Bless,
Doris Tamminga
Tom, I remember so much Nancy and Sharon & I and the family reunions that we went to. All the things we used to do , we had so much fun. It has been many,many years since we have seen you and Nancy and your family. I was saddened when I heard of Nancy's illness and now her passing. Are prayers are with you and your family, God will sustain you.
Muriene & Mike Parkinson
Joy and family,
I can't imagine what you may be going through right now. I am so sorry to hear this news. Our thoughts and prayers are with you and your family.
The Mckennon Family (Colorado)
FAYE AND I ARE PRAYING FOR YOU AND YOUR CHILDREN DURING THIS TIME OF GRIEF AND PERSONAL LOSS. WE KNOW THAT NANCY IS IN A FAR BETTER PLACE AND WE PRAISE GOD FOR HER TESTIMONY AS A DEDICATED AND COMMITTED CHRISTIAN WIFE AND MOTHER. MAY GOD BLESS YOU AND COMFORT YOU WITH ALL THE GREAT MEMORIES YOU HAVE OF NANCY AND YOUR TIME TOGETHER. LOVE IN CHRIST — FAYE & RAY GOLLIHUGH
Dear Cousin Tom and Family:
I prayed for my dear cousin often, when I was told about her cancer! We had a son (Duane) who went home to heaven when he was only 31 yrs of age with cancer..this is like an open sore,and after time passes,this will always be a scar!
We know God is in control, God is all sovereign and God makes no mistakes! Things don't just happen to us who love the Lord, they are planned by our Heavenly Father.
I remember so many things about Nancy, as a very dear cousin! My Mother Hazel Herring took care of Nancy as a newborn baby and stayed at the house, as Aunt Dorothy (Nancy's Mother) passed away at the birth of Nancy, (So many fond memories, as I stayed with them also to help out at a time of need, as I was a teenager at that time)…until Uncle Clarence could get permanent help!
Nancy was such a beautiful person, not only physical, but the love of the Lord shown through her life, as she always had a beautiful smile of contentment, knowing she was a child of God!
We are near you in love during this very difficult time and are praying that the Lord will uphold you on the road He has yet for you to walk!
PSALM 116:15 -"Precious in the sight of the Lord is the death of his saints."
Your loving cousins,
Altamae(Hartwig) and Bill Blink
Heartfelt sympathy and prayers are extended to each loving member of Nancy's family, with fond memories of many shared times.
In Christ, Phyllis Bedwell Scifers
Tom,
My sincerest sympathies on the passing of your wife. You all are in my thoughts and prayers.
My prayers are with you at this time. May God bless you all.
Joan Grant
So sorry to hear about Nancy. My prayers are with you and your family at this time. May God be more present than ever and may He give you His peace.
Vicki Lowe
To: David and the rest of the Anderson Family
I wanted to send my deepest sympathy for your loss. I have many fond memories of your entire family growing up in Chateau Lane, playing sports with David and even Nintendo in the basement. All of those memories included your mother in some way, whether it was driving us to baseball, basketball or the pool, supplying us with cookies and a drink or just greeting me with a welcome smile and open arms into her home. I was truly sorrowed to see that she battled cancer but I know that she was surrounded and supported by her loving family along the way. My sorrow is lifted as her battle with cancer is now over and I know she is in a wonderful place, in good health and is smiling down upon her wonderful family.
You have my deepest sympathy and blessings.
Michael Young (Hempfield Class of 1996)
Hopefully, Tom, you will remember me. I am Aunt Doris's daughter. I have a vivid memory as a child of Nancy going on vacation with us. It was during the 4th of July. She brought a HUGE sparkler with her (I would say about 5ft) but then everything seems big when you are a child. That was exciting to me. She and my sister Anita were closer in age (they are reuniting in heaven)…..I was just the little squirt to them at that time. I do remember you and Nancy and your courtship. God was so good to you both. What a blessing of 45 years together. May God walk beside you and uphold you during this time.
Nadyne (Tamminga) Clark

May the Lord be with the Family.
Harold & Margaret Hartwig
I loved Nancy so much. When I was a teenager, she was like my second mom, and Tom, you were my second daddy. It's so hard to think of life without her here, with her warm soft laughter and gentle spirit. I'm so glad she was a Christian and that she's no longer in pain, that she's with our Savior….and she's with MY daddy, which just brings Heaven that much closer and the thought of it sweeter. Our prayers continue to be with you, as they were with you and Nancy during her illness. May God provide you with peace and support so strong you feel it physically.
All our love,
Michael and Erin Wilson, Brendan and Claire O'Neill
Joy—Please know that you and your family are in our thoughts and prayers at this difficult time. May you find peace in knowing that your Mom is no longer suffering….but is smiling down on you all. God bless you and your family.
Love
Gared, Nicole, Grant & Drew Casey
Though we haven't been in touch for many years, my heart aches at the loss of my cousin, Nancy. I have many memories of family reunions years ago when the "older" girls, Sharon, Muriene and Nancy would get privileges that Anita, Sharla and I didn't!
May God continue to strengthen you, Tom, as well as your children through this difficult time.
Sheryl Satterblom Ginaven Sprague
Joy, We are thinking of you and praying for your family. I know this has been a difficult time for you. Now your mom is in a better place with the Lord, and you will see her again one day !! Your mom was a beautiful lady just like you !! We love your family very much !!
Ryan, Lisa Grayson and Eva Emory
Dearest Loved ones.
It doesn't seem real to us that our precious Nancy has entered Heaven so soon, but it sure does make Heaven seem closer to us.
We are praying that God will wrap His loving arms around each one of you and you will feel His peace that passes all understanding in a way you never thought possible.
We wish we could be with you this weekend, but please know you will continue to be in our prayers.
We love you so much,
Harold and Dixie Shoemaker
Tom because of you my sister had a wonderful life. I thank you for that.
Joy, Cindy, Alicia and David you were so privileged to have such a
wonderful, caring and Christian Mother. I know she loved her family, her church and her home so much. I think of her now in Heaven with all of the
loved ones around her with her sweet little Ruffles on her lap.
Thank you so much for taking such good care of Nancy during these last
weeks. You gave her such dignity and love with your constant vigil.
Much Love,
Marcia
Dear Tom & Family,
Our heartfelt sympathy to you & your dear family. Nancy was a wonderful woman & we were truly blessed to know her. She is indeed in a far better place & we will look forward to a great reunion in glory.
Our love & prayers,
Craig, Marilyn,Brent & Aubrie Malcolm
Westerville, OH.
Dear Tom and family,
May God's blessings be to you and your family during this time. Nancy was such a sweet person and I still remember meeting her in the lobby of the church right after she was diagnosed and your daughter was with her. Can't believe how quickly she went to Heaven. We would have been at the service, but we were out of town.
So sorry we couldn't be there to meet your family and give you a hug; we've been praying for you. Just continue to live for the Lord one day at a time and remember He is only a prayer away.
Love & Prayers, Noah & Marian Kreider