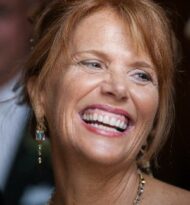 Nancy Meighen Kurtz, 67
July 10, 2022
Nancy Meighen Kurtz, 67, of Lancaster, PA, entered the gates of Heaven after a courageous battle with cancer on Sunday morning, July 10, 2022, at home with her loving family holding her tight.
Nancy was a wise woman. She once wrote…
"My upbringing opened my young heart to a lifelong relationship with God. My late father, James A. Meighen and my mother, Sara (Shafer) Meighen, of Kittanning, PA, were devoted servants of God. My caring sister, Mary Kay Durham [Deemer], my brother, Thomas Meighen [Marianne], and all of my Yost cousins enriched my life."
I am grateful to have been happily married to my loving husband and caregiver, Anthony F. Kurtz, for 44 years. We were blessed with two phenomenal daughters, Kathryn and Kelly, and they married two incredible men, Bobby Brandt III and Joe O'Pella. God blessed Kathryn and Bobby with the two most precious children in the whole wide world, Bobby IV and Emiline Grace Brandt. Just two short months ago, my final prayer was answered when I was blessed with meeting my two new grandsons, Kelly and Joe's twin boys, Joseph Gunner and Brock Anthony. I always said you don't understand the love of being a parent until you are one; and you certainly don't know the joy of being a grandparent until the time comes. Thank all of you for your unconditional love. I will love you to the moon and back until the end of T-I-M-E, time.
I was raised in Kittanning, PA; however, throughout my life, I lived in many cities: Bacolod, Philippines; Indiana, Pennsylvania; Ocean City, New Jersey; Tupelo, Mississippi; The Woodlands, Texas; Estero, Florida; and my home, Lancaster, Pennsylvania. Throughout all those moves, I learned a true friend is a gift from God. He blessed me with lifelong friends that I am so grateful for.
I taught teenagers in numerous Pennsylvania high schools for 25 years. I learned to never give up on anyone! My students were all flowers and bloomed at different seasons, some just needed a bit more sunshine. My great joy came from hearing their success stories.
After retiring, my cancer was discovered while on vacation with my grandchildren when I had a pathological break of my femur. I was diagnosed with stage IV non-smoking lung cancer and melanoma. At the time of my diagnosis in April 2014, the doctors in Florida told me I had about three months to live. As a feisty red-head knowing only God knows when our purpose on Earth is fulfilled, I gathered my family and we traveled the world. My most meaningful adventure was to Lourdes, France where I was honored to be a malade.
Throughout my earthly journey I learned that we needed patience to wait for "thy will be done" and not our will to be done. Earthly angels are here to sustain us. Joy surrounds us on our journey. Gratitude fills us! My purpose on Earth is now complete, but I look forward to seeing you soon! LOVE, kisses and hugs…."
I can do all things through Him who strengthens me.
Philippians 4:13
A Mass of Christian Burial will be celebrated on Saturday, July 16, 2022 at 10am at St. John Neumann Catholic Church, 601 E. Delp Road Lancaster, PA 17601. The family will receive guests on Friday evening, July 15, 2022 from 5-8pm, also at St. John Neumann Catholic Church.
Nancy became an artist during her journey with cancer and dreamt in the bright, vivid colors used in her paintings. Let's create a colorful canvas for her to look down on by wearing your most vibrant colors to her services.
In lieu of flowers, memorial contributions can be made in Nancy's memory to a place she valued and appreciated dearly, the Ann B. Barshinger Cancer Institute to benefit their Cancer Patient Support Fund, 2110 Harrisburg Pike, Suite 205, Lancaster, PA 17601 or online at LGHealth.org/MakeAGift.
Watch the tribute video
Leave a condolence on this Memorial Page
Condolences to the Family
July 30, 2022
Tony and family, our very sincere sympathies on your loss of Nancy. She was a very vibrant and loving person. We will remember her at all of our sales leadership gatherings and that smile that just wouldn't quit! "Live lives on, beyond goodbye."
July 17, 2022
Our deepest sympathy to the family. She was a wonderful person and will be greatly missed. We will keep you in our thoughts and prayers. Jim and Cindy Sorrentino
July 16, 2022
Nancy was a great light at MTHS and I had the pleasure of having her as one of my teachers. She always brought joy to the classroom and the people she spent time with. It was terrible to hear of her passing and wish her family the best during these tough times.
Hogan Family
July 15, 2022
Nancy was such a wonderful person. She fought so hard. I'm so sorry for your loss. She pave the way for so many people. She's a great teacher, a great wife, your mother and Friend. I am so sorry I am not able to attend the funeral. My deepest sympathies and love to all of you. Her memory will last forever.
Henrietta Heisler
July 14, 2022
To the Kurtz family…..
We are so sorry to hear of the passing of your wife/mother/Grandmother! You will all be in our thoughts and prayers!
Wow what a testimony! I'm sure everyone who knew her was touched by her Grace! May God give you all the strength peace and comfort in the days ahead as only he can!!!
Issiah 66:13 For this is what the Lord says…As a mother comforts her child, so I will comfort you.
Todd and Deb Witmer
July 14, 2022
Tony and family,
I was saddened to read of the passing of Nancy. She was a fine woman. My thoughts and prayers are with you and the family.
Barry Solodky
July 14, 2022
Tony & Family,
I'm so sorry for your loss.
Sandy Lasonis (FMC)
July 14, 2022
What an amazing story…. so thankful to have seen it from afar, and read about it now. Our sympathies are with Nancy's family due to the enormity of their loss, but we rejoice at such a beautful, purpose filled life which is passed on to those she loved.
The Hager Family
July 14, 2022
I grew up with Nancy and her sister Mary Kay. Nancy was a year behind me in school and her sister was a year ahead. We went 8 years of Catholic School and 4 years at Kittanning High School. I haven't seen Nancy in years, but I will always remember her as a popular, vivacious cheerleader with gorgeous red hair. Her beautifully written obituary speaks volumes as a woman rooted deep in her faith and love of her family, friends and students throughout her life. A remarkable life indeed. My condolences go out to the Kurtz and Meighen families and to Nancy's many friends.
Mary Ann Enterline Gueguen
July 14, 2022
My deepest sympathies to Nancy's family and whole community. Her smile was contagious and her love spread to everyone she met. Kathryn, you carry her same qualities. You mom will always shine on through you. Hugs.
Eternal rest grant unto her, O Lord. And let perpetual light shine upon her. May her soul and the souls of all the faithful departed, through the mercy of God, rest in peace. Amen.
Kate Wood
July 14, 2022
What an honor to have known Nancy. Always upbeat and full of faith. Am so happy she was blessed with a wonderful family. we will all see her again in heaven where she is pain free painting up a storm. The loved ones and friends she leaves behind will miss her dearly. But know that God did have a plan for her her!
Toni Combs
July 13, 2022
We are so sorry to hear of the passing of your beautiful wife. Our condolences and prayers to you and your family. May the perpetual light shine upon her and her soul Rest In Peace.
Jim and Cindy Perotti
July 13, 2022
We, as a family, are honored to have known Nancy. We all have cherished memories and we love you all so very much. Her legacy is so great and will always go on. She was an angel here on earth and such a beautiful soul. We are thankful for you all in our lives!!!
With all of our love and prayers always,
The Klingseisen's
July 13, 2022
Hello Tony and family, my sincere condolences, please take care and God Bless.
Walt Rager
July 13, 2022
Nancy and Tony lived across the street from us in the Woodlands Texas and we estabilished a special friendship as neighbors. Nancy's smile reflects her passion for life and engaging personality. When she walked in a room, she lit it up! Even during the most difficult times, she maintained a positive mindset and optimist bias, which was infectious. In one word, she was "beautiful". We can all learn from her unique qualities: a comitment to advance the lives of young people, her caring spirit, her love for family and her deep faith. We feel very blessed that Nancy and Tony were part of our lives and she will be missed. Tony, you and your family have our deepest sympathies.
Jan and Susan Steinmetz
July 13, 2022
Kathryn, I am so sorry to read of your mother's passing. Her obituary in her own words was beautifully written. You and your family have our deepest sympathies. Alan & Teresa Noble
July 13, 2022
To Sara, Mary Kay, Tom, Tony, and the family of Nancy: My deepest sympathy for your loss. She was a unique person who was truly devoted to her family, God, and humanity. May she rest in peace.
Mike Lattanzio
July 13, 2022
I was deeply sorry to learn of Nancy's passing. I knew Nancy and junior and senior high school. I remember her as a beautiful redhead, always smiling and kind to everyone. I never saw her without her signature smile. Extend my deepest condolences to her sweet mother Sarah, who was one of my most memorable high school teachers; also to her siblings Mary Kay and Tom.; To her family and many friends, I extend my deepest sympathy. I know she will be missed by many.
Dawn Zellefrow
July 13, 2022
I had the privilege and honor of knowing Nancy. She was always smiling and now God will smile on her. She fought a long hard battle with such grace. Rest In Peace dear Nancy
Debby Rudy
July 12, 2022
Nancy was a spectacular woman. She touched the heart of so many people. She has left a legacy. All of you – husband daughter, sister, gradchild, granddaughter grandson should be so proud. I'm honored to have known your wife, mother, grandmother.
I am so sorry I will be visiting my own mother who is 96 1/2 and will miss Nancy service. I know it will be very special and heart felt. She will be looking over all of her loved ones for the rest of their lives and that and itself is a blessing. She was an angel on earth. Now she's an angel in heaven. Love to you all, Henrietta
July 12, 2022
I'll always remember Nancy Kurtz for honoring God in all that she did and for reflecting the love and kindness of God into my life. Andy Deihm


July 12, 2022
Sending prayers to you all.🙏🙏🙏
Max Pozzuto
July 12, 2022
Our sincerest sympathies Tony, Kathryn, Kelly, Mrs Meighan, Mary Kay, Tom and your families. Nancy and I were college roommates and like so many other of her friends and family, I too knew she was very special. Nancy was Super kind, generous, bright, creative, and extremely caring. She possessed all the right ingredients to be a great, long-lasting friend. Lots of cherished fun memories. God called home a beautiful soul and we will all miss her.
Cathy (Martin) Vore-Visconti & Michael
July 12, 2022
Sending our deepest sympathy to Tony and his entire family on the passing of their wife,mother,mother in law, and grandmother . We did not know Nancy however her beautifully written obituary certainly shows what a God filled life she lived showing kindness and love to so very many…. May she Rest In Peace. God bless each of you!!
July 12, 2022
I had the privilege of having Mrs. Kurtz as a high school teacher at MTHS. She quickly became a mentor in the most formative years of my life. I went on to become a teacher and she has remained an inspiration to me in my career and in my walk with God. Mrs. Kurtz had a way of knowing and loving her students deeply–the way Jesus loves his children. I was not surprised to see her faith in God shine in her writing. She is a Godly, prayerful woman and an example to all of us–from high schoolers to grown adults alike. I will hold your family close in prayer as your grieve the loss of such a remarkable woman of God.
Margaret Hoerner Finnegan
July 12, 2022
Mrs. Kurtz was one of the kindest teachers I was privileged to know at MTWP. I will always remember the warmth of her personality and how it brightened up her students' day. She always thought the best about everyone. I remember she encouraged me to pursue teaching as a career and even allowed me to teach her class on a visit from college. I will always admire her as a person and an educator. She will truly be missed. My condolences to her family for your loss.
Matt Bergman
July 12, 2022
Nancy's smile says it all about how she lived and loved her life and family. Our deepest sympathy to the Kurtz and Brandt families.
Jeff and Tracy Sturla
July 12, 2022
Nancy lived across the alley from my family in Kittanning. I remember her as a vivacious red-head – so warm and friendly! My love goes out to Mary Kay, Tom, and Sara – always in my heart! – Debbie
July 12, 2022
We have much sorrow hearing of the passing of Nancy. May her husband, Tony, and girls, Kathryn and Kelly, find some relief that she is in peace but will be missed by many..
The Jasin Family
July 12, 2022
Nancy will be remembered as full of grace as well as tough as nails as she battled her terrible disease. Our thoughts and sympathies for the entire Kurtz family.
The Ross Family
July 12, 2022
So sorry for your loss. May the peace and love of God be with you and your family. Prayers to you.
Mike and Louise Higgins
July 12, 2022
I did not know Nancy, but i feel compelled to write due to the beautiful obituary published in todays paper. How wonderful to read Nancy's own words. Her spirit and love of life shine through. Her story is filled with positivity and joy. A life well lived. What a privilege you have had to share her journey.
Deb Hagy
July 12, 2022
I was so sorry to learn that Nancy died, my very deepest sympathy to all her loved ones. I met Nancy in a group at SJN several years ago, was immediately drawn to her. She brought art supplies into the group one week and showed us all how to do abstract paintings—mine hung on my office wall. Her story of how she began painting note cards etc. fascinated me—her spirit and joyful nature was an inspiration.
Peggy Frailey
July 12, 2022
A truly beautiful heart and soul,my heartfelt sympathy to Nancy's family.
Lori
July 12, 2022
Sending sincere condolences to Nancy's family from her K-town childhood friend, Patty 🙁
July 12, 2022
I grew up across the alley from the Meighen family. Nancy was always a bright light in the neighborhood. Kick the can, our beauty pageants, playing dolls, etc.; we had an idyllic childhood. To Sara, Mary Kay, and Tom; please accept my sincere condolences on Nancy's passing.
Suzanne House Giffen
July 12, 2022
Nancy and I commuted together to Indiana high school our first years of teaching. I was saddened to see of her passing and was inspired by her stories. One of my funniest memories of her was that she hated cafeteria duty. My sympathy to you Tony, and to all of her family
Caryn Penrose
July 12, 2022
Beautiful inside and out! Sincere sympathy to Tony, Kathryn, Kelly, their families, also to my sweet Aunt Sara, and all my cousins. Nancy was a kind soul and lived life to its fullest and her life had a positive effect on many. She will be missed and always remembered. God Bless. Jim and Susan (Shafer) Fair
July 12, 2022
My childhood through high school friend, you were such an inspiration. May you rest in Peace until we all meet again. Condolence to your extended family and your sweet Mother.

Chris Livengood Schaeffer
July 12, 2022
I am so sorry to hear of the passing of dear Nancy. My condolences go out to Tony and her girls MaryKay and dear Sara. She had the biggest smile and a heart to match. Her Canadian friend Nancy Santoro 💔
July 12, 2022
My sincerest condolences to Nancy's family and friends. I attended elementary and high schools with Nancy in Kittanning. She was a beautiful, sweet and kind friend to everyone. May she Rest In Peace in God's loving arms!
Margaret Forsythe Patton
July 11, 2022
I'm so sorry to hear about Nancy. She was one of my sorority sisters at IUP .. I will always remember her beautiful hair and smile. With deepest sympathies, Cindy Baltzer
July 11, 2022
I was blessed to get to know Nancy through Tony with whom I worked for several years. Nancy was a beautiful person. Nancy was kind, thoughtful, caring and very smart. She was one of those people that when you were around her you suddenly felt joyful and everything was brighter because of her aura. Heaven must be rejoicing at Nancy's arrival. My prayers to the family. May the King of Kings provide His peace, love and healing during this time.
Randy Webb
July 11, 2022
Nancy was an incredible light in this world. I remember her well as a teacher who supported and believed in her students. She was quite a gifted educator, but an even more incredible human being. Sending love and strength to her family from Tucson, Arizona.
Brenda (Becker) Smoker
July 11, 2022
Nancy and I with 3 other friends walked to high school together for 3 years. But we also survived 8 years of Catholic school. We had great times together and of course long discussions on the meaning of life. I met Kathryn and Kelly here in Kittanning when I was fortunate enough to be their grandmother's IV nurse at the hospital. Also a lovely person. You should all be so proud to say you were in her orbit. Her obit caught her spirit and drive. If I know Nancy she'll be organizing cheerleaders in heaven. Peace and healing.
Marian Dunmire Morris
July 11, 2022
It truly was a blessing knowing Nancy. Thank you Joanne & Vince Cascino for introducing us to this beautiful woman. No one was a stranger to Nancy – her warm smile and infectious laugh made us fast friends. Her beautiful obituary certainly gives us insight into the wonderful life she lived and the lives she touched in her journey over the years. Rest In Peace sweet Nancy. God bless Tony and her daughters, their husbands and her grandchildren – her legacy will live on through them.
Jeanne & Mike Susko
July 11, 2022
Sending our thoughts and prayers from NC…
Sarah Nelson
Visitation

Friday, July 15, 2022
5:00 PM - 8:00 PM
St. John Neumann Catholic Church
601 E. Delp Road
Lancaster, PA

Map and Directions

Services

Saturday, July 16, 2022
10:00 AM
St. John Neumann Catholic Church
601 E. Delp Road
Lancaster, PA

Map and Directions