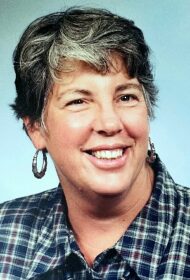 Nancy Leed
September 20, 2022
Nancy Leed of Lititz died on September 20. She was the daughter of the late Eugene and Annabel Leed. For several years she lived with the Harry and Ruth Burger family of Upper Black Eddy, Bucks County.
She is survived by her brother Robert and his wife Nancy of Myerstown PA and their two daughters, Ann in Kentucky and Susan in Maryland. She is also survived by her pupil, friend and caregiver, Fairy Diamond.
Nancy loved being a member of the Church of the Brethren where she grew up. During her teaching career in Bucks County she was a member of the First Church of the Brethren in Quakertown. After she retired, she joined East Fairview Church of the Brethren in Manheim. Finally she came home to the Lititz Church of the Brethren where she was an active member.
Nancy's happiest time was spent trekking in Nepal. On her several trips to visit friends abroad, she traveled in Pakistan and India, most of Southeast Asia, and China as well her many trips to Nepal.
After teaching and traveling she came home to Lititz where her greatest pleasure was spending time tending her garden..
Her memorial service will be held at the Lititz Church of the Brethren on October 15 and 10:30am.
Leave a condolence on this Memorial Page
Condolences to the Family
October 23, 2022
To the Leed family & friends —
I am so very sorry for the loss of Nancy. Really in shock. Will always remember Nancy, we are Millerville University Alums. And, we were Library major classmates & friends. May the kind acts & words of your family & friends offer you the comfort & peacefulness that you need. May your faith in the Lord offer you strength. Praying for Nancy's soul. Deepest sympathy to your family & friends.
I haven't seen Nancy for a number of years, but I know I will miss her forever. Earlier on, we would get together each year over Christmas & share library stories & experiences. I had good times with Nancy & her Mom, as we often made this holiday "get together" an outing, and went to Longwood Gardens for the day. Also, have good memories of visiting Nancy at her home & going to the Bethlehem Music Fest.
Nancy was proud of her accomplishments. I know how much she loved her treks & gardening. May God give you all healing. Cherish your previous happy memories.
October 08, 2022
Dear Bob, Nancy, and Family,
We are sorry about the passing of your sister Nancy. I hope she did not suffer with a lot of pain. When I think of our families, we had so many good times when we visited. Naomi, my mom and Aunt Anna always treated us with wonderful meals and picnics at Lititz Springs Park with Granda Waltz and the whole Waltz family. Our parents always provided well for us so we had a happy life. We always had fun visiting Uncle Genie and Aunt Anna.
We know Nancy did so many good works for her Church and she is in peace with God in Heaven.
God Bless Your Family,
Charlie, Darlene, and the Roehm Family
Services

Saturday, October 15, 2022
10:30 AM
Lititz Church of the Brethren
,

Map and Directions