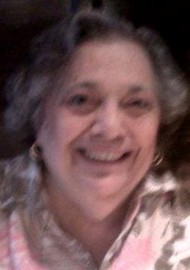 Nancy J. (Scanga) Tersak, 77
December 15, 2014
Nancy J. (Scanga) Tersak, 77, of Millersville, died Monday, December 15, 2014 at Lancaster General Hospital.
Born in Point Marion, PA, she was the wife of the late Stephen Tersak, and the daughter of the late Benjamin and Sophia (Proden) Scanga.
Bubbly and fun, Nancy loved travelling and her pets. She was an avid reader, especially novels by Ellery Queen and Agatha Christie. Her hobby was cooking; she would research recipes and cook healthy gourmet meals for her family every night. Nancy adored her family and will be missed by those fortunate to have known her.
She was a member of Covenant United Methodist Church.
She is survived by her children: Stephen Tersak of Georgetown, TX, Teresa Barnett of Conestoga, Mary Lou Hill of Millersville, Michael, of Jacksonville, FL, Robert, of Atlanta, GA, and David, of Alexandria, VA; 16 grandchildren; and 10 great-grandchildren. She was preceded in death by a son, Christopher Tersak.
Memorial services will be held Monday, December 29, 2014 at 1PM at Covenant United Methodist Church, 110 N. Mulberry St., Lancaster, PA 17603 with Pastor Sally Ott officiating. Friends will be received at the church following the service. Burial will be private at the convenience of the family.
Kindly omit flowers. Memorial contributions in Nancy's memory may be made to the church building fund at the address above.
Leave a condolence on this Memorial Page
Condolences to the Family
January 03, 2015
In Memory of my beautiful Mother:
" Death is nothing at all. It does not count. I have only slipped away into the next room. Nothing has happened. Everything remains exactly as it was. I am I, and you are you, and the old life that we lived so fondly together is untouched, unchanged. Whatever we were to each other, that we are still. Call me by the old familiar name. Speak of me in the easy way which you always used. Put no difference into your tone. Wear no forced air of sol…emnity or sorrow. Laugh as we always laughed at the little jokes that we enjoyed together. Play, smile, think of me… Let my name be ever the household word that it always was. Let it be spoken without an effort, without the ghost of a shadow upon it. Life means all that it ever meant. It is the same as it ever was. There is absolute and unbroken continuity. What is this death but a negligible accident? Why should I be out of mind because I am out of sight? I am but waiting for you, for an interval, somewhere very near, just round the corner. All is well. Nothing is hurt; nothing is lost. One brief moment and all will be as it was before. How we shall laugh at the trouble of parting when we meet again!" by Henry Scott Holland
December 18, 2014
We have come to love and share memory making moments with Stephen and Xander. MOM—–You"done" well as one would say

Gary, Judith Dustin, and Michael Carver
Services

Monday, December 29, 2014
1:00 PM
Covenant United Methodist Church
110 N. Mulberry St.
Lancaster, PA 17603

Map and Directions