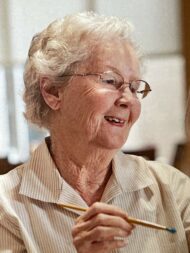 Nancy B. Roberts, 92
October 3, 1929 - November 05, 2021
Nancy B. Roberts, 92, of Lititz, PA, passed away November 5, 2021 after a brief illness. Nancy was born in Charlotte, NC, to the late Morris and Lilian (Hamilton) Wingate. She graduated from Charlotte Technical High School in 1948.
In addition to her parents, she was predeceased by her twin sister and lifelong best friend Patsy Trigg, and sisters Greta Nelson and Kay Mullis. She was also predeceased by her former husband Maurice Brackett, and by her husband Frank Roberts.
Nancy excelled at every endeavor – as a wife, homemaker, volunteer at Wake Medical Center (President of the Volunteer Auxiliary), artist (selling her original ceramic creations from home), professional (Employee of the Year at least once), Church Librarian for decades, gardener, league bowler (Sportsperson of the Year several years for her team spirit), and even as a matchmaker – introducing her coworker Roger to her daughter Marva. They were married eighteen months later. But her best role was as a mother. She taught her children by example how to be gracious, humble and sincere to everyone, whether the neighborhood grocer, those less fortunate, neighbors or colleagues.
Nancy will be deeply missed by her son Drew Brackett (Connie), daughter Marva Brackett Godin (Roger), grandchildren David Godin (Rasha Clark) and Leah Godin (fiancé Joe Bruno), great-grandchildren Jesse and Charlie Godin, and several nieces and nephews.
A Celebration of Nancy's Life is being planned for a later date.
The family wishes to thank Nancy's loving caregivers at Luther Acres, who fondly remember her Southern-accented daily greeting, "Well, hey darlin'!"
Dearest Mama, Grandma, Aunt Nancy, your spirit will live on in the hearts of every life you touched. We will miss you terribly, but hope to be reunited with you someday.
Leave a condolence on this Memorial Page
Condolences to the Family
November 21, 2021
Sending our prayers for your family at this sad time. We have fond memories of Nancy when our daughter Katie and Leah were in school together. We especially remember their graduation from high school, when Nancy and Katie's grandmother Ethel watched the ceremony together in the PAC at Hempfield High School. Ethel was disapppointed at first because she was not sitting with us in the stadium, but afterwards remarked what a grand time she and Nancy had together watching their granddaughters graduate. Hold onto those precious memories now!
Scott and Mary Hetrick