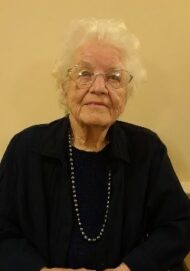 Muriel Annie Bell Tucker, 98
October 28, 2021
Muriel Annie Bell Tucker, 98, of Willow Street, PA, passed peacefully into her Lord and Savior's presence on October 28, 2021.
She is survived by her daughters Janice Dubois of Scarborough, ME, Shirley Tucker of Lancaster, PA and Beverly Detwiler of Rustburg, VA.; 11 grandchildren and 37 great-grandchildren. She was predeceased by her husband, Dexter Burton Tucker, Jr., two siblings, Thomas and Kathleen and her youngest daughter, Alison T. Adams.
Muriel was born in Browns Flats, New Brunswick, Canada to Elmer Weyman Bell and Estelle Blanche (Kitchen) Bell. She was naturalized as a baby, moved to Framingham as a teen, and later married Dexter. They were married for 74 years before his death in 2017.
She was a church secretary for many years and both she and her husband were actively involved in the churches they attended in MA, NY, CT and finally Grace Church at Willow Valley in Willow Street, PA. Muriel was known for her organizational skills, hospitality, the acclimation of international students studying in the U.S. and knitting and crocheting afghans, mittens, hats, and sweaters for family members and Christian Aid Ministries.
She kept a prayer journal and actively prayed for each of her children, grandchildren, and great grandchildren. Her greatest desire was for each to have a personal relationship with Jesus as their Savior.
Inurnment next to her husband will be held at Indiantown Gap National Cemetery during a private family service. Donations in Muriel's memory can be made to Christian Aid Ministries, P.O. Box 360, Berlin, OH 44610 or Bibles may be given in her memory through Gideons International at www.gideons.org.
Leave a condolence on this Memorial Page