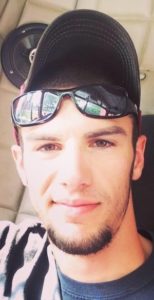 Mitchell Chayce Bewley, 27
February 14, 2021
Mitchell Chayce Bewley, 27, of Quarryville tragically died on February 14, 2021.
Mitch is survived by his children: Greyson, Garrett and Sadie; his parents: Robin Mull and Michael Bewley (Jan); his siblings: Erin Nicole Sands (Adam), Benjamin Bewley (Lauren), and Kaitlynn Bewley; his grandparents: LaVerne and Barbara Mull and Lloyd and Doris Bewley; his step-brothers: Peter Jacob Pranckun, Joshua Pranckun (Rachel), Zachariah Pranckun and Joel Pranckun (Hebah); as well as five nieces and nephews and six step-nieces and nephews.
Mitch was employed by A W Fox Trucking, Inc. and was a loyal and dependable employee. Mitch loved his children and his truck more than anything else in the world. He was known for his quick smile, authentic friendliness, his moves on the dance floor, and of course singing a mean Karaoke! He enjoyed being goofy and made everyone around him feel loved. Mitch, "catch ya on the flip side."
A memorial service will be held at 11:00am on Wednesday, February 24, 2021 at the LCBC Manheim Campus, located at 2392 Mount Joy Road, Manheim, PA 17545. COVID considerations will be in place so please plan to wear a mask inside and social distancing is required. Trucks can enter from Esbenshade Road or from the entrance off 772 west off the soccer fields. Parking will be in the north parking lot. To honor Mitch, all who attend have been asked to dress in jeans and boots.
In lieu of flowers, donations for Mitch's children can be made to the Mitchell Bewley Memorial Fund at any PNC Bank location.
Leave a condolence on this Memorial Page
Condolences to the Family
June 25, 2021
My condolences to you and your family on this tragic loss. Was talking to a fellow driver who told me about the truck show. I plan on attending. May the peace of the Lord comfort you.
Frederick D. Weeks Jr.
February 27, 2021
Mike I am so sorry for your loss.
Rics friend from Oasis on Saturdays – Mike
February 26, 2021
Dear Family and Mitch,
Mitch was always such a delight to wait on. He was so positive and happy. A true family man. He was very kind and patient. Good Bless Mitch and his family. He loved his children. My heart breaks for his family. May God bring you peace throughout this time.
Colleen
February 25, 2021
My sincere condolences to the family , children and friends of Mitch. RIP . My prayers are with all of you.
VICTOR M DEMASCOLO
February 24, 2021
Robin,
I just want to let you know your family is in our thoughts and prayers. I cannot imagine what you all are going through. Thoughts and prayers.
The Penberth Family
February 24, 2021
It was a very sad day and I send my sincerest condolences to his family and anyone who knew Mitch. I experienced the honor of working with Mitch for a couple of years and he was always such a joy to be around. Never would be here an unkind word come out of his mouth about anyone. He will be missed dearly
Dean
February 24, 2021
Mike, Jan, and Family, I cannot even imagine the sorrow you all are going through during this tragic time in your lives. May God bless each and every one. RIP Mitch. Fly high with the angels.
Ed and Lorena Jones
February 24, 2021
Beloved Family & Friends of Mr.Mitchell,
Though I do not know anything about him, it is so painful to feel his loss . Got to see on a website.
He is so Handsome and well-spoken of. This reminds me what we went through when we lost our
Brother at 21. May our Almighty God Help you cope and keep up the Hope of Resurrection strong as he has promised on this very Earth. See you soon Mitch…
He ( God) will call .
Life, like a mist, appears for just a day,
Then disappears tomorrow.
All that we are can quickly fade away,
Replaced with tears and sorrow.

If a man should die, can he live again?
Hear the promise God has made:
He will call; The dead will answer.
They shall live at his command.
For he will have a longing
For the work of his own hand.

So have faith, and do not wonder,
For our God can make us stand.
And we shall live forever,
As the work of his own hand.

Friends of our God, though they may pass away,
Will never be forsaken.
All those asleep who in God's mem'ry stay,
From death he will awaken.
Then we'll come to see all that life can be:
Paradise eternally

February 23, 2021
So sorry for your loss your family are in our prayers fly high Mitch
Mike@Ashley Halteman
February 22, 2021
I'm sending my condolences to Mitches family and friends my God be with you all
Sandy Bristow
February 22, 2021
Mike and Jan – we are so sorry for your loss. Please know you and your family are in our thoughts and prayers.
Richard and Lisa Wittlinger
February 22, 2021
I am so sorry for your loss. Prayers for your family!
Rebecca Sadler Dominguez
February 22, 2021
Mitch was a beautiful person inside and out. He was such an amazing father,husband,uncle,brother in law,son,son in law and brother. I just loved him so very much and always will. Xoxoxo
Sister in law Vivian Mena
February 22, 2021
The Neiss Family is truly sorry for your loss. We all pray your hearts will heal and Mitch will always be in our hearts and Minds.
Thomas C Neiss Jr
February 22, 2021
All the family is in my thoughts and prayers. Keep the faith and lean on God at this time. Prayers from Carol Tichnell
February 22, 2021
Mike and Jan,
We are so sorry for the loss of your son. We will keep you and your family in our prayers
Nancy & Raleigh Doom
February 21, 2021
To the Bewleys, Lloyd and Doris, your family is in our heart and our prayers as you remember the life of Mitchell. Love to you all.
Joanne Swords-Wang
February 21, 2021
I'm expressing my sympathy and praying God blesses you with His comfort… Aaron (Ed and Wilt's hunting buddy)
February 21, 2021
My deepest condolences to you Robin and your entire family. I am grateful that I got to hear awesome stories about Mitch and the boys, and that beautiful baby girl. Words cannot express how heart breaking this is, but know that he will always be in your heart, and looking over you always❤️🤗 Hugs, love and all my prayers❤️
Erin Shields
February 21, 2021
To Mitch's family and friends,
Harold and I only met Mitch a few times through our son-in-law, Michael Brown. Friendliness is the perfect word for him. We felt his love for life and his love for his children in the encounters we had with him. Please know that our thoughts and prayers are with your family and friends as you lay him to rest. May God wrap his loving hands around all of yous as you process the unimaginable greif that lies in the days ahead.
God Bless
Harold and Carol Spatz

February 21, 2021
Robin and family. I have been keeping you in my thoughts and prayers and will continue to pray for you and Mitchell's children. He sounds like he was a really great person and son. Words fall short in expressing my sadness for your loss.
Julie Witmyer Misra
February 21, 2021
I never known this young man, But I live in Strasburg and heard about what happened, My sincere condolences to the family,May God give you strength in the days to come, Peace be with you all…
Jo Anne Main
February 21, 2021
Mike….It was many years ago since we've connected, but I remember those times of sharing at BIH when you would talk about your young children with such love and care. May it help to know that we are supporting you and your whole family with prayers as you grieve this huge loss in your life.
Betty (Garber) & Mike Stewart
Services

Wednesday, February 24, 2021
11:00 AM
LCBC Manheim Campus
2392 Mount Joy Road
Manheim, PA

Map and Directions