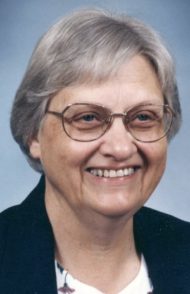 Miriam Snavely Longenecker, 87
June 08, 2021
Miriam (Mim) Snavely Longenecker, age 87, died Tuesday, June 8, 2021, at Landis Homes, Lititz, PA, following a gradual decline in health over recent years. Miriam was born in Brickerville, PA, to the late Ben and Mabel Witmer Snavely. On August 16, 1952, at Hammer Creek Mennonite Church, she married Martin (Marty) Miller Longenecker who preceded her in death after 51 years of marriage in 2003.
The fourth in a family of five girls, she went on to raise six sons, five of whom survive her: Randy (Marla) of Athens, OH; Terry (Rhonda) of Kalispell, MT; Nelson (Dani) of Lancaster, PA; Mike (Joyce) of Lancaster, PA; and Kevin (Shelby) of Harrisonburg, VA. Son Phil preceded her in death in 2015. Two sisters, Helen Snavely and Lois (Grayfred) Snavely Gray survive. Her other two sisters, Ruth (Harold) Snavely Frey and Irene (Rafael) Snavely Ramos, preceded her in death. She has 15 living grandchildren and 17 great-grandchildren. One great-grandson preceded her in death.
Miriam's faith in Christ embraced mystery and she enjoyed deep spiritual conversations with others. She exhibited many gifts—hospitality, concern for others, encouragement, and prayer. In addition to her six boys, she enjoyed raising plants and flowers. Her artful creativity was best expressed in floral arrangements. She appreciated both order and asymmetry—she 'colored outside the lines,' all the while respecting them. Miriam was self-educated and intensely curious, having only been given the opportunity to finish eight years of formal schooling. And although unable to do so in recent years, one of her favorite activities was enjoying the great outdoors on a walk with family.
A Graveside Burial Service for close friends and family will be conducted at Shope's Cemetery in Middletown, PA, at 10:30AM, on Tuesday, June 15, 2021 followed by a memorial service at the Charles F. Snyder Jr. Funeral Home & Crematory, 3110 Lititz Pike, Lititz, PA that afternoon at 3PM. The services will be livestreamed on this page beginning at 2:55PM. Memorial donations can be made to Landis Homes, 1001 E. Oregon Rd., Lititz, PA 17543.
Leave a condolence on this Memorial Page
Condolences to the Family
June 27, 2021
Aunt Miriam's smile was always something I would seek out at reunions. She was a quiet observer with a smile at the ready! My first memories of her were at the house next to Longenecker Meats when we came to visit grandma… with all those boys swarming around her! But those chats at the reunions are my latest and most present memories! I will always cherish those – and her warmth. My thoughts and prayers are with you all as you celebrate her life and mourn her passing.
June 19, 2021
My condolence to Miriam's family and friends. I learned of her when David and I lived in Harrisburg and attended Steelton Mennonite Church. She was a pleasant person. I visited her at least once in her apartment at Landis Homes. Thank you for sharing the funeral service. What an inspiration she was. May her Christian testimony live on. Sandra Erb June 19,2021
June 16, 2021
Thanks for this link. I was glad to be able to spend time thinking about my memories of Aunt Miriam and all of you, her family and her friends who gathered. I am grateful for you. I think of the joy of reunions over the years and wonder how it is for her and what reunions she is celebrating now … loved ones, ones she prayed for … gone before, healed and whole? Wow. Most of all I am grateful for our hope through Jesus of life. A life that carries on abundant and everlasting. I imagine her now as part of the great cloud of witnesses cheering you all on, cheering us all on as we run the race … that bit set before us in this day, this week, the days and years to come. May you find comfort as you grieve. With love, April Longenecker
June 15, 2021
My deepest sympathies to each of Miriam's family. She was a lovey lady and a blessing to all who knew her. I enjoyed working for Marty & Miriam when I was young. And got to know them well during that time, as well as each of the boys. Those were very good years. Our families grew up not far from each other, but I never really knew Miriam until I worked at Longenecker's Meats. Those days are good memories. I couldn't have worked for any better people than Miriam & Marty.
Lorraine Weaver Leininger
June 15, 2021
I'm so glad that the memorial service for Miriam was made available by livestream. It is hard to overstate the impact that the Longenecker family has had on my life. And, of course, Miriam was a big part of that, whether directly or indirectly. Like many others, I was a beneficiary of both her gracious hospitality and her deep wisdom and relationship with Jesus. She will be greatly missed, but her life will continue to bear fruit for a long time.
With love, Mike Winey
June 15, 2021
My sympathy to Randy, Terry, Nelson, Mike, and Kevin, and the extended Longenecker family who received so much love and care from Miriam and Marty. I have fond memories of Miriam consoling me when I had a difficult time, of never feeling rushed when I was around her, of Bible studies at the house, and of her always welcoming smile. I remember the landscaping around the house and of watching her tend her flowers just as she did her family and friends. I will miss knowing that she is just a phone call away, but also know that she has moved on and is free of all pain and sorrow.
Liz Valentine
June 14, 2021
My sympathies to you all, my Longenecker "brother-cousins" and your spouses and children. May you have really special family times this week, reconnecting and sharing memories of your beautiful mom. I always appreciated your Mom and Dad and your family, how you welcomed me and helped me adjust to a new culture. I still have two of your mom's beautiful floral creations in my house and they always remind me of her. I'm glad she is now at peace.
Ceci Good
June 13, 2021
I was saddened to learn of Mim's passing, but simultaneously thrilled for her to have entered eternity, forever being with her Savior and Marty! How precious are the memories of them from 30 + years ago being in the same small group from Petra. I don't think I'll ever forget the time when our youngest was about to be born, we went to the hospital but labor stopped and we had to return home. It was a downer! Mim invited me to come to their home to pick up a bunch of books to read and graciously ministered to me. Classic Mim style! So long, dear friend. We will meet again after awhile.
Dorothy (Dot) King
June 12, 2021
Dear Longenecker cousins,
We send our sympathy and condolences to Marty and Miriam's family. We have good memories of her and we rejoice to think of her entering into the joy of her Lord! We cannot imagine what is in store for those who love him. Blessings and love to those close to her here.

June 10, 2021
Dear Cousins,
I am thinking of you all with sweet memories and loving hope in my heart. Your mom was an inspiring person, encouraging me in my trust in Jesus and walk with the Holy Spirit. And she and you all were also a big part of my memories and experience of coming to visit Grandma. Thanks also for all of your visits to our house in Canada!! It is so happy to be bonded by thoughts of those memories, and the God of your Mom and Dad! Hoping that these thoughts comfort you in your loss!
Love,
Sandy Cox (Longenecker)
Services

Tuesday, June 15, 2021
3:00 PM
Charles F. Snyder Funeral Home & Crematory
3110 Lititz Pike
Lititz, PA 17543

Map and Directions