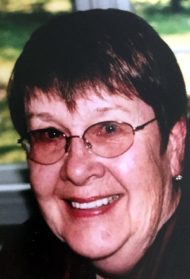 Miriam Macdonald Reid, 81
April 14, 2017
Miriam Macdonald Reid, of Lancaster, died Friday, precisely as she had hoped- without pain, on a day of deep spiritual significance, holding her mother's rosary beads, surrounded by her three daughters and the grandchildren she adored. She was 81.
A native of San Francisco, Miriam swam competitively on a national level, earning a spot at the 1956 Olympic Trials and competing at the Pan American Games. She was also an avid synchronized swimmer, who was pictured in Life Magazine alongside her teammates in a feature on the sport.
Miriam was a graduate of the University of California-Berkeley, where she earned a degree in Far-Eastern Studies. She spent her junior year at the University of Hawaii, where she met her former husband, John Reid. Miriam went on to earn a master's degree in education from Duke University and became a loyal, lifelong fan of Blue Devil basketball.
She spent the bulk of her teaching career as a reading specialist at Pequea Valley Intermediate School, where she coached the school's participants in the Scripps Howard National Spelling Bee. It was a natural fit for a woman who loved words, language, and etymology. She also took on a brief stint as the school's chess club advisor, until they could find someone who actually understood the game. Following her retirement, Miriam continued to volunteer as a tutor, assisting both children and adults in literacy.
Miriam was an avid crossword puzzle enthusiast and took pride in being able to complete the New York Times Sunday crossword puzzle with an ink pen. She also was the first pick for any trivia challenge and knew the most arcane facts. She attributed this to her passion for reading.
An explorer at heart, Miriam travelled to every state in the nation except for North Dakota. But her primary joy was travelling abroad to Europe, Asia, Australia, New Zealand, and Africa.
Miriam was a proud grandmother, who never missed an event, finding a front-row seat to every match, recital, play, competition, or milestone occasion. She kept detailed scrapbooks for each grandchild, highlighting every recognition no matter how slight. She considered each her favorite.
Miriam was the daughter of Malcolm and Helen Macdonald. She was preceded in death by her parents and a brother, Malcolm. She is survived by three children, Karen Reid Weiss, wife of Greg Weiss, New York, Christine Reid Veronis, wife of George Veronis, Lancaster, and Carol Diane Reid, of Tequesta, Florida. She is also survived by three grandchildren, Alexander, Sarah, and Elizabeth Veronis.
A Memorial Service celebrated by the Rev. Michael Culkin will be held Tuesday, April 18th at 2pm at the Charles F. Snyder, Jr. Funeral Home & Crematory, 3110 Lititz Pike, Lititz, PA 17543. In lieu of flowers, contributions may be made in Miriam's memory to Lancaster Catholic High School, 650 Juliette Ave., Lancaster, PA 17601.
Leave a condolence on this Memorial Page
Condolences to the Family
June 27, 2017
Miriam Macdonald Reid is an alumna of Presentation High School, San Francisco, Class of 1953. The Sisters of the Presentation are praying for you, your family and friends during this difficult time. May God bless you with love, comfort and peace.
Presentation Sisters, San Francisco
April 20, 2017
In reading of the life of Ms. Miriam Macdonald, one sees a woman of accomplishment with an exploration desire, and as a provider of learning and joy to many. Her family is very blessed to have had her as their matriarch. Her legacy will be treasured by many who knew her as they go through life.
Lasting Love, Peace, and Memories.
With Sympathy,
Joseph Bucara
April 19, 2017
It's the little things about my grandma that seem to stand out the most.
—her unique terms of endearment that always made us smile- she often called each of us lambbie, dearest or beloved.
—her magnificent magnet collection proudly displayed on her fridge…many from her travels around the world.
—her knowledge of the toughest trivia facts— she could answer jeopardy questions correctly before the contestants. We often encouraged her to audition—she surely would have won.
—her always full mini mailbox- stuffed with rolos- a grandma candy classic.
—her sharp mind and quick-wit.
—her hearty cheers at all of our events.
Growing up a mile from my grandma is something I will forever be grateful for. I will always cherish our annual shopping trips to pick out an easter dress, Tuesday night dinners together before driving me to dance class, our love of mexican food, musicals, literature, and of course, dr. pepper.
Grandma surely was special. It didn't take much to make her happy—a phone call, a card, a good book, or simply just time together. Her favorite thing— being with her family. It was our favorite too.
We are remembered by the way we make others feel, and grandma ALWAYS make us feel special. We love and miss you!
April 18, 2017
May the precious memories and the knowingness she is in the loving arms of our Father in Heaven give you comfort and peace. Much love, Dorothy and Jean Franzoi.
April 17, 2017
It was an honor to teach with Miriam. She was a mentor and a friend, quick with her dry wit and quips. My condolences to her family as she will be dearly missed. Pam Chillas
April 17, 2017
I am forever grateful to have been able to know and spend time with Grandma. She had the biggest heart and the most kind spirit. She adored her grandchilden and her face lit up everytime she saw a friend or family memeber. I will always remember how she made me feel included in the family alwasy inviting me to lunches or just to spend time at Willow Valley. We often bonded over our love of Duke sports. Because of you Grandma, I call Sarah "Sass." I will miss you Grandma.
Love,
Harrison
April 17, 2017
Wow, reading through her life story…she enjoyed such a full life! Your lives reflect hers in so many ways – extraordinary athleticism, excellence in academics, a passion for traveling and exploring the world, a calling to serve others- volunteering or reaching out in your communities. Not to mention, her pride for her family. ❤️ I can see her in all of you. So sorry you are mourning, but her spirit and her legacy will most certainly continue to live through each one of you.
-Julia Goldbach
April 17, 2017
Praying that you all gain extra strength and understanding during this most difficult time. As a surrogate grandchild, Grandma treated me like one of her own. I could have sat at the kitchen island and chatted with her for hours. I love how she would quietly sit amongst our chaotic family and the millions of conversations that were buzzing around her. Here and there she would throw in a few comments that would immediately make me laugh (or head to a dictionary to look up a new vocabulary word she used). Grandma's sense of humour, wit and compassion make for one of the greatest persons I will ever know. She was an incredibly attentive grandmother as she made it to every sporting event, birthday celebration and school dance photo op. I looked forward to receving her birthday card every year as she was a gifted writer and I knew every word she wrote came from the heart. Some of my greatest childhood memories spent in Lanaster include Grandma, as she was always smiling and admiring her beautiful children and grandchildren. I hope you are all able to reflect on your wonderful memories with Grandma and the lessons she taught us including the importance of generosity, compassion and a great sense of humor. I love you and am thinking of you each and every day. xox
April 17, 2017
Carol, may God bless you and your family. It appears your mom lived a wonderful full life. You remain in our prayers. Alvilta and DOnald Morin and family
April 17, 2017
Carol, Chris and Karen — There is something about losing a mother that is inexpressible–I can't imagine the sadness you must be feeling but I will continue to pray that God will comfort you with loving memories to forever hold in your heart. I had the pleasure of spending time with your mother when she visited Florida. She was gentle, kind and gracious. Quite simply, she was a very special lady and I am so sorry for your loss.

Alex, Sarah and Lil — May all the warm and special memories you shared with your "Grandma" stay with you and bring you comfort, always.

Deepest Condolences,
San McCants & Family
April 16, 2017
Praying for the family of this amazing lady. My heart hurts today, knowing I won't be receiving anymore letters from my most favorite and loved teacher. How blessed was I for having you as a teacher in 7th and 8th grade? After that….it was a friendship I'll forever cherish. I'll never forget meeting for dinners and my surprise visits to your room at PVIS. I will so miss your friendship. Love ya, Mrs Reid. I will nevet forget you.
Faith Simmons Barker
April 16, 2017
My love and prayers to Miriam's family at the loss of your dear mother and beloved grandmother.
Miriam, I mourn the loss of my oldest and dearest friend from childhood. May God grant you the peace you so richly deserve and take you home in His loving arms, my friend. God bless…
Anne Schaefer
April 16, 2017
Undoubtedly the most intelligent, well educated and well read woman I ever knew, Miriam possessed a zinging wit that left me chuckling for hours. It was an honor to teach with and learn from this lady who touched so any lives.
Ruth Bicking
April 16, 2017
I love this family dearly as you have taken me in as your own! I am deeply sorry for your loss. Miriam, or "Grandma," as I knew her was kind, smart as a whip, generous, and loving. She was a bright light for my brother as his tutor and for that my whole family is very grateful. I am happy that I got to see Grandma in the hospital while I was home this winter. Sarah, Harrison and I brought her candies and she was cheerful and happy to see us. She even offered to treat us to lunch. Sending love and prayers to each of you.
Services

Tuesday, April 18, 2017
2:00 PM
Charles F. Snyder Funeral Home & Crematory
3110 Lititz Pike
Lititz, PA 17543

Map and Directions