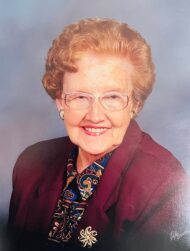 Miriam June Thomas, 100
October 14, 2022
Miriam June Thomas, 100, passed away on October 14, 2022 surrounded by her loving family. Born in Springs, PA, to the late Fred and Minnie Lohr, she was the last surviving sister of her four siblings. June was the wife of Anthony Thomas for 36 years until his passing in 1981.
June is survived by her children, Joanne, wife of Barry Gebhard of Palmyra, Kathleen Tobias, Tina Alexander, and Fred Thomas, husband of Lisa, of Lancaster, as well as 12 grandchildren and 10 great-grandchildren. Predeceasing her was a stepson, John Thomas, husband of Henrietta, of Lancaster.
June, known for her unwavering faith and deep love for the Lord, was a member of her church's Bible Study and the local Christian Business & Professional Women group. June expressed her love to her family and friends through cooking and hosted many gatherings throughout the years. June, an accomplished equestrian, enjoyed reading, painting ceramics, and tending her flower garden. She was retired from the School District of Lancaster.
A Celebration of Life Memorial Service will be held at Grace Community Church of Willow Street, 212 Peach Bottom Road, Willow Street, PA 17584 on November 26, 2022 at 11:00 a.m. Interment will be private. In lieu of flowers, contributions, in her memory, may be made to the Grace Community Church of Willow Street.
Leave a condolence on this Memorial Page
Condolences to the Family
November 27, 2022
My dear dad affectionately called her Junie, but I called her Mother. Her name was Miriam June, and quite the mom she was! Her last sweet words to me were, "I will be praying for you, I love you." I loved her energy, positive attitude, strong faith in God, and love for her family. On the early evening of October 14th, heart failure squeezed her final breath at 100 years of age. Shortly after she passed, I gently stroked her soft hair and held her still-warm hand. 🌹As tears flowed down my face, I thanked her for being the best mother I could have ever had. My tall, sharp-minded, statuesque, elegant and beloved mother resides in Heaven now, in the presence of the Lord, joyously reunited with my precious dad and all of our cherished loved ones that went to Glory before her. I can picture her clearly now, young again, bathed in glorious light, and riding on a Heavenly horse with a big smile on her sweet face.. Ride on fair lady, ride on…
October 24, 2022
I was sad to see that Miriam passed away. When someone reaches her age, we almost think of them as immortal. I always enjoyed any visit I made with her as did any other nurse from our office who saw her. She was truly remarkable and will be remembered fondly by all who crossed her path.
Suzanne Hostetter (Extended Family Care)
October 20, 2022
My condolences to June's family:
June was a beautiful woman in appearance and also beautiful and wise in thought and deed.
Margo Thomas
October 19, 2022
Our deepest condolences
Kenny & Suzanne Myers
October 19, 2022
Dear Family: we were saddened to hear of Aunt Junes passing. We have many good memories. You have our deepest sympathy. George and Judy George
Services

Saturday, November 26, 2022
11:00 AM
Grace Community Church of Willow Street
212 Peach Bottom Road
Willow Street, PA 17584

Map and Directions