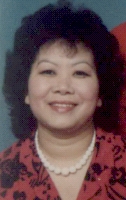 Minh To, 65
Minh To, 65, of Lancaster, PA, passed away on Thursday, March 29, 2012 at her residence.
She was the wife of Phi Cong To, with whom she celebrated 47 years of marriage this past September 19th. Born in Hanh Thien Nam Dinh, Vietnam, she was the daughter of Nga Thi Nguyen of Santa Ana, CA, and the late Trac Van Vu.
In Vietnam, Minh had worked as the Assistant to the Director of Pacific Architecture from 1965 to 1975. She had worked in the Human Resources Department at the former St. Joseph Hospital for 10 years. After St. Joseph Hospital, she worked for David Lynch Architects and Associates, Georgi Sports, and Calvary Fellowship Homes.
She enjoyed gardening, shopping, traveling, and loved her dog, Cookie. Minh was also a great cook and was best known for her eggrolls.
In addition to her husband, she is survived by her 4 children: Trang To-Trinh married to Tam Trinh of Lancaster, Trinh To-Weichler married to Scott Weichler of Strasburg, Phuong To and partner Tom Duff of Magnolia, NJ and Oanh To and partner John Griffin of San Jose, CA, and by her 3 grandchildren: Timothy, Christine, and Sydney. She is also survived by her sister, Thuy Vu of California.
Friends will be received by her family on Tuesday, April 3, 2012 from 6 to 8PM at the Charles F. Snyder Jr Funeral Home & Crematory, 3110 Lititz Pike, Lititz, PA. Services and interment are private. In lieu of flowers, please make contributions in Minh's memory to the National Kidney Foundation Inc, 30 East 33rd St., New York, NY 10016, the American Diabetes Assn, 3544 N. Progress Ave., Suite 101, Harrisburg, PA 17110, or to Hospice of Lancaster County, 685 Good Drive, Box 4125, Lancaster, PA 17604-4125 hospiceoflancaster.org. To send an online condolence, please visit SnyderFuneralHome.com. Charles F. Snyder Jr Funeral Home & Crematory 560-5100
Leave a condolence on this Memorial Page
Hello. This is Munnie from Texas.
I wish more than anything to be there with you during this time, but I do respect your wishes to have a private ceremony. I pray that the family finds peace in knowing that Ba Phi is now with the Lord in his kingdom as a guardian angel to all of us now. I am sure that you already know that Gabriel,I, and the family here in Texas loved and will continue to love Ba Co Phi dearly.
Her obituary was beautiful, and I did not realize that she held such prestigious careers in her lifetime. All I remember is the convenient store and her working at a bank…I think 😉 I do remember Cookie (that dog hated us!) and egg rolls, but what I remember most about Ba Phi is her amazing sweet potatoe and shrimp fritters. There have been several bad immitations by my mother and myself, but hers were the best. I also appreciated her sending all of us money for Christmas every year when we were children, even though my parents never let us cash the checks. She was so thoughful and caring person, we knew without a doubt that she loved us. Her hugs and funny laugh will be missed the most.
This is such a bittersweet moment. Knowing that she is at peace now, makes my heart smile, but sad that we lost such an amazing woman. I am thankful that she was able to meet my Sweet Gabriel and spend time with him when she was at my parent's house vacationing. She is his beloved Great Grandmother, and Gabe will be sending a card to you in the mail soon. He made it himself.
I love you
Munnie … Van Nguyen
Em Truong duc luu va gia dinh xin thanh kinh chia buon cung anh Phi va cac con chau trong su ra di cua chi Minh, nguyen cau chua va cac thanh than don chi Minh ve binh an tren Thien Dang.

Em Truong Luu, California.
We are so sorry for your loss. Please accept our sincere condolences. We pray that you will be comforted by your faith.
Wayne Eller and Paula Rebman Eller
To Family,
I am so sorry for your loss. I will always remember Mrs. Minh for her delicious egg rolls that mom would come home with. May god bless you and your family at this time of loss.
Laura Heilig (Margie Heilig's daughter)
I am Donna Gay Grun Kaplan at P.O. Box 128, Mt. Gretna, PA. I am so very sorry to read about the death of Minh To (I knew her as Minh Vu). She was a fine, brilliant, and fun person who could make egg rolls better than anybody anywhere.
I regret that I was unable to come to her calling hours; I should like to have extended my sympathy in person.
I met Minh when I came to work at St. Joseph Hospital, in Lancaster, in 1982. She was so friendly, so knowledgeable, and so very helpful to me at a time when I was alone in life and returning to workforce after a long hiatus. I don't know what the human resources department ever would have done without her. She was a very important part of my life at that time, and I continued to enjoy meeting up with her after I left SJH.
I then went to Lancaster Theological Seminary and continued to enjoy her egg rolls because I could walk from the LTS campus to the corner grocery store where her husband had her egg rolls for sale on certain days. What a treat!
Please know that my thoughts and prayers are with your family during this time of grief. I shall always remember her with love and gratitude for who she was, and I know she will remain as part of the lives of all of us.
Shalom,
Donna
My name is Julie Duvall and I worked with Minh at St. Joseph Hospital in the HR Department for a few years. Minh was always very nice and very helpful in anything I would ask her about in learning my job. I enjoyed working with her very much. I was saddened to learn of her passing and am sorry that I was not able to attend her services.
I would like to say hello to Trinh (married to Scott) whom I have always enjoyed talking to and getting to know through Minh. And yes Minh did make the best eggrolls. I remember going to the store near F&M to get them.
May your family be blessed by wonderful memories of Minh and know she was a wonderful lady who was always willing to be helpful to others.