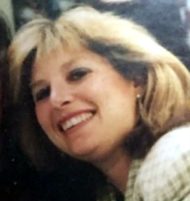 Mindy Joy (Kahn) Remington, 52
February 02, 2017
Mindy Joy (Kahn) Remington, 52, of Lancaster, passed away Thursday, February 2, 2017. Mindy was born in Philadelphia, PA and was the daughter of Beatrice (Venus) Kahn and the late Cyrus "Shep" Kahn.
Mindy is survived by her beloved husband, Rick Remington; her brothers Marc Kahn, (Riva Eichner) of Lutherville, MD, Jeffrey Kahn, (Lauren Gold) of Blue Bell, PA, and Steven Kahn, (Rebecca Davidson) of Bryn Mawr, PA; and a nephew, Benjamin Ynocencio of Bryn Mawr, PA.
Mindy graduated from Harriton High School in Rosemont, PA and attended Villanova University and West Chester State University. She was a nationally ranked tennis player and held records with the Villanova softball team.
Best known as a musician, she dedicated the last 30 years as a vocalist and keyboardist, performing at venues in Philadelphia and Lancaster, and enjoyed sharing her talents by giving piano lessons. Her musical passion and influences stemmed from both Carol King and The Beatles. Her voice will be missed.
Mindy was a proud gardener, a loving "mother" of Bloodhound, Eleanor "Rigby" — and a friend to all.
Mindy's family will greet friends at a Celebration Gathering from 5:00 PM to 7:00PM Wednesday, February 8, 2017 at the Charles F. Snyder Jr. Funeral Home & Crematory, 3110 Lititz Pike, Lititz, PA 17543. In lieu of flowers, contributions may be made in Mindy's memory to the SPCA Lancaster, 848 S. Prince St., Lancaster, PA 17603, www.lancasterspca.org.
Leave a condolence on this Memorial Page
Condolences to the Family
February 08, 2017
Yes, that was from me, Alison Tincher – who forgot to sign it – LOL – only me Mindy, only me 🙂

Alison "Friedman" Tincher
February 08, 2017
Today will be one of the most difficult days of my life, saying "see you on the other side" to my dear friend of 48 years! You were the truest and dearest friend I will ever have. A piece of my heart is always with you. Our monthly lunches will still continue in your honor. The last 7 days have felt SO empty not hearing your voice every day. ALWAYS ending our conversations with "I Love you" and never goodbye, I truly do love you Mindy – GODSPEED, watch over all of us.
February 08, 2017
Rick, Mindy's family and the collection of eclectic friends Mindy gathered over the years….
There are no words, but we try…. I feel that Mindy was like an iceberg, albeit a very warm one for shorts were still apart of her winter wardrobe. I was only privileged to know the tip of who Mindy was as my friend. She was an accomplished woman with a colorful history and varied pursuits. A question or remark could unearth a tale of travel, experiences and interesting people that Mindy was still in touch with years later. I'm grateful to have experienced local music venues Mindy played and her anticipation and joy of jamming at she and Rick's joint birthday party. Their parental love of Rigby a colorful fireplace testament. If Mindy's goal had been to be kind and generous, she well succeeded. She hit it out of the park… making that home run appear effortless. We in the stands, wearing our Team Mindy jersey's, are missing her…. Much Love, Sharon Clarton


February 08, 2017
I was so saddened to hear of Mindy's passing. It seems like only yesterday we helped celebrate her 50th with family and friends. What a joyous occasion, with the added treat of her singing and performing with others. With Rick and Mindy, you're always greeted with a warm smile and an open heart, what a great couple. She will be deeply missed by all who were lucky to know her. My heart goes out to Rick, her family and friends whom she treated like family. Much Love to you Rick,
Dave "Monty" Montgomery

February 07, 2017
I'm so so sorry I forgot to sign mine condolence to you about Mindy, but the tears were flowing as I realized their would be no more face to face laughs and no ten is lessons, Lord knows I needed them . Hopefully by the time I get to Heaven I can give Mindy a run for the money. RIP SWEETIE.
John Hickey
February 06, 2017
Rick where does one begin? I come to know you guys rather well over the years I know she loves you dearly and I know you loved her the same in return. We recently had lunch together and she was telling me how now that she had her new knee she wanted to get back into tennis I'm having my replace this upcoming Thursday and we spoke about that and she told me good once you're healed up cripples can go out and learn the ways of the game all over again. She may not be here to play in person but I will heal and I will go pay several games in her memory. I won't be able to take lessons from her but I'm sure she'll look down on me from heaven and tell me what I'm doing wrong. May God hold you and your family in his arms as he helps you through the horrible loss of your wife. Mindy rest in peace my beloved friend I will truly miss you
February 06, 2017
My deapest condolences to Rick, Rigby and of course the rest of Mindy's family and her friends. Mindy always had a smile for me and kind words. Just a great human being. So kind and thoughtful. –Larry Mitchell
February 06, 2017
Rick, I am so sorry for the loss of your beloved Mindy. She was a beautiful. talented and loving person. I pray for you to find comfort in your memories.

Sara Lowry
February 05, 2017
Dear Rick, Rigby and all of Mindy's family and friends. This is shocking. I have never met Mindy, except virtually on Facebook. We hoped to meet in person some day (and now I know we will). What an angel! May God's peace be with you all now and in the days ahead. Much love and prayers from Albuquerque, NM, Sam Mayer and Bill Cobb (Jedediah Cobbmeyer)
February 05, 2017
I am stunned by this tragic news. I did not know Mindy but Rick is an old friend. My heart goes out to you. So very very sorry for
the loss of your love and your partner.
Susie Krass Margaris
Services

Wednesday, February 08, 2017
5:00 PM - 7:00 PM
Charles F. Snyder Funeral Home & Crematory
3110 Lititz Pike
Lititz, PA 17543

Map and Directions