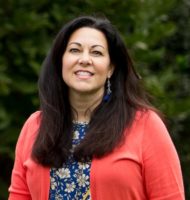 Michelle Vinelli Adams, 47
May 6, 1974 - May 12, 2021
Michelle Vinelli Adams, 47, passed away at the Lancaster General Hospital on Wednesday, May 12, 2021. She was born in Lancaster to James Michael and Jean Louise (DiSilvestra) Vinelli, and enjoyed 19 years of marriage to her husband Michael P. Adams.
A graduate of Lancaster Catholic High School, Class of 1992, Michelle completed her bachelor's degree in Human Resource Management at the University of Maryland in 2005. She served in the US Navy for 20 years, obtaining the rank of Chief Petty Officer. While in the Navy, Michelle helped shape the lives of many sailors and made lifelong friends. She was very honored to serve and utilized her skills well beyond her military service.
After the Navy, Michelle had a passion for serving others and caring for animals. She volunteered at Pitties Love Peace, a Pit Bull rescue in Elizabethtown PA, at Hempfield School District where her two boys attend, and with her church family at Reality Church.
Michelle loved to share her faith and had a multicultural understanding and acceptance, along with her deep love for country. In 2012, Michelle and Mike opening their home to sponsor an exchange student from Spain who became close to them as a son which continues today. This caused them to welcome additional students from other countries into their home sharing differences with their boys. With her faith blossoming from her experience, she served 4 years as a missionary in Haiti, helping to build a school, and continues to sponsor a student through medical school.
Michelle felt that life always had to have a purpose, and nothing was going to stop her from fulfilling her purpose not even cancer. Her servant's heart and compassion for others never changed through her illness. Although she could no longer travel, she continued to find ways to serve. She volunteered her time at local businesses and continued to support Haiti from a distance.
She loved her husband and two sons beyond measure. Michelle's fight with cancer is only evidence of this love. Michelle always put her family first.
Michelle's family includes her husband Michael, and their teenage sons, Justin and Gavin Adams of Lancaster; her parents James and Jean (DiSilvestra) Vinelli of Manheim; sister, Rene Vinelli Dotter of Lancaster; her brother Chad Michael Vinelli, husband of Erin (Armstrong) of Willow Street; Michael's mother, Deborah Delaney Garbee, wife of William of Kenner, LA; and 7 nephews and 2 nieces.
Family and friends are invited to attend A Celebration of a Life Lived on Purpose by Michelle Adams on Friday, May 21, 2021 at 11:30 AM, at Reality Church, 2301 Harrisburg Pike, Suite 100, Lancaster, PA 17601. Inurnment with Military Honors accorded will follow in Prospect Hill Cemetery, 700 N. George Street, York, PA 17404.
Please omit flowers, and kindly consider a memorial contribution be made to a charity dear to Michelle: PanCAN, For Pete's Sake, or A Week Away.
The Pancreatic Cancer Action Network, PanCAN, https://www.pancan.org/ funds research into pancreatic cancer, patient services, and advocates for federal funding. Michelle along with family and friends participated in the 2019 PanCAN walk in Philadelphia.
For Pete's Sake Cancer Respite Foundation supports cancer patients and loved ones through respite experiences that strengthen relationships and builds memories https://takeabreakfromcancer.org/ This mission meant a lot to Michelle as a recipient of the respite program and in 2019 Michelle promoted a fundraiser For Pete's Sake for her birthday.
A Week Away Foundation https://www.aweekaway.org/ funds respite weeks for individuals and loved ones facing life-threatening illness. Michelle and family were recipients in late summer of 2020 that was a welcome respite from not only the fight against cancer, but the stress and fear related to COVID-19.
Leave a condolence on this Memorial Page
Condolences to the Family
May 31, 2021
I would like to extend my deepest condolences to all of Michelle's loved ones. I attended highschool with Michelle and it would be years after I married that I would learn my husband worked with her and her sister at Kreider's. We too were a Navy family and shared that connection when we were reunited on Facebook. Her kindness will always be remembered. May all of the positive memories of Michelle provide you with comfort and ease your grief.
Christine Kaiser Newcomer
May 27, 2021
My heart is forever broken, not only for the loss of the beautiful, selfless woman, but for her family as well. I have known Michelle since around 1999 – we used to work out together in the Marine Corps Gym in New Orleans. And we had so much fun. When she met Mike, her whole world changed and she was so very happy. Heaven, you have received a most wonderful angel that will be sorely missed here on earth by so many. Rest in peace, my sweet shipmate!!!
Jerele Lovely
May 25, 2021
My most sincere and deepest condolences to the whole family!I never met Michelle personally but I knew about her beautiful and kind soul through the words of her wonderful parents James and Jean.
She lived a life full of purpose and she has been and will always be a great example for all the people her life touched.
My heart goes to her sons, her husband, her beautiful parents and the whole family. She will be deeply missed, but her power is stronger now and she will look after all of you from up there, I am certain of that.
Benedetta Mannella
May 21, 2021
My condolences to you and your family. I will never forget Michelle's great attitude and sunny personality when coaching Justin and Gavin in flag football or her words of support when my family was dealing with our own family health issue. The world was a better place with her and she will be missed.
Ruiz Family
May 21, 2021
My heart goes out to Mike, Justin,Gavin and her parents Jim and Jean. Michelle had a beautiful soul and was caring and compassionate thru my initiation to Chief in 2007. I know you had a great relationship with the Lord and went straight to Heaven. May your memories always be of a blessing for Michelle. May God rest her soul. My sincere condolences to all of the family.
Kevin McQuillen
May 21, 2021
Michelle,
It was a pleasure and privilege to have known you. Thank you for always caring and being the voice of hope for many. I'm not where I am today in my military career without your mentorship, guidance and support you provided. You left your presence and mark on so many. You shined your light in the darkest moments and poured into many with your genuine heart. You will truly be missed.
Derrick Farrell
May 20, 2021
Our sincere condolences, we are so sorry for your loss. Eternal peace to Michelle. With all our love,
Denise, Joe, and Kevin McWilliams
May 19, 2021
My condolences for Michelle's passing. Sending prayers for your family and everyone she touched. May her memory live on through acts of kindness and support.
Aimme McCauley
May 18, 2021
I am so sorry to hear of Michelle's passing. What a sweet, kind person she always was. I am thinking of the family during this time and praying the wonderful memories will get you through the days ahead.
Leslie (kubala) Leed
May 18, 2021
Michelle and I were to go to Towson State University after high school, but both of our lives took a different course. When we realized we could not attend there in the fall, we took a roadtrip with her dad to UPJ…and she talked me into going to school on the other side of the state…In Johnstown…I don't think I had ever even heard of Johnstown. We were set….and then… she joined the Navy lol…so off to Johnstown I went, and off to the Navy she went. For the first few weeks, I would sit in my classes, and they would read roll call, "Michelle Vinelli?"…and I would raise my hand and say, "she's not coming". She was doing her thing, starting an awesome career with the US Navy. Because of Michelle, I met my husband at UPJ, and we have been married now for 25 years and have 4 kids. It always makes me smile when I think back about how instrumental she was in the path my life took. When I think of Michelle, I can hear her laugh in my mind. What a beautiful life she has had, with beautiful people. May God help ease the pain of the loss you all feel.
Annie (Leonard) Yeager
May 18, 2021
Although I did not know Michelle, long it did not take long to tell what a beautiful caring person she was inside and out. Her passion for our Lord and his people was breath taking, and her joy lite up a room. I am so sorry for the loss of her family and friends. I know she is laughing and dancing with our savior. Many prayers and thoughts.
Brandi Caudill
May 18, 2021
Michelle was a high-school classmate and friend of mine, she was as beautiful inside as she was outside. As you know everyone liked her. She always had a light around her and it only seemed to grow as she got older, served her country and did so many other selfless humanitarian acts. Heaven gained an angel but I'm so sorry for your loss.
Sincerely,
Eric Danz
May 18, 2021
Jean and family,
Prayers to you and your family during this time of loss. Peace be with you.
Blessings,
Rick Heisley
May 17, 2021
God bless sister. I was always impressed by your steadfast and honest expressions of support concerning the service. Both of the military and your fellow man. God speed. Fair winds and following seas. Be blessed Chief.
Eric Mann
May 17, 2021
My deepest condolences on Michelle's passing. She always treated me like family, and I still remember that tour she gave us at Andrew's AFB probably 20 years ago. I was so glad to see her and Mike and the kids a few years ago. She will be missed.
Much love to you all,
Jason Whiteside
May 17, 2021
Jimmy, Jeannie & family
Our hearts are breaking for you. Our thoughts & prayers lifted up for your entire family. Michelle sounds like such a wonderful daughter, wife & mother. God bless her! Heaven has gained another beautiful angel. Love Keith & Marsha Parke
May 17, 2021
Debbie you and your family are in my prayers. You have my deepest sympathy in the passing away of Michelle.
celeste carter
May 17, 2021
Michelle sounds like a caring and compassionate individual who faced a hard battle with cancer. We are very sorry to hear of her passing. We pray for comfort and peace for her family.
Jason and Jennifer Manning
May 17, 2021
Mike and family, we're very sorry to learn of Michelle's passing. We have you in our prayers.
Jeff & Michele Rickert
May 16, 2021
Prayers for all the extended family members.
Marie & Paul Sauer


May 16, 2021
Dear Jeanne and Jim, I am so very saddened To hear of the passing of your beautiful daughter Michelle….My heart was broken when I heard that she had cancer several years ago and She was in my prayers every night. GARY and I are sending our sympathies to you both And the rest of the Adams family.I can still picture her and her sister Rene visiting at our house with Jim when I was married to Randy. They were so young and beautiful little girls at the time. May God now have Michelle in his arms and all our Lords blessings bestowed upon all the family.May God bless you all. Bonnie and GARY WILLIAMS
May 16, 2021
Jimmy and all the Vinelli family. So sorry for your loss. God bless you all.
Mary Jane Ferretti
May 16, 2021
Dear Jean and Jim,
I am so sorry to have read that your daughter had passed. There are no words that can mend your broken hearts. May your family and friends surround you with love and support at such a sorrowful time. Thinking of you all.
You have my sincerest condolences.
Sylvia (Groff) Montani
(My cousin, Jeanette DiCostanzo, and Molly Sheckard, shared that your daughter had been ill.)
May 16, 2021
I am Stéphane JN-LOUIS. I live in Haiti. Unfortunately, I had the chance to meet Michelle only one time in January, 2018. I had to work as a translater for a missionary that she was leading. That was certainly her last time in Haiti. In September of this same year, she told me that she had found that she has cancer.
Michelle was full of life. She welcomed people with joy. She liked to help people. From Haiti, I was observing how much she struggled to maintain her joy through the illness. I'm sorry that she passed away. I hope her family to have strength and to be courageous. Praying for this family.
Stéphane JN-LOUIS
May 16, 2021
I met Michelle when she and Mike enrolled their child in our day care. What stood out to me was her kindness and selfless character. Heaven has gained one of their top Earthly representatives. May God Bless all her loved ones as they remember her dearly. 🙏🏾
S.G.
May 15, 2021
My heart, love and prayers go out to Mike, the boys, and Michelle's dearest family. Also, to those of us who had the privilege to call her our friend. I've never known one with a more passionate, kind and deep a soul as Michelle, she's truly a special human and I'll never forget her or the great memories we have from NOLA. Special prayers to her babies here forward. With love, Brigitte Farrell
May 15, 2021
It was a pleasure knowing you Michelle. May your husband, kids and family continue to keep your memory going. You touched a lot of lives and you did Great things for so many people. Rest In Peace my Sister.
Anna M. Woodson
May 15, 2021
My heart is broken for Mike, the boys, Jim, Jean, Renee and Chad…it's heartbroken for the entire Vinelli family.
I have known Jim and Jean for nearly 15 years and was privileged to have met Michelle, Mike and Renee as well during that time, including the time when Michelle was battling courageously for her family and herself.
Michelle has been taken much too early but yet has given her family and everyone she has touched throughout her life so very much, even to the last measure of her devotion before she crossed this side of Heaven's line to be with Our Father.
Death where is thy Sting? Christ Jesus has given His promise that as believers we shall inherit eternal and everlasting life.
Michelle was one of His faithful believers…she fought the good fight and ran the good race…and she is now in His hands, experiencing the Peace that passes all human understanding because she kept her heart and mind in Christ Jesus.
Requiesce in pace, Michelle. Yours is eternal life in Heaven, and your memory will endure forever in the hearts and minds of those who knew and loved you.
And may God bless Mike, the boys, Jim, Jean, Renee, Chad and the entire Vinelli family.
My thoughts are with you always.
Ken Reidenbach
May 15, 2021
You have touched all of our lives and for the better. Our Faith grew through your experience. Sad for us that remain but blessed to have experienced your strength and faithfulness. You will forever be in our hearts and your family in our prayers. Until we see you in Heaven
Benny & Brenda Puckett
May 15, 2021
I am so sorry for your loss. I am praying for the family.
Tiffany Boden
May 15, 2021
I am so sorry for your loss. My thoughts and prayers are with you Michael, and your family.
Marilyn Silvius
May 15, 2021
May you rest in heavenly peace, sweet Michelle!! Thank you for your dedication and love to your missionary works abroad and at home. Those who benefited will be grateful to you always. You passed a lot of love around, Michelle. To your parents and family, may you find comfort in knowing that Michelle is being loved and rewarded in heaven. Love to all!!
lynn c kuhn
May 15, 2021
Heartbroken to say the least. I met Chief Adams is 2004 at instructor Duty when she was a 1st class and I was a 3rd class. She left an awesome impression on me then. Fast forward 5 years and she would be my Chief at CNRFC. I was so lucky to have her in my corner. She helped me in so many ways. She was there for me through thick and thin. I confided in her about my struggles and she would pray for me. She was tough on me but her love and care always shined through. She was "my" Chief and I am so thankful God put her in my path. I pray for her family and ask for peace and comfort for her husband and 2 boys. I will continue to pray for them everyday. So sorry for your loss. I know have another angel looking over me. Rest in Peace my dear friend, leader, mentor and my chief.
Terri Weston
May 15, 2021
Jean, Jim and family,
We are so very sorry for your lose. Michelle sounds like a lovely, compassionate and well rounded individual with a big heart and she fought a hard battle with cancer. We pray for comfort and peace for all of her family. Fond memories will forever be with all of you. Linda and Larry Conley
Services

Friday, May 21, 2021
11:30 AM
Reality Church
2301 Harrisburg Pike, Suite 100
Lancaster, PA 17601

Map and Directions