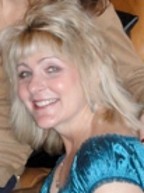 Michele Marie Sawdey, 52
Michele Marie Sawdey, 52, of Lancaster County passed away at her home among loved ones Tuesday June 26th after a courageous battle with cancer.
Michele was the oldest of 5 siblings, born April 21st, 1960 to Constance & Thomas Smith in Albany, NY. She graduated from Academy of the Holy Names, attended Alfred University, where she met and eventually married William H. Sawdey in 1982, and graduated from Rochester Institute of Technology. Along with being a devoted mother, Michele was known as a driven, loving and caring woman to her many friends and family.
Michele is survived by her loving husband William H. Sawdey, son & daughter-in-law Jeremy and Megan Sawdey, son Kyle Sawdey, grandson Calin Sawdey, mother Constance Smith, sisters Stephanie Appleton, Sheila Taylor, and Sharon Buza, and brother Thomas Smith.
Visitation will be held from 1-4pm followed by a service at 4PM on Saturday, June 30, 2012 at the Charles F. Snyder, Jr. Funeral Home & Crematory, 3110 Lititz Pike, Lititz PA. In lieu of flowers, the family asks donations be made to www.cancerresearch.org which can be in any amount. To send online condolences, please visit SnyderFuneralHome.com.
Leave a condolence on this Memorial Page
To the Sawdey and Smith Families – My heart goes out to each and every one of you in the loss of our dear Michele. Michele was such a beautiful,loving person and dear friend. We shared so many great moments in the 25 yrs that I had the pleasure of knowing her. Her smile and laughter was always contagious. What a true remarkable woman she was. I will miss her so deeply. The great times that we shared are embedded in my heart forever! May you find comfort in knowing that Michele lives on in so many beautiful ways! May God wrap his loving arms around each of you, and give you comfort and strength. We all know that God has his loving arms already wrapped around Michele.
Love, Robin Boaman
My heart goes out to everyone who knew Michele. She was a woman of courage, faith, and fortitude who fought the hardest battle anyone could ever face with great strength and dignity. I had the extreme honor of being one of Michele's caregivers and will always be grateful for the way she touched my life. In caring for her I have become a better doctor, and in knowing her I have been inspired to be a better person. God bless you Michele, always and forever.
With my deepest sympathies,
Louis Marotti
My thoughts and prayers go to each and everyone one of you. Bill, I didnt know you very well but I did know you are a good man and I am truly sorry for your loss. Aunt Connie, Stephanie, Shelia & Tom I miss you guys , words cant express my feelings for your loss. stay strong.
Kerry Bytner
To anyone who knew Michelle, we will all miss her warmth and kindness and of course her contagious smile!!!!!The first time I met Michelle was at her home for Christmas dinner. The minute she opened the door I felt welcomed and comfortable being around Michelle. She made us a lovely dinner with all her best china as if we were royalty. From then on everytime I was around her I alway's got a big hug from her and alot of kind word's. Finding out she had Cancer was devastating for me but she alway's managed to keep a positive attitude. What a brave woman! I admire her and will alway's remember her beautiful smile and she will live on through her handsome Grandson Calin!!!!!!!!With deepest Sympathy, Michelle, Olivia's, Aunt Di Di
My deepest sympathy. Michele always had a smile and a very kind word. My son was on Bill's soccer team. Michele was always there supporting all the children. Many years later, Michele came to my work place as a representative for her employer. She was so helpful and extremely competent. She gave 100% to her customers. She remembered me and my children. Michele was a wonderful woman and a loving mother.
Amy Sullivan
I was so sorry to hear the news that Michelle had passed away. I worked with Michelle at Health Network Laboratories. She was a such a wonderful and caring person. She was a beautiful person with a beautiful smile. She always took the time to listen to her clients. She will be truly missed.All the family is my thoughts and prayers to help you through this difficult time.
Lori Gattone
To the Sawdey and Smith families,
My deepest sympathy in the loss of your beautiful Michele.I had the pleasure of getting to know Michele through her mother, our neighbor, Connie Smith. She would always take the time to stop and talk to our daughter Hope whenever she came to visit her mother and Hope just adored her. As I got to know Michele I realized just what a special and unique person she was, she had a beauty that radiated from within. She touched my life and I feel truly blessed to have known her. I will continue to keep you in my prayers during this difficult time.
Linda Lichner
HI,
I am sending Love and Prayers to the family.I took care of Michele's mom while at Lancaster Rehab. I met Michele there and grew found of her as well as her mom Constance sweet people.Michele actually talked me to into coming to Healthnet Work Labs it will be three years in August. :)I will miss her and im also sending well wishes to her mom as well.I was Constance caregiver now im a phlebotomist at HNL.
Love & Prayers
Nena Peaker
In these trying times it can be especially difficult to understand the Lord's plans. Michele was needed early and we can only pray for strength to comprehend why and to continue to lead strong Christian lives. As a business friend, I am an outsider; however, having the privilege of working with Bill has provided us with a glimpse of the joys and sadness & and an inspirational beacon. No words can dull the heartfelt pain, you are in our thoughts and prayers, God bless.
Paul Keeler Uticom Systems Inc.
Dear Connie and family, We were all so deeply shocked and saddened to learn of Michelle's illnees and passing away. Please accept my heartfelt condolences and know that you are on mind, in my heart and prayers. It's been so long since we've been in touch, but I fondly remember you and your lovely family. I pray that God will give you the peace and strength to get through these difficult times and that He has filled your heart and minds with many happy memories to cherish.
Sincerely,
Alma Haagner Mitchell
Michele was a beautiful and inspirational woman with an amazing faith in God. She had a gift for showering people with joy. She lived in my neighborhood for many years; just in the last 6-7 years did I really get to know her. She touched my life and has inspired me in many ways. In 52 years, she accomplished more in her life than most of us will ever achieve. I pray her family will find peace in knowing that she is in heaven and her spirit is still alive and among those that she cherished and served.
Sue Spayd
We are so sorry for the loss of your loved one. We pray that God continues to comfort you as you mourn.(Isaiah 61:2) Death is truly our enemy and God has promised to do away with it forever. (1 Corinthians 15:26) How we all look forward to that time. Until the promises of no more death, sickness or pain is fulfilled, we pray that you are comforted and strengthened as the days go by. (Revelation 21:3,4)
We were deeply saddened to hear of Michele's illness and passing.
We were neighbors and friends 18 years ago living across the street on Gemstone Dr. and never forgot what a sweet and kind person she was. Michele was always smiling and reaching out to help everyone…truly an angel indeed.
Hopefully the family can find comfort in knowing everyone that knew her, loved her. Our thoughts and prayers go out to you.

Linda & Drew Boyle
We are so sad to hear of Michele's passing. Our heartfelt condolences go to the entire family.
Our thoughts and prayers are with you all,
Your old backyard neighbor's, the Steinberg's,
Barry, Lorraine, Amy, and Jessica.
I am so sad and heartbroken to hear about Michele's passing. Michele and I have been friends for over 39 years and although we didn't speak everyday, we could pick up the phone or send an email at anytime and feel the love and support for one another. In fact, I sent Michele an email this week. Michele was truly the best friend I ever had and I will always think of her with smiles and laughter and happy times. She was beautiful, kind, caring, loving, smart and talented. She loved her family more than anything and was always talking about her love for God. I know that she is in Heaven and cracking some jokes or dancing, singing, decorating or painting. I'm a better person for having known Michele. You are all in my prayers during this sad time.
With love to the Smith and Sawdey family…..
Peggy Smyth Bonneau
Michelle was a walking smile, joy personified. She was one of my sister Donna's favorite special friends and it was my pleasure to have gotten to know and love her as well. I am so sorry to say good bye.
My condolences to Michelle's husband, family and friends, may memories sustain you in these difficult trying times.
Steve Basile, Austin TX
Kyle – it is with great sadness that we learned of your Mom's passing. Our most heartfelt sympathies go out to you and your family. Please know our prayers are with all of you in this difficult time.
Dan and Michelle Harnick
I am so sorry to hear the passing of Michele she was like a sister to me so loving and kind I know she Is with Jesus as we spoke we would talk about our loving God all of the time. I was so blessed to have known her she will be deeply missed. My prayers are with you. God Bless Jackie Silberman
My deepest sympathy to you all for the loss of Michelle. Even though we shared a few months of getting to know one another, it was a pleasure and a joy to be in her presence. So positive and joyful for life itself. She loved spending time with our crazy family. She said it reminded her of her own siblings growing up. We just fell in love with her. God bless all of you in this time of need. We will pray for strength for everyone. Michelle was a very special lady.
Becky Gieniec
We are so sorry to hear the about the passing of Michele. She was our neighbor for several years and we couldn't have asked for a better person to be our neighbor. She was the sweetest, most compassionate person that I have ever met. She will be missed tremendously. Please take care and know that now she is in a better and peaceful place.
Sincerely,
Ed, Kerry, McKenzie, & Olivia Specht
John and Bernie Wodarcyk
Bill, please know that you and your entire family are in our thoughts and prayers. Although, we met you through business, all of us at Kauffman's consider you a personal friend and pray that you find comfort in this difficult time. In Christ's love, Tom Kauffman
We are extremely saddened to hear of Michele's passing. She was as kind and gentle as she was beautiful. Michele was taken way too soon.
Sincere condolences to Bill, the boys, The Smith Family and all those mourning this loss.
The Marrolli Family
On behalf of all the employees of Health Network Laboratories our most sincere condolences to the family and friends of Michele. She was a major contributor to the growth and success of our company in Central Pennsylvania, and was recognized for 3 years in a row for the Outstanding Sales Representative of the Year!
We will all miss her positive attitude, vivaciousness, and strong desire to do a job right the first time. She will always hold in place in our hearts.
John M. Selitto
Vice President, Sales
I meet Michelle at Health Network Labs. The very short time that I knew her I saw she was a very kind and caring person. Her clients thought the world of her. She is very missed at the lab.
Cynthia Smith
Bill, Kyle, Jeremy and the Sawdey Family-Please accept our deepest sympathy and condolences on the passing of Michele and your mom. Suki and I have been blessed and privileged to have your family as friends for over 17 years. We cherish all of the great memories we had with Michele(especially our wedding). She was truly an amazing woman and will always be in our heart and prayers.
John and Suki Falcone
Bill – my thoughts and prayers are with you and your family at this time. Michele and I worked together years ago at IU13. She was a wonderful, caring and compassionate person. Peace be with you at this time.
Linda Garboczi
To the Smith and the Sawdey families,
It breaks my heart to hear this news. Michelle was an amazing friend to me, and I will hold all the happy memories of sleep overs on Furlong, rides on the bus, AHN, visiting each other at college, laughing until our sides hurt and tears rolled down our faces,… all of it in my heart forever. The world was a better place because of her. Thoughts and prayers are with all of you.
Donna (Basile) Murphy
We are sorry that you have suffered the loss of your wife, mother and daughter she was on this earth a short time but was loved by so many. Our deepest condolences to her family. Our thoughts and love go with you at this time.
Don & Judy Redding and family
Mich, I know you are still looking over us before your final depart into the heavens.
Thank you for the years of treasured friendship. Loved our pajama party!
Will always remember the fun and laughter we had together. You will always be my hero and example going through life.
I love you Michele.
Rose
We were so saddened today to receive Connie's phone call telling us of Michele's passing. Michele was a sweet person and the world is a poorer place without her. We will always remember her kindness toward her Aunt Joan, who also thought the world of Michele. It was a privilege to know such a caring soul. Our thoughts and prayers are with you all at this difficult time.
Jerry and Barbara Czerw
Bill and Boys, Michelle was a wonderful, loving and giving person. She helped me with planning my daughter's wedding. We shared many laughs while working together at the IU. My thoughts and prayers are with you. She will not be forgotten.
Cathy Baughman