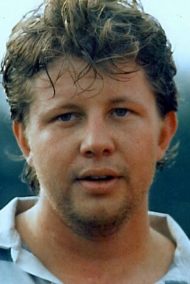 Michael Wittston Adams, 66
December 26, 2018
Michael W. Adams
"The Duke has gone to meet the Big Kahuna in the Sky."
Michael Wittston Adams, 66, passed away on December 26th, 2018 peacefully in his home, surrounded by his family. He was born December 30th, 1951 to the late Carl F. Adams and Ruth (Giberson) Adams. Michael was a loving husband to his wife Ann "The Dutchess", a dedicated father to his daughters, Margaret and Laura, and a loving Poppy to his granddaughter Micah. In addition to his wife and children Michael is survived by his sister Mary Prager, his brother, Toby Adams and their families. Michael had a fondness for Winston Churchill and a passion for Rugby, his favorite team being The All Blacks. Michael also played rugby in his youth for the Lancaster Roses Old Boys' team. Michael will be loved and cherished by those he left. His legacy will be carried on through memories and laughter.
In keeping with Michael's wishes there will be no formal services.
Leave a condolence on this Memorial Page
Condolences to the Family
January 04, 2019
Ann, Margaret and Laura,
Mike was always a good friend and full of laughter. My Lancaster contemporaries and I have many fond memories of the Duke. He will be missed.. My deepest condolence.
Bill Kushubar
January 04, 2019
Ann, Margaret and Laura, Our thoughts and prayers are with you. We have many great memories from the Rugby days. With Sympathy and Love, Michele and Ian Black
January 03, 2019
Our thoughts and prayers are with your family. May Mike rest in peace. He was a great guy and wonderful colleague. He will be missed.
Dan Shovlin/F+G Philly Office
January 01, 2019
I would like to offer my condolences to Mr. Adams' family and friends. It is my hope that you all may find comfort in our promised future.
John 5:28, 29 assures us that the ones we have lost to the common enemy of death WILL hear Jesus' voice and come out of the memorial tomb. And Revelation 21:4 promises that we will never have to experience the pain of loss ever again. These things are made possible only by means of Jesus' great sacrifice of giving his own perfect life for our behalf. – Matthew 20:28

December 31, 2018
Ann and Margaret, I just saw Michael passed on the 26th. I was so sad when I saw this. Although I have not seen Michael in many years, I have fond memories of his kind smile and warm heart.
Please know I am with you in thoughts and prayers and Ann I would love to catch up when you have free time.
Warmly
Kathy Risser Harclerode. (717) 572-4419
December 31, 2018
May prayers are with your family during this difficult time. May you rest in peace. Ruck on Duke.🏉
Til our next scrum on the otherside,
Mel Navea
December 30, 2018
My thoughts and prayers are with you at this time.
December 30, 2018
Great friend and wickedly funny.
Duke is going to be sorely missed, his legacy will live on.
Much love
Mickey Capp