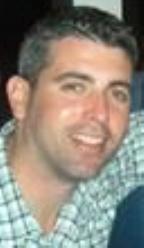 Michael Vincent Gallagher, 32
Michael Vincent Gallagher, 32, formerly of Lancaster, US Border Patrol Agent, died on September 2nd, 2010, while on duty near Casa Grande, Arizona.
Mike is survived by his wife Samantha and sons Quincy and Rhyan, of Casa Grande, AZ. He also leaves behind fellow agent and sister, Julie Gallagher-Merone, husband Jon Merone of El Paso, TX; a sister Jeanette Gallagher, of Charlotte, NC; parents Michael & Jean Gallagher of Mountville, PA and Diane & Bill Alexander of Lancaster, PA; grandparents, Lloyd and Mary Waller of Lancaster; and step brother Tom Lohr, wife Angie Lohr of Lancaster, PA. Mike will be greatly missed by all.
Mike was born in Hershey, PA on July 5th, 1978. He was a 1996 Donegal High School graduate.
Mike was an Iraq Veteran who served with distinction in the US Army from 2002-2008. Mike entered on duty with the United States Border Patrol's 794th Session on July 21, 2008. Mike was an extraordinarily devoted husband, father, brother and son as well as a loyal friend and trustworthy fellow soldier and Patrol Agent. He will be most notably remembered for his infectious laugh and salt & pepper hair. He was also an avid Philadelphia Eagles and Phillies fan.
A Memorial Service will be held Wednesday, September 8th at First Assembly of God, 501 E. Kortsen Rd, Casa Grande, AZ. Doors will open at 10AM and services will commence at 11AM. Arrangements are being handled by J. Warren Funeral Services of Casa Grande. The family would like to thank everyone for their support and prayers. In lieu of flowers, contributions towards the childrens' college funds can be sent to US Border Patrol, c/o Patrol Agent in Charge, 396 N Camino Mercado, Casa Grande, AZ 85122-5760. To send the family an online condolence, please visit SnyderFuneralHome.com. Charles F. Snyder Funeral Home & Crematory Lancaster, PA 717-393-9661
Leave a condolence on this Memorial Page
You will be remembered forever for your dedication to the security of this great nation. Your family in Green will continue your efforts! We will miss you.
From: Terry and SBPA Mike Lee
Douglas Station
Tucson Sector
Gallagher Family,
I've always loved you like my own family. My thoughts & prayers go out to you. Mike was an amazing person & will be missed greatly!
Love, Traci (Flowers) Benson
Dear Gallagher Family,
My thoughts and prayers are with you and your family during this very difficult time. I am so very sorry for the loss of your son Michael.
Sincerely,
Pam (Garrett) Young
LCHS Class of 1970
Jeannete my thoughts and prayers will be with your and your family as you go through this difficult time. May you find comfort by remembering the good times you shared as a family. My God Bless you and keep you.
Sherry Musser
There are no words… unfair, unbelievable, sad. None of these sound right. I am so sorry for the loss of such a good man and that I was not able to know him better. I do know that my dear friend has lost a great brother. Please know that my thoughts and prayers are with all of you at this time.
Love,
Kendall Discavage
Peace & good!
On behalf of the Franciscan Friars, Staff, and Parishioners of the San Solano Missions on the Tohono O'odham Nation our heart felt condolences and prayerful support. We know that no words can comfort you in your grief but we accompany you in this time of grief.
Peace and Blessings
fray ponchie vásquez, ofm
Pastor of the San Solano Missions
I have never met the family other than Quincy but my heart goes out to the entire family. So sorry for your loss. Your family is in my prayers.
I am so so sorry for your loss. I am friends with Janette and I feel her and your pain. God Bless all of you!!!!!
To all of the Gallaghers:
I have such fond memories of Mike from our days on the Cross Country and Track teams at Donegal. Mike was such a good friend to me and always supportive. Although I lost touch with him after high school, sounds to me that he still carried on those characteristics. I am deeply sorry to hear of your loss. My thoughts and prayers are with you.
Becky Frank-Yocum
I am a friend of Michael's uncle, Gene Gallagher, and hadn't seen him at the gym for weeks. When I saw him yesterday, he shared the news concerning Michael. I am so very sorry for your entire family as you deal with losing your husband, father, son, brother, and friend. May the Spirit of the Living God comfort and encourage each and every one of you through your grief and pain. My prayers and those of my family are with you at this time.
Sophia Schwarz
My deepest sympathy goes to Michael's family at this difficult time. I have fond memories of Michael and his sister Julie when they were in my Spanish classes at Donegal High School.May you all feel God's comfort as you walk together on your challenging journey of grief.
Kim Kluxen Meredith
Our condolences and deepest sympathy for your family in the loss of Michael. Your family does not know our family but we wanted you to know that we are praying for you and will continue to pray for Michael's sons. Michael was a great man and we thank you for his service to our country.
I am sure when Michael arrived home God said " Well done my good and faithful servant."
Terry, Elizabeth, Michelle, & Micah O'Sullivan
Farragut, Tn.
The Deputies, Officers and civilians of AZHighwayofheroes.com extend our deepest sympathies and prayers to you and your family. He is truly a hero and will be remembered as such.
Our prayers and condolences are with you.
Respectfully
Michael Coogan
Azhighwayofheroes.com
May God be with you during this difficult time.
A fellow Agent.
Dear Smantha, Quincy and Rhyan, and the rest of the family,
I was so sorry to hear of your loss. Michael was my cousin, my mother, Margaret Kauffman and Mary Waller were sisters. I am much older then Diane and moved away after my marriage so I did not have the privilege of knowing Michael. With that being said my God be with you and all the family during this terrible time of loss and trust in our Lord even if it seems hard to do so at this time. He will always be there for us no matter what the reason.
Judy(Kauffman) Warner
Praying for your family Samantha and sons. Thanking Michael for his service to our Country and trying to protect our borders. Our thoughts and prayers our with you. God Bless!
Rev. Edward Lavelle of Harrisburg phoned in his condolences to the Gallagher family, and wants the family to know that he will be saying Mass in Michael's memory
I am so sorry to hear about Mr. Gallagher's death. From what I have read, he has been giving back to his country his entire life, first over seas and again at the border.
I live in TX, but I am from Lebanon, PA, and to me, Mr. Gallagher was a hometown boy.
I am praying for him and for you, his family.
Janet Hoadley
2210 Dallas St. Apt. 1823
Houston, TX 77019
Dear Diane,
To say I was shocked and saddened to hear of Mikes death is a huge understatement.
My heart is breaking for you and your family. I wish there were words adequate enough to express my deep sorrow for your loss, but there are no words for this. Know that friend to friend, mother to mother, you and your family are loved, being prayed for, and most assuredly in our thoughts.
When you are able, or feel the need, contact me. I do not want to intrude now, until you are ready, but at the same time friends can be good medicine.
You and Mike should be very proud of the job you did raising Mike. He accomplished more in 32 years than most people do who live to a ripe old age. Besides his accomplishments, the fact that he was loved so much is a testament to the terrific person that he was.

Love,
Cindy Bernhardt
Mike, Jean, Diane & Bill
Words can not express how sorry we were to here of Mike's passing. Know that our thoughts and prayers are with you. If there is anything at all that we can do, please don't hesitate to get in touch.

Chris & Ruth Ann Waltman
Sorry to hear about your loss. It is never easy to lose a child, he is now in the hands of the Lord. Our prayers are with your son and entire family.
May God bless you,
Mr. and Mrs Brian Mihaliak
My deepest sympathy to your entire family. Unfortunately, I only knew Mike's father, but am sure he was a reflection of him in every way. Your many friends at Lancaster General share in your great loss today. We will keep the entire Gallagher family in our prayers.
Teke Drummond
Mike was a childhood friend of mine. I woke up this morning thinking of him and decided to try and look him up. As kids, I remember walking to the convenience store near his house to buy candy. We loved doing MadLibs with his sisters. And his Dad introduced me to George Thorogood and shooting tin cans with a 22 rifle in the woods. Mike and I laughed a lot together, I'm deeply saddened to hear this news. But at the same time glad to see so many people loved him and supported him. I would have loved to have caught up with him over all these years and listened to stories about his life. My heart goes out to his family. Michael you are missed!
Ryan Tucker