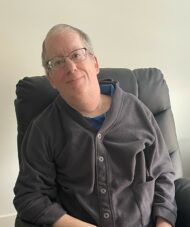 Michael Preperato, 64
September 04, 2022
Michael J. Preperato, 64, of Malvern, formerly of King of Prussia & Lancaster, passed away Sunday, September 4, 2022 at Paoli Hospital. Born in Lancaster, he was the son of the late Joseph R. and Gertrude A. (Musser) Preperato.
He was a graduate of St. Anthony's Catholic School and Lancaster Catholic High School. Michael received his Bachelor's degree in Engineering from Lehigh University. He worked as an electrical engineer for GE/Lockheed Martin for over 30 years before retiring.
Michael is survived by his sister, Barbara J. Faller wife of Joseph of Fairborn, OH and brother, Thomas R. Preperato husband of Jackie of Mountville. Also surviving are five nieces and nephews. In addition to his parents, he was preceded in death by a sister, Julia Preperato.
A Mass of Christian Burial will be held at 11AM on Saturday, September 17, 2022 at St. Anthony of Padua Catholic Church, 501 E. Orange St, Lancaster, PA 17602. Interment in St. Anthony Catholic Cemetery. Family and friends will be received from 10-11AM at the church on Saturday. Please omit flowers. Memorial contributions may be made to DirectRelief.org.
Leave a condolence on this Memorial Page
Condolences to the Family
September 23, 2022
I worked with Mike throughout his career at GE/Lockheed. A great Team member and contributor. My condolences to the family on their loss. Rest in peace Mike as you well deserve.
September 22, 2022
I knew Mike starting at GE Chestnut Street and continuing at VF. I too went to Lehigh (BS 12/79) but did not know him there.
Always pleasant, I was surprised when I learned he rode a motorcycle. Secret lives.
A good man.

September 15, 2022
My condolences on your family's loss. My mother was Dorothy Bleacher Loeffler Branner and Mike's father was my first cousin. This would make Mike my second cousin and I'm so sorry for his loss at what I consider a young age. I haven't seen Mike since we held a family get together at his home when he was about 9. I know he will be greatly missed by all who knew him. Rest in peace Mike.
September 13, 2022
My condolences on the passing of your loved one. Your family will be in our prayers. Jim & Eleanor Loney
September 13, 2022
Mike became a good friend that welcomed me Lockheed Martin Strategic Sysytems group in Valley Forge, PAin 2009 and taught me about Reentry Vehicles when I joined the. Not only was Mike an excellent engineer, he was also a great American patriot that worked very hard for decades on US Air Force ICBM strategic and research programs. He was sorely missed when his illness struck and eventually forced his retirement from Lockheed Martin. I enjoyed his friendly company after retirement as we ate lunch at his favorite restaurants. We all missed our luncheon gatherings kwhen Covid 19 interrupted our routine. My sincere condolences to Mike's family.
September 11, 2022
I would like to express my condolences to Mike's entire family on the event of his passing.
Peter Yearsley
September 11, 2022
Rest in the peace of the Lord Jesus, good and faithful servant. We'll miss you, but look forward to reuniting with you in eternity one day!
Fred and Valerie Simpson
Services

Saturday, September 17, 2022
Charles F. Snyder Funeral Home & Crematory
3110 Lititz Pike
Lititz, PA 17543

Map and Directions