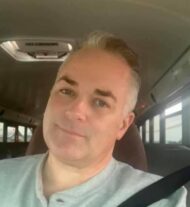 Michael P. McMahon, 47
October 01, 2021
Michael P. McMahon, 47, passed away surrounded by his family on Friday, October 1,2021.
Born in Darby, PA, he was the son of Michael P. and Joanne Nenstiel McMahon of Lancaster.
Michael attended St Leo the Great School and Lancaster Catholic.
During his lifetime, he became interested in emergency services, and started as an EMT and then Paramedic. His interest then broadened to becoming an RN. he completed 3 masters degrees in nursing and the requirement to sit for his Nurse Practitioner Boards. He was presently pursuing his Masters degree in Health administration.
He practiced as an RN at Lancaster General, Hershey Medical, Shore Memorial, Delaware County Memorial and various travel nursing assignments. Michael enjoyed being an educator for the LPN program and adjunct for PA College of Health Sciences.
Michael reinvented himself again and flew with Delta as a Flight Attendant. He also was the manager for Greyhound in Boston. He was district supervisor for Krapf School Bus Services and a drove bus #8 for Brightbill Transportation in Manheim Twp.
Driving his routes was pure joy for 29 years. He felt it was important for each kid on his bus to have a great start each day. He would help with homework questions, tie shoes and listen to their stories. He was also Grand Champion of the School bus rodeo.
He loved camping and planning cruises for his friends. He had a 1974 Volkswagen that he cherished and recently purchased a Dodge Ram 6-speed.
He collected lifetime friends along the way from various walks of life. Two cities were special to him, New Orleans and Brigantine. Sweet tea and Coppertone were in close reach as he sat on the beach. He loved his camping weekends on the Lake. His friends became family. When he entered the room you just knew you would have a good time. If you needed a friend he would be there. He was a good uncle to his 15 nieces and nephews and godfather to 4. In addition to his parents, he is survived by his siblings: Colleen married to Kevin Murphy of Havertown, Joseph married to Jocelyn McMahon of Lancaster, and Mary Kate married to Michael Walsh of Bel Air, MD.
Friends will be received by his family on Thursday, Oct 7, 2021 from 6-8PM at the Charles F. Snyder Jr. Funeral Home & Crematory, 3110 Lititz Pike, Lititz, PA. On Oct 8th, there will be a funeral procession to St Joseph Catholic Cemetery departing from Snyders at 9:30AM, followed by a Celebration of Michaels life at the Conestoga County Club at 11:00AM. In lieu of flowers the family requests contributions to the Lancaster County EMS Council, 101 East Franklin St, New Holland, PA 17557 Attn President Darrell Fisher. This will be titled the Michael P McMahon Educational Lecture and Scholarship Program for the benefit of the Lancaster County EMS Council.
Watch the tribute video
Leave a condolence on this Memorial Page
Condolences to the Family
October 14, 2021
Joanne & Mike, No words seem sufficient enough for the condolences we want to share with you and your family. We are so sorry for this unimaginable loss. You are in our thoughts and prayers. Terry & Cathy Baughman
October 10, 2021
Dear Joanne and family,
I was so sorry to read Michael's Obituary. I remember meeting him as a nursing student in the Family Health Clinic. He was a very special person and will be greatly missed. My thoughts and prayers are with your family during this difficult time.
Nina Good
October 08, 2021
My heart is filled with great sadness as I know not the pain and suffering of parents and their loss of a child or the families loss of a brother, an uncle. I can not image such pain. I have know this family since 1996. They have been nothing but welcoming to many people within the community and I cherish the friendships which have come from this family. There are no words of comfort I can offer to ease the burden of pain and suffering within this family over the past few months. All I can do is to extend my hand and heart to Joanne McMahon and the family of Michael Patrick. May Michael forever be in hearts, our minds and our lives.
May God bless you all and through his grace ease your pain and suffering during this time of loss.
Rest In Peace Michael. And to everyone else, continue to say his name and share his stories.

Here is mine:
I meet Michael through his mother, Joann. Joann and I worked together in the Radiation Oncology Department at the Lancaster Health Campus. Michael and I became instant friends and I would later to the entire family. Now remember this, this was a long time ago, 1996. Michael wasn't even 21 years old. Here is where it gets confusing. Someone or something persuaded Michael to skip classes and go to the movies. It was a great time, as everyone knows, spending time with Michael was always a joy. A vaguely remember the conversations and forgot the name of the movie but there was laughter. I guess I was a bad influence, and if you know Joann, she wasn't happy with Michael for skipping class but she was indeed happy that I spend some time with her son that day.
I would like to say one thing before going, "Fuck Cancer!"
October 08, 2021
Dear Joanne, and Family, I only found out today of Michael's passing. I was heartbroken, & in disbelief as I read his Obituary. My sincere condolences to you all. I remembered when I first met Mike, he was assigned to us in the Red Pod of Our Clinic in Family Health Services. I didn't realize at first, that he was your son, Joanne. What a Great person! He truly loved Nursing, you could just tell. He was so Funny, & had us all laughing. You raised a Wonderful Son, that you can be Proud of whenever you think of him. He has impacted many lives along his journey of this life! I know God will greet him with arms outstretched saying, Well done, my Good and Faithful Servant!
Prayers for Peace and Comfort during this difficult time. Honored to have worked alongside of your Son. ❤️🙏🙏🙏 Helen Reinfried
October 08, 2021
I just heard of Mike's passing. I agree with the common consensus. He was the light in the room. In high school he would always find the positive in a bad situation. If there was no positive, he found the humor in it. I didn't know Mike as well as others but I'm not surprised at his success. He was a true inspiration to all of us. God bless and hold those memories tight! My prayers go out to the family.
Steve Hurley
October 07, 2021
Joanne and Mike, Today I learned of Michael's passing. I want to extend our deepest sympathies to you and family at this most difficult time. I know that you can cherish the memories that your family had together with Michael. May he now Rest In Peace. Sincerely, Pat and Iz Cakrane.
October 07, 2021
I met Michael only a handful of times, but each and every time, he made me laugh so hard and seemed like a friend that I had known for ages. My daughter was hospitalized earlier in the year and Michael would always reach out and make sure she was doing well and getting everything she needed. He continuously checked in on us to make sure that she was doing ok, despite not knowing us very well. He was an incredibly kind and caring person and definitely lived his life giving so much love to those around him. I feel honored to have been able to know such an incredible human.
Ashley
October 07, 2021
Michael has been a good friend for about a quarter of a century having met at Millersville University when we were studying education. Our paths first crossed when we were both taking a course called Kiddie Gym. We quickly learned that neither of us were overly coordinated and worked through the course together including the final project of creating locoladders. All I remember is Michael repeatedly telling me that he would never have survived the course and square dancing without me, and I am sure the feeling is mutual. Over the years, we have taken a few trips together, run into each other randomly sitting next to each other at slot machines in casinos, had cocktails and dinners together, chatted about our numerous vehicles, camping, Michael's latest career moves, etc. Oh and no one should forget the neighborhood going out for ice cream in a school bus on a random week night. I am not sure who found it more fun, all of us or the tiny ice cream shop as the bus pulled in and unloaded. Good times for sure with a great friend who was never short on laughs. We will miss you Michael!
Ed Gooch & Kevin Mull
October 07, 2021
Joanne, Mike, Colleen, Joe and Mary Kate,
We are sorry we can't be with you in person, but we send our deepest condolences. During his high school years, Michael enjoyed talking about Notre Dame and his plans for his future career. His laugh and sense of humor were always infectious. We will always remember him fondly. God bless. Con cariño,
Yvonne Nafe and Mrs. Cunningham
October 07, 2021
Joe, so sorry about the passing of your brother…a terrible loss at such a young age. Know that you and your family are in our prayers and thoughts.
Jerry Glenn
October 06, 2021
Michael was a true angel on Earth! He was probably the funniest person I ever met. I'm so sorry for you incredible loss. The world will miss his pure light.
Helen (Heffern) Coupas
October 06, 2021
To the McMahon Clan: i am sure we don't have to tell you what a gift Michael was to this earthly world. He had a rare gift to befriend everyone and he could strike up a conversation with anyone. IH was introduced to Michael in his education journey at PA College. I had the pleasure of working with him in the RN to BSN program. I remember the service learning trip that he and Jen Brindley allowed me to go on with them-a camp for kids wtht heme/oncology diagnoses. That is when I got to know both of them better. I was able to stay in touch wiht Michael as he progressed through is many degrees and job experiences. I will miss his friendship. I am grateful that his loving family supported him and surrounded him until he left this world. They are amazing people.
Dee Minchhoff
October 06, 2021
Michael was a wonderful person. I had the pleasure of caring for him as his home infusion nurse. I've been fortunate to have Michael in my life too, along with his amazing parents and family. He was such an inspiration with a great spirit! Sending comfort and love to his family.
Lisa Papapdopoulos
October 06, 2021
I am so at a loss. I am so sorry and can't imagine how difficult it is to lose a son or brother or uncle. Nothing I can say you can take your pain away but please take solace in knowing how many lives he touched. He was always my favorite EMS partner and when I finish the shift with him my face actually hurt from laughing. Laughing is the best medicine and Michael brought it to everyone as well as love and compassion. The world seems a little dimmer today. I am crushed and I really wish we could've gotten those family pictures in last year. They would've been great for you guys to have. God bless you all and I'm here if you need anything.
Mandie
October 06, 2021
I just can't even believe it. So full of life he was. He always always made me laugh and brightened my day. The world is a little dimmer today. He touched so many lives and is special to so many. Definitely my favorite EMS partner. My face hurt from laughing after a shift with him. I was forever trying to get my brother home from Seattle to meet him. Kind of selfish because I was thinking about how fun family dinners would be. I'm just so sorry we couldn't get the family portraits in last year. They would've been great for you to have. I continue to keep you all in my prayers. Take solace in knowing how many lives he touched and will forever be touched by sweet cupcake. I think October 1st should be national Cupcake Day. I'm trying to keep a smile on even though it hurts because I know that's what he wants for us. God Bless you all!
Love,
Mandie
October 06, 2021
Mike and Joanne, so sorry to hear abouit the passing of your son. I will keep him in my prayers. – Maria Korsnick
October 06, 2021
In great sorrow it has been, very devastating. I got to know Michael Patrick at Brightbill Transportation. He is well known. He would help out at Township to answer phones, sub when needed. Michael was someone that would listen to you, right away you had a friend.
So thank you Michael for spending time at Township bus lot, we where impacted by your loving compassion.
You're going to be remembered as Cupcake , what a sweet gem you where.
Thank you for raising a great gentleman. May God bring comfort to each and everyone who knew this kind hearted man. Blessings to His Family.
Margart Stoltzfus
October 05, 2021
I worked with Michael in the Emergency Department at LGH. I am so sorry for your loss. Michael was an absolute pleasure to work with. I appreciated his sense of humor , kindness to others and compassion for his patients. Thought and prayers are with you. Penne
October 05, 2021
I had the greatest pleasure of living next door to the McMahon family when we were children. Michael and I were best pals during that time. We rode bikes each day, and he pretended his bike was a bus. Such a great family. Such a loss for everyone that loved him. -Suzanne Speiss
October 05, 2021
Michael was such an amazing person. I will never forget the special relationship he had with my mother "Mama Joan". He stayed with my family in Trauma the night we lost her! He then waited with her until the funeral home picked her up in trauma at his request because he told them she was one of our own (LGH employee). That's how special and caring he was! You will be missed by many! Heaven has definitely gained and Angel! With deepest sympathy , Kelly Fritsch
October 05, 2021
Dear Joann and family, I was sorry to read about your son's death.I remember Micheal as a RN student at family health what an amazing and funny man he was. Look at the legacy he has left all of you with, wonderful memories. Take it one day at a time . Don't be afraid to ask for help.Tears are a sign of the love you had for him
Kitty Garman
October 05, 2021
So very sad to watch you take your final leave Michael. Much love to our family and your friends and people. We all will miss you.
Aunt Madeleine
October 05, 2021
Mike & Joanne, please accept our sincere condolences for your loss.
Chuck & Mary Lepisto
October 05, 2021
Sending our deepest sympathy and prayers to Mike and Joanne and family. We will always remember Mike with his humor and quick wit. Please know that our hearts are with you all during this difficult time.
Deborah Papola

October 05, 2021
Many Prayers to Mike and Joanne and family. Really sorry for your loss. Reading through some of these condolences, Michael must have been truly a very extraordinary person. God Bless you!
Mike Yoh
October 05, 2021
Dear Joanne, Mike, Colleen, Joe, Mary Kate, and other family members, Our hearts are with you at this very sad time. Michael was a great young man and will be missed by many. We believe he is in Heaven with Grandma Cass.
Love, Rick and Michelle
October 05, 2021
My heart goes out to your family. I know how much you loved and adored your family. You have touched so many hearts and lives, with your dynamic fun loving self. My favorite memory is you always pulling me on to the dance floor. Or just randomly dancing with me in the middle of a mall or restaurant, no music playing. Truly hope you are up there dancing. We all love you Cupcake
Amanda McKinney
October 05, 2021
Sending our Love and Prayers to all of Michaels family and Friends. I'm terribly sorry for your loss. I met Michael when he was very young and then again while he was in the medical field. What an awesome young man. God be with each of you in your times of sorrow and always.
Dottie Paulson Chartreau and( Moon)
October 05, 2021
I had the pleasure of meeting Michael as a flight attendant candidate during his face to face interview. We were all amazed at his enthusiasm and credentials! Certainly the embodiment of the Delta brand! I had the pleasure of flying as Purser with him to London and saw firsthand legendary service in action! We kept in touch over the years and most recently sharing our own journeys with cancer. His spirit and zest for life will live on in our hearts and cherished memories!✈️❤️
Robin Wright
October 05, 2021
Prayers to Mike, Joanne, and the family.
Andy Wright
October 05, 2021
It breaks my heart to hear about his passing. I had the pleasure of working with him for a few years. He always cared about everyone no matter the position. That meant alot to me. He was also one of the funniest people I got to know, he will be missed.
Jason
October 05, 2021
Sending my deepest condolences to my McMahon family. Micheal was loved by so many he had such a great heart .
love
Johanna McMahon
October 05, 2021
You will be sorely missed! You were one of my first friends in HS, we shared home room together where you always made me and everyone around you laugh! You were an amazing person who people will think about and talk about for years to come! You are now at peace and painfree! Fly high with the angels, Michael ….. thank you for being YOU! ❤️
The Leber Family
October 05, 2021
Mike and Joanne. I wish to send my condolences and prayers to you and your family on the passing of your son.
Marilou Reddington Wilson
October 05, 2021
I met Michael in 2017 while employed as a Clinical Director at DCMH. He was an amazing supervisor and colleague. I appreciated his encouragement of my career trajectory as my role was new. He encouraged me to keep going and that is exactly what I did. I struggled with feelings of incompetence and he saw something in me that I didn't know existed. I am glad I met him and took his words to heart. He was one of the only people at that time who spoke so much positivity to me. We remained in touch after I left for a better position and I got to start encouraging him with his career. So funny how the world works. The world truly lost an amazing person but his spirit will forever remain. My deepest condolences to his family and friends.
Jenea Dozier
October 05, 2021
I didn't get a chance to know Michael personally but he was a loving son, brother, uncle, and friend who cared deeply for his family, friends, and people. He will be missed by all of us. Enjoy your new Heavenly home where there is nothing but pure joy and happiness.
Fritz Edmonis
October 05, 2021
Michael was so special to me. I was the Purser on his first trip across the pond. We went to Amsterdam!! I am a Louisiana girl so we hit it off from day 1. I so enjoyed flying with him, he always had a smile on his face and made the people around him smile too. I loved talking to him through messenger and will miss that a lot. I consider him a dear friend and my heart is broken.
Su Ellan Moore
October 04, 2021
It was a joy that I flew with Michael @ Delta!! His spirit of fun & professionalism was perfect. I'll always smile as I think of him! God Bless his loved ones as he left way too soon!
Louisa Swindle
October 04, 2021
I am so very sorry for your extraordinary loss. Michael (cupcake) was truly an inspiration to me. At 15 years old I got in the back of my first ambulance with cupcake on a trauma call and now 18 years later we continue to work together at LGH. I'll never forget the time I got to have him as a student in my ACLS class. It was truly more of a comedy show then a class. I made him put in a 22g IV during every scenario which made everyone else think I was crazy. He truly left an imprint on this world, on this county, on each individual that he touched. Michael was a good person, a good friend, and he will be sorely missed. I am thankful for the times I got to share with him, for the advise he gave me, and for his example to be a loving person. Thank you for all of your good work Michael. My thoughts and prayers are with your family.
Rick Beverlin
October 04, 2021
Jack and l were heartbroken to learn of Michael's death. I will never forget his great laugh and wonderful sense of humor. He always made us smile and though we only knew him a short period of time he will be in our thoughts and prayers always. A very special person.
Anna Marie and Jack Gardner
October 04, 2021
My deepest and most sincere condolences. The McMahons have always been a great family. I was fortunate enough to hear of some of Michael's adventures over the years bc of our mutual friends/acquaintances. I have commented a few times to them, but I have very vivid memories of Michael pretending to drive our elementary school bus in the 1980s using his vocals for the motor and an umbrella to shift. It was a very regular occurrence. I wonder if Colleen remembers that. It is inspiring to know he lived out so many of his dreams, including driving a school bus. I'm sure he was the best with the kids! Thinking of him over the years always brought a smile to my face.
Amanda (Schulz) Yost
October 04, 2021
So sorry for your loss. What a great guy so much fun big heart
Judy Leonard
October 04, 2021
Rest in peace Michael. You were a great nurse and always made me laugh. We will miss you.
Sarah Anders
October 04, 2021
I am so sorry for your loss, and although I had lost touch with Michael over the years. I will never forget he energy and love for life. He always had fun in whatever he did! We had spent so much time at your house in high school being crazy kids. He really was a great guy! I am sorry I will not be able to make the services. You all are in my thoughts and prayers.

Michelle Strine
October 04, 2021
We are so sorry to learn of Michael's passing! He was always a bright smile walking through the door at the Barber Shop. And always had fun stories or would tell us of a trip he was planning. Rest easy Michael, you will never be forgotten, nor your smile!
– Scott Kopp
Glatfelter's Barber Shop
October 04, 2021
Our thoughts and prayers are with you all at this saddened time
Pat Chase
October 04, 2021
What a fantastic person inside and out . Michael just seeing you would brighten my day.
I will always look for you on bus 8. Loved how your mom would decorate your bus for the holidays . I know that you are up there driving bus number 8 and taking care of your kiddos safely transporting them . Miss miss you but I know you are fine. Love van 73. Really really still can not believe you are gone. Thinking of your family thoughts and prayers for all
Lori Royer
October 04, 2021
I'm still in shock .I worked with Michael in the ER at Cape Regional Medical center and kept in touch with him . Words can't express how nice he made our work environment.
I remember and still have a Tumi travel bag he had given me .He was still a flight attendant while working at cape. What a guy , I will always remember his good nature,jokes and of course his 22g IV insertions .
I wish I can attend celebration of life , unfortunately I have to do what Michael did best ,nursing . God gained more than an angel , a Saint .
Fly high Michael, I will never forget you.
Prayers to your mom dad and family, may they find comfort.
Susan Goldberg



October 04, 2021
RIP Micheal I Met you Was A traveling nurse in Baton Rouge Louisiana And We Had Sweet Tea together.I Will Miss From Talk To You Own Facebook.
Gloria Morgan
October 04, 2021
To his family. I know your heart is broken and hurting and there is nothing anyone can say to help. Just wanted you to know how much I enjoyed flying with Michael at Delta. He was a great flight attendant and made a hard day at work fun so we could all get through it. I am totally shocked at his passing and don't want to believe he is really gone. I have always said the hardest part about death is being the one left behind. Prayers from Texas for your family. Sincerely, Zoe Thompson. Argyle Texas.
October 04, 2021
Hi Michael,
I have been blessed to have known you as a friend. I am grateful for the time I spent with you.
Nathan Householder
October 04, 2021
RIP Michael!❤️
Julie Moore
October 04, 2021
Micheal was bigger then life. A very special person. I feel lucky to have known him. I'd like to send my deepest condolences to his family and friends. He will live forever in memories and stories.
Elizabeth Bushman
October 04, 2021
Our deepest sympathies to the McMahon family. Wishing you peace at this most difficult time.
Julia & Mark Parrish
October 04, 2021
Our hearts are broken over Michael's passing. He fought hard and gracefully as only Michael would. I can not think of him without smiling and the outrageous stories he told of his many adventures. He will be so missed. Thank you for sharing him with us and his amazing spirit.
Lou Ann Fromuth
October 04, 2021
Micheal was always the light in the room. His personality was full of life and humor and so many have benifited in knowing his zest for life. What a great son, brother, uncle, cousin, friend and grandson. He really was the best. We will always remember Micheal stopping by Anna's 3rd birthday with his school bus! You will always be in our prayers Micheal Patrick and our deepest sympathies to his loving family. ❤️ Truly have no words how deeply sorry we are. – Zikas cousins
Visitation

Thursday, October 07, 2021
6:00 PM - 8:00 PM
Charles F. Snyder Funeral Home & Crematory
3110 Lititz Pike
Lititz, PA 17543

Map and Directions

Services

Friday, October 08, 2021
11:00 AM
Conestoga County Club
1950 Stone Mill Road
Lancaster, Pennsylvania

Map and Directions