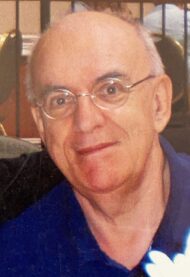 Michael Joseph "Mike" Dini, 78
October 30, 2021
Michael Joseph "Mike" Dini, 78, of Columbia, passed away at home, surrounded by family, on Saturday, October 30, 2021. Born in Pittsburgh, he was the son of the late Fred and Mary (Andreoni) Dini of Camp Hill, PA. He was the loving husband of Bonnie Dini, with whom he shared 48 years of marriage.
Mike served in the U.S. Army during the Vietnam era. After his time in the service, he used his GI Bill to earn his Bachelors of Science from Penn State University. He continued working for the Department of Veterans Affairs, Regional Office and Insurance Center, Philadelphia, as an Education Benefits Counselor for 34 years. He was a member of Mary Mother of the Church in Mount Joy before moving to Columbia. He was a Past President of both the Harrisburg Area Community College Alumni Association and Student Council of The Pennsylvania State University, Capital Campus. He was also a past Cub Scout Leader of Pack 438, Roslyn, PA and Assistant Boy Scout Leader of Troop 72, Abington, PA. He was a member of RSVP (the Retired Senior Volunteer Program), a volunteer for the American Red Cross, and an active supporter of the local Democratic Party.
Mike loved planning vacations for his wife and family. Always up for an adventure, he'd planned trips to Europe, Hawaii, Alaska, Disneyworld, and even a train ride across Canada to see the Calgary Stampede Rodeo. He enjoyed cooking for family get-togethers whenever possible, and had a passion for genealogy. Mike also worked the voting polls many times, and wrote many Op Eds for the Lancaster Newspaper.
In addition to his wife, Mike is survived by his son, Fred Dini (US Navy); his daughter, Mary Frances Dini of Fairfax, VA; and his former daughter-in-law, Mari Brigidini. He is also survived by his grandchildren, Federica and her husband Mario, Giulia, and Chiara; and his great-grandchildren, Isabella Luna and Beatrice Sole.
A Memorial Service will be held at Charles F. Snyder Funeral Home at 3110 Lititz Pike, Lititz, PA 17543 on Thursday, November 4 at 11:00 AM. Friends will be received at the Funeral Home at 10:00. In lieu of flowers, donations can be made to St. Anne's Day of Stay at 3952 Columbia Avenue, Columbia, PA 17512 or www.stannesrc.org.
Watch the tribute video
Leave a condolence on this Memorial Page
Condolences to the Family
November 03, 2021
I want to express my deepest condolences to Bonnie, Freddy and Mary Frances. I always enjoyed all our visits when Mike and Bonnie came to Albany. I am so happy I was able to get to see Mike last month. I will forever remember Mike's zeal for Hillary Clinton's run for President. I will always remember when we were in "Republican terrority" and Mike wore his Hillary Clinton for President buttons. God bless you Mike and God bless Hillary. You will forever live in my heart and your family's hearts. Love doesn't die. You were a great man who left an everlasting impression on everyone he met. Bonnie, Freddy, Mary Frances, his granddaughters and extended family are in mine and Jon's prayers. Sending love and sympathy to the family.
November 02, 2021
Dear Mary Frances and family,
I send you my deepest sympathies. This is a beautiful obituary of a life so well lived. May his memory be eternal and may you receive all the grace and comfort given from above. Love,
Claire Sefein