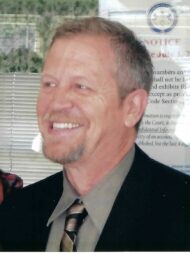 Michael D. Dick, 62
January 08, 2022
Michael D. "Mike" Dick, 62, of Columbia, passed away on Saturday, January 8, 2022. He was the husband of Christine J. (Firestine) Dick, with whom he shared 22 years together. Born in Lancaster, he was the son of the late Robert "Toby" Dick III and Shirley (Snyder) Dick.
Mike had worked for Alcon in Sinking Spring as a tool and die maker. Prior to this, he worked for Thomson 60 Case.
Mike graduated from Manheim Township and Reading Area Community College with an Associates degree in Applied Science. Never think it's too late to learn something new. Mike started college in his fifties while he worked full time. Always willing to accept a challenge.
He loved to ride his Harley. He and his wife traveled by cycle to almost every state in the US. He was a true go-getter and loved a challenge. He enjoyed hunting and fishing, playing his guitar, home brewing and cooking. He especially treasured his time with friends and family.
In addition to Chris, he is survived by his children: Michael R. of Somerset, Alicia Hershey and her companion Stefan of Sweden, and Julia Hershey of Millersville, Andrew Fink, married to Kayla of Mt. Joy and Alex Fink of Lancaster, his sister Patricia and brother, Kevin, married to Dana, both of Lancaster. He was preceded in death by his brothers, Robert IV and Dennis E. Dick.
Friends will be received by his family on Saturday, January 15, 2022 from 9:30 until 10:30 AM at the Charles F. Snyder Jr. Funeral Home & Crematory, 3110 Lititz Pike, Lititz, PA with the Funeral Service to follow at 10:30 AM. Interment will follow in Conestoga Memorial Park. His family would ask, in lieu of any donations in his memory, for you to do something Mike would want you to do. Live Life! Make time and memories with family and friends. But, get to know of God's love. Tomorrow is not promised.
Watch the tribute video
Leave a condolence on this Memorial Page
Condolences to the Family
January 16, 2022
Chris and family. I'm so sorry for your loss. My heart and thoughts are with you. Love Always
John Zahm
January 14, 2022
Chris N Family I am sorry for your loss Mike was really good Friend Riding Buddy he will Truly be missed Forever in our Hearts, Ride in Pease we Love you ❤️❤️🏍🏍
January 14, 2022
Chris and family, I'm so sorry for your loss i worked with Mike at Thomson and he was a wonderful person.
Please take comfort in your memories of him.
January 14, 2022
I will miss you Mike. I will forever be in your and Chris's debt for taking care of my father during his final days. Everything you shared from brewing beer and archery to helping you build out your bar while you were sick, it will never be forgotten. I wish we could have gotten that motorcycle ride up to Alaska, I wish there was more time for everything quite frankly. I hope you rest in peace and I will try my best to keep your memory alive.
January 12, 2022
Ride In Peace brother!
January 12, 2022
Dear Chris and family,
We send you our sincere condolences and heartfelt prayers of comfort. We are so sad to hear about Mike. You two are special neighbors, always love chatting and catching up with both of you. Glad you got to bake Sand Tarts together. We are here if you need anything.
January 11, 2022
Dear Chris and family,
Please accept my deepest condolences and sympathy at this time. Mike was a great and generous neighbor. May God give you the strength and comfort needed now.
January 11, 2022
You were a great person with so many more dreams yet to be fulfilled. I loved talking to you about riding and the hearing about the memories you guys made riding. The last conversation we had on my retirement day was what you planned to do when you retire. I am sorry retirement was not in the cards for you. I am happy I was able to know you and call you my friend. I will see you again someday.
January 11, 2022
My deepest condolences to the family and friends.
January 11, 2022
Chrissy, I am so sorry for your loss. I know Mike was a special person and I am honored to have met him at your home way back. Thinking of you.

January 10, 2022
Chris and family our condolences 🙏 Mike was a great man he will truly be missed 😥 Mike and I always enjoyed the talks . You and the family are in our thoughts and prayers
Visitation

Saturday, January 15, 2022
9:30 AM - 10:30 AM
Charles F. Snyder Funeral Home & Crematory
3110 Lititz Pike
Lititz, PA 17543

Map and Directions

Services

Saturday, January 15, 2022
10:30 AM
Charles F. Snyder Funeral Home & Crematory
3110 Lititz Pike
Lititz, PA 17543

Map and Directions