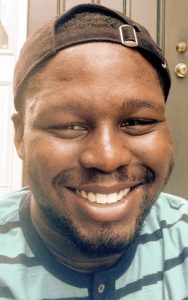 Michael C. Gant, Jr., 27
April 02, 2020
Michael C. Gant, Jr., 27, passed away April 2, 2020. He was born in Lancaster, PA on August 6, 1992 as a precious gift from God to his mother and father the Rev. Michael and Rev. Abadella (Robertson) Gant. He is survived by two siblings, sister Marteshia, wife of Terry Durham, of Lancaster and brother Marques Gant, of Lancaster. He also leaves behind his newborn niece Bella Durham, his grandmother Barbara Gant, of Lancaster, and a host of uncles, aunts, and cousins. He is reunited in heaven with his beloved sister Mikeisha Gant, grandparents Carrie and Willie Robertson and Kenneth Gant, Sr.
He graduated from Manheim Township High School in 2010 and he went on to receive an associates degree in specialized technology in the medical assistant program at York Technical Institute. He was hardworking and talented, he loved being involved in church ministries, mime ministry, usher board, singing on the choir, and singing solos. He wasn't shy on the dance floor either. He passionately enjoyed singing and songwriting and he sang from his heart. His songs were very expressive. He genuinely loved people and was always trying to help anyone who needed help. Mikey's character was referenced in this Bible verse John 15:13 "says greater love hath no man than this that a man lay down his life for his friends." Mikey would sacrifice his own well-being for family and friends. He will be remembered as one who loved his family and especially enjoyed family gatherings, annual family vacations, and holiday gatherings, and celebrating family birthdays.
Mikey loved playing chess with his mother while listening to her wise counsel and eating her delicious food. He always told his mother that her food was delicious. He enjoyed going to Philadelphia Eagles and 76ers games with his dad and brother Marques. They had a tradition of staying overnight when going to the games. The three of them enjoyed playing basketball with each other. He enjoyed hanging out with his older sister Marteshia whether it was going to the movies or out to eat. He looked up to her proudly. Mikey will be greatly missed by mother, father, siblings, and family friends near and far. His transition graduated from this home to heavenly home. There will never be another Mikey, he was special.
There will be a family viewing and funeral service on Friday, April 17th, 2020 that will be Live Streamed for extended family and friends beginning at 2:30 PM from the Charles F. Snyder, Jr. Funeral Home & Crematory. Due to the COVID-19 guidelines we are limited to 10 family members who will be contacted directly by the family. Burial will be in Mellinger Mennonite Cemetery. In lieu of flowers, memorial contributions may be made in Mikey's memory to House of Bread Life Changing Ministries 844 E. Chestnut Street, Lancaster, PA 17602 or via
gofundme.com.
All friends are welcomed and encouraged to attend Mikey's viewing and funeral service via Live Stream on Mikey's obituary page
Watch the tribute video
Leave a condolence on this Memorial Page
Condolences to the Family
January 02, 2021
Still 💔…. love your oldest cuzn, miss you baby boy
April 28, 2020
My deepest condolences to you and your family.
Denise Williams
April 24, 2020
Personal losses of beloved members of your own family are understandably very very hard especially when many questions remain unanswered as to God's Perfect Timing. Please allow me to express my heartfelt sympathies, Man of God Pastor Michael Gant and wife…im so sorry. Your son consistently literally lived his life so that other ones lifes were eased. These people, along with me, figuratively shake our heads and cry over the loss of Mikey. In a twinkling of an eye very soon, our sorrows will turn to Joy.
David John Rios
April 19, 2020
Dear Gant family, I am so sorry for the loss of Mikey. May God grant the entire family with all that is needed. God bless you all. Heartfelt condolences. Maxine (Garner) & Charles Cook
April 17, 2020
To my Brother and Sister in Christ, my heart weeps watching this video of your beloved son. What a beautiful tribute to a beautiful young man. I am sorry I could not have been there for you guys during this difficult time. Lord lift this family up out of the hellfire of sadness and tragedy they have endured and lay Your healing hands and protection over their hearts and souls. I pray they can find Grace from you Lord in the knowledge their son and daughter are reunited pain free and dancing and singing together as they were when they were children. God Bless this family Lord and comfort them in this time of grief.
Todd Danforth
April 17, 2020
Pastor and Co- Pastor, Marteshia and Marques, I am so sorry that you guys are experiencing such unimaginable pain with the loss of Mikey. Only God has the answers.. He was such a sweet young man. I would ask Marty about him from time to time and she would always have something sweet to say. I know you all loved him so very much. He will be greatly missed. You are an amazing family. I am praying for God's peace and comfort for you all. I love you guys and God Bless. ❤🙏
Gloria Person
April 17, 2020
We send our prayers and our love to you and your family.We love you.
The Spearman family
April 17, 2020
To Pastor & Copastor Gant, Michael Curtis Gant Jr. was the sweetest, kindest young man I have met in my life. He had a big heart like his mother, always sacrificing for others even to his own hurt, and brave heart like his father, fearless when helping others and hard working. Most of all he loved his family. And he loved hard. I promise to cherish all the memories I have of my godson Mikey and I can't thank you enough for sharing him with me. It meant the world! I will miss that beautiful smile and warm heart. No young person has ever expressed so much love to me than my godson. It was unmatchable. Rare. I was blessed to have him in my life. I celebrate him today! He had the best parents in the world and he knew it. We all did! I love you guys! Love and prayers, Evang Charlotte Robertson💕
April 17, 2020
To the Gant family, My condolences to you. I can't imagine what you are going through right now but I do know how it feels to lose someone you love so so much. But I do know that God will get you through this. My prayers are with you always.🙏🙏🙏 I love the tribute beautifully done. ❤❤❤ God Bless. Love Betty Miller&Family.

April 17, 2020
Mike & Family we would like to express our sincere condolence to you and your family for the lost of your son and pray that God will continue to comfort and strengthen you at this time.God Bless you are in our prayers.
Rock & Cheyanna Lambert & Family
April 16, 2020
To the Gant Family,
We want to express our deepest condolences and pray that God will continue to be with you and comfort you during this time.
We love you, James "Pooch" & Bonnie Morant
What a Beautiful tribute!
April 16, 2020
Mike and Family,
Our deepest condolences on the passing of Mikey. We have fond memories of all the basketball games and practices over the years! R.I.P
Ron,Vicki,Brady,Zach,and Addison Souders


April 15, 2020
Sorry for Your Loss God Bless Family and may He Rest In Peace.
Charlie Hargrove Sr and Family
April 13, 2020
Sorry for your loss Mike. My thoughts and prayers go out to you and your family.
Sincerely Doug Peterman
April 13, 2020
Hi Bro. Michael. I wanted to let you know how much I am sorry at the loss of your son. I honestly can't imagine losing one of my kids, so I don't know how to respond other than letting you know that i am thinking of you, your wife, and your family. I know from experience that, just because you are a pastor, that doesn't shield you from pain and sorrow, so please let me just encourage you to take a day at a time, grieve (though not as those who have no hope), lament, and mourn. Also, as you can, thank the Lord for having given you this son and ask Him to shower you with good memories to hold on to as you work through this time in your lives. Blessings to you my brother. Sincerely, David Weaver
April 12, 2020
To the family my deepest condolences to you all..I will miss mikey he was very special to me and my family. He was such a kind and caring person that loved unconditionally. And always wanting to help someone even when he needed help himself he still put his stuff aside for someone else.. We love you Mikey and we will always have a place for u on our hearts…R.I.P ❤❤❤❤❤
Betty Turner
April 11, 2020
I have memories of Mike when he was in high school. A friend of my son, Ian Smith, Mike never failed to greet me with that fabulous smile and a big hug. My condolences to the entire family. He is loved and will be missed.
Sachi Smith