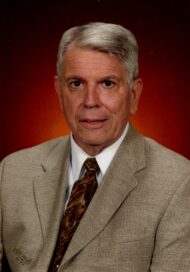 Michael Chuhran, 82
March 11, 2023
Michael Chuhran, 82, of Lancaster died unexpectedly on March 11, 2023. Son of Michael and Julia Chuhran, he attended Donora High School where he was a member of the student council and an accomplished athlete in both baseball and football.
Michael was a 1962 graduate of the Carnegie Institute of Technology. While there, he stood out as a four-year letterman on the football team, playing on both offense and defense for the Tartans, and was a member of Kappa Sigma Fraternity.
Michael devoted his professional career to teaching, graduating with a Master of Education from Temple University, and serving on the faculty of the Thaddeus Stevens College of Technology for over 20 years. He also served honorably in the U.S. Army Reserve.
In retirement, Michael was the editor for the Centerville AARP newsletter. An avid Pittsburgh Steelers fan, Michael also enjoyed traveling, golfing, a good meal with dessert, and reading. Michael attended Redeemer Lutheran Church and supported numerous charitable causes.
He is survived by his wife of 52 years, Judy, daughter Larissa (Ryan) Chevalier, son Craig (Ashley) Chuhran, and three grandchildren – Emilia, Elek, and Maeve as well as sisters Janice (Skip) Loraw and Denise (Butch) Ricci.
The Chuhran family extends their deep thanks the many friends and neighbors who provided support on Michael's behalf over the last few years.
Family and friends will be received at 10 am followed by a Memorial Service at 11 am on Thursday, March 16, 2023 at Charles F. Snyder Jr. Funeral Home & Crematory, 3110 Lititz Pike, Lititz, PA 17543. Interment will follow in Conestoga Memorial Park, Lancaster. In lieu of flowers, donations may be made to The Pet Pantry of Lancaster County, the Homestead Village Endowment Fund, or Redeemer Lutheran Church.
Watch the tribute video
Leave a condolence on this Memorial Page
Condolences to the Family
March 14, 2023
My condolences go out to the family and friends of Mr. Chuhran. Always cherish the fond memories of times spent together. Although you may grieve at this time, the Bible can be a source of comfort. At Revelation 21:4 it speaks of a time when there will be no more sickness, death, or suffering. Also, at Acts 24:15 it speaks of a future resurrection we all can look forward to where we will be reunited with our loved ones that have passed away.
May the God of all comfort – Jehovah – give you the strength needed at this time. Your family is in my thoughts.
March 14, 2023
So very sorry for your loss, Judy.
My deepest sympathy to you and your family.
March 13, 2023
Judy,
Sending prayers, condolences , and much love to you and your family. Mike was a wonderful man and we feel so lucky to have known him as a great neighbor.
Tim & Laura
March 13, 2023
I was a student at Stevens Trade class of '69 and in latter years I sold printing and graphic arts equipment. I was the sales rep that called on STS and knew Mike at that time. So sorry to hear of his passing.
Charlie Stauffer, Harrisburg, formally from Lancaster County
March 13, 2023
So sorry for your families loss.
Pamela M Hixson
March 13, 2023
So sorry for your loss, Janice Our thoughts and prayers are with you.
Mary Ellen Burkart
March 13, 2023
Judy, I'm so sorry for your loss. You have been a loyal and loving wife. I've always admired your love and loyalty to Michael. I'll be thinking of you as you move along with your life. I'm sure your two children will be by your side if needed. Love Pat
March 13, 2023
Judy, I am so sorry to see you lost Michael. May the wonderful memories you had together stay with you during this sad time. My thoughts and prayers are with you.
Barbara Girocco
March 12, 2023
To Judy and family, so sorry for your loss. Randy Rossi
Visitation

Thursday, March 16, 2023
10:00 AM - 11:00 AM
Charles F. Snyder Funeral Home & Crematory
3110 Lititz Pike
Lititz, PA 17543

Map and Directions

Services

Thursday, March 16, 2023
11:00 AM
Charles F. Snyder Funeral Home & Crematory
3110 Lititz Pike
Lititz, PA 17543

Map and Directions