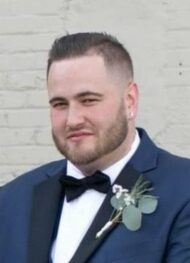 Michael C. "Mike" Mylott, 29
November 10, 2021
Michael C. "Mike" Mylott, 29, of Mountville, passed away unexpectedly in a motorcycle accident on November 10, 2021. Born and raised in Lancaster, he was the son of John and Lou Ann (Enterline) Mylott.
Mike will be remembered for his glowing smile, infectious laugh, and great sense of humor. He was loyal and generous to a fault. He would frequently put others before himself because he wanted others to be better than him and would help them get there. True to his personality, he also obtained the rank of Eagle Scout.
From the time he was a toddler, Mike was drawn to cars. As he grew into adulthood, he found a love for cars and motorcycles; the faster and louder, the better. As a kid, his parents affectionately called him Michael Michael Motorcycle. In his free time, he could be found tinkering and upgrading cars or watching shows about cars, which is something he turned his family members onto as well.
Mike was proud of his Irish heritage. After taking a trip with his family, his appreciation of Ireland grew to the point that he was in the planning phase of obtaining dual citizenship with his sister, to one day own property there.
He is survived by his parents, John and Lou Ann of Lancaster; a sister, Lauren Mylott of Lancaster; his loving girlfriend, Krystal McCool of Mountville; Krystal's daughter, who held a special place in his heart, Aurora; numerous aunts, uncles, and cousins as well as countless close friends he considered family. He was preceded in passing by his maternal grandparents, John and Marjorie Enterline and paternal grandparents, Michael and Delia Mylott.
Guests are invited to a viewing on Thursday, November 18, 2021, from 6 – 8 PM at the Charles F. Snyder Jr. Funeral Home & Crematory, 3110 Lititz Pike, Lititz, PA. A viewing will also be held on Friday, November 19, 2021, at the funeral home from 1 – 1:30 PM with a funeral service immediately following. Interment to follow at Mountville Cemetery. Memorial contributions in Mike's name may be made to the National Motorcycle Safety Fund.
For those unable to attend the service it will be live-streamed here on Friday, November 19 at 1:30 PM.
Watch the tribute video
Leave a condolence on this Memorial Page
Condolences to the Family
November 19, 2021
My condolences to the family during this difficult time!! Mike my brother you will forever be missed!! We will miss your infectious smile and great personality! Our family will never forget tio Mike! We love you and you will always be in our hearts!!
The Rivera's (Angel, Lorraine, Aidan,Passion, Iam and Ella) ❤️
November 19, 2021
Heaven has gained such an amazing person. You were the nicest purest person I ever met. So many memories, phone calls, and messages we will all hold dear to our hearts. Thank you for always being such a great friend and amazing person. Until we meet again. My condolences to Mike's family, friends, and loved ones. With love, Melissa
November 18, 2021
Mike, you will be missed dearly. Thank you for all of the memories! GO BIRDS!
Stephen Kramer
November 17, 2021
I had the opportunity to work with Michael briefly and was struck by his enthusiasm for life, and sweet, kind personality. I am so sorry for this tragic loss.
Nicole Bird
November 16, 2021
I am very sorry for the loss of Michael. My condolences to the Mylott family.
Stephanie Lavenberg
November 15, 2021
I knew Mike on a professional level. He was a devoted CSR that I could always count on. He was always kind and caring and would go the extra mile. I am saddened to hear of his passing. My condolences to his family, close girlfriend and her daughter, friends, and coworkers. You will be forever missed, Mike. Rest In Peace. ~Sara Kifer
November 15, 2021
My profound condolences.
Cousin Bill
November 15, 2021
I am so sorry for your loss. I had the pleasure of working with Mike from time to time and he was always excellent to work with. He will be greatly missed.
Mike
November 15, 2021
Michael, you are missed terribly. I will speak your name often, I will remember your laugh, your smile. It was awesome working with you my friend. Ride on buddy.
Lynn Tiernan Lynch
November 14, 2021
I'm so sorry to all of you for your loss. Michael was there to talk with me when I needed someone to talk to, and I have plenty of good memories spent with him that I won't forget. I wish I could go to the viewing, but I don't feel it would be proper for me to go. I really would like the opportunity to pay my respects, but I'll just leave my condolences to all of you instead. Michael was a great man, and I know he was destined for great things. Wishing you all my love and condolences.
Kyle
November 14, 2021
My deepest condolences and sympathy are with your family. I am truly saddened by this loss. Mike was an awesome person and so respectable. My son Jonny was very close with Mike, he was like a big brother to Jonny. Mike will be truly missed and forever remembered. Our prayers are with the family and those he loved.
Alicia Stewart
November 14, 2021
My condolences to Lou Ann, John and Lauren.
I knew Michael very little, but what I did know of him, very sweet and kind gentleman.
RIP Young man. You will be missed.
Hedy Brubaker
November 14, 2021
My heart doesn't want to believe it, Micheal. I am so Thankful I was your friend, and Confident. I'm so glad you got the one thing you really wanted out of life, a closer, loving realonship with your Dad. I remember when he was sick, and I cried with you. I love you like you were one of my own. Till I close my eyes and I see you again. Rest In Peace in the arms of our Lord.❤️
Nina Whiting
November 14, 2021
Sending much love & prayers to your family.
I worked with Mike. (Though not in his dept). He was always kind & funny. Such a nice guy to be around & so knowledgeable at his job.
A great loss. So saddened for your family.
Anonymous
November 13, 2021
I am so terribly sorry for this incredible loss. Mike playfully and affectionately called me "mom". And I love him, he was part of our family. My sons, Patrick and Christian and my daughter Layla are all broken-hearted. To Mike's mother, father and sister, from the bottom of my heart, I am so sorry. God has gained an Angel In Heaven, but this sure does hurt. Sending my love and praying for God to send love, peace, comfort and healing to you. Mike will never be forgotten.
Krista Denlinger
November 13, 2021
My condolences to the family, Mike was like a son to me ,He had a big heart for everyone and always had a smile..He will be our Angel ..We will miss you…💖🙏🙏🙏💖
Omayra Rivera
November 13, 2021
Dear LouAnn, John and Lauren,
Words cannot adequately exprss our deepest sympathy to you on the loss of your beloved, treasured Michael. Our hearts are truly broken for you – we, and especially Mike C, truly thought "young Michael" was the greatest, nicest kid around, and so he was! You are in our thoughts and prayers for peace and strength at this terribly painful time – and always. Rest in Peace, dearest Michael.
Love and Blessings,
Ann – Michael & Heather, Brian & Kelly, Matt & Ann


November 13, 2021
Though I never met Michael, I know his sister Lauren, and in the short while I've known her I feel like I got to know and love him. I will continue praying for all of his family and friends. And pray the LORD brings Peace and Comfort.
John
November 13, 2021
My condolences go to all his family and friends!! 💐 He will forever be missed and never forgotten!! He is at peace now and may we ask he oversees/protects us everyday from heaven. Mike you were an awesome dude brother! It was fun to ride with you everytime. I'll keep riding crazy just for you, but I promise i'll be safe! R.I.P. Michael!!!! 💙
Luis Vela
November 13, 2021
Deepest Condolences to Michael's Parents, sister and girlfriend and many good friends. May Michael's Soul rest in Peace with the Good Lord. Amen
Nonie Maloney (nee Moylett) Republic of Ireland
Visitation

Friday, November 19, 2021
1:00 PM - 1:30 PM
Charles F. Snyder Funeral Home & Crematory
3110 Lititz Pike
Lititz, PA 17543

Map and Directions

Visitation

Thursday, November 18, 2021
6:00 PM - 8:00 PM
Charles F. Snyder Funeral Home & Crematory
3110 Lititz Pike
Lititz, PA 17543

Map and Directions

Services

Friday, November 19, 2021
1:30 PM
Charles F. Snyder Funeral Home & Crematory
3110 Lititz Pike
Lititz, PA 17543

Map and Directions