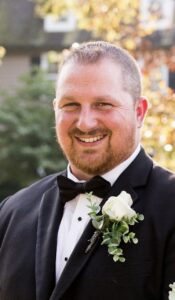 Matthew R. Garman, 39
September 30, 2021
Matthew R. Garman, 39, of Lancaster, passed away on Thursday, September 30, 2021.
He was the husband of Kylee A. Kostenbader Garman, with whom he shared 3 years of marriage this past September 29th. Born in Lancaster, he was the son of Timothy L. Garman of Leola and Ann Schober Garman of Lititz.
Matt had been a sales representative for Phillips Pet Supplies in Easton for the past 15 years. He had also previously worked in sales for Super-Dog Pet Food Company in Leola, which had been his grandfather's company.
He was a 2001 graduate of Conestoga Valley High School.
Matt was a huge sports fan, and devoted his time to coaching and watching his son Logan in youth baseball and basketball. He was an avid collector of sports cards and sneakers, enjoyed a wide range of music, loved to grill, was a Detroit Lions fan, and most importantly loved to just be with his best friend and daughter Mia, sons Bo and Logan, wife Kylee, and his close friends and family. He always knew how to bring a smile to everyone's face and was known as a jokester.
In addition to his wife and parents, Matt is survived by his children: Logan M., Mia R. and Bo M.; his sister Michelle married to Tom Capizzi of Lancaster, his brother Timothy married to Rhonda Garman of York, and by his maternal grandfather Robert Schober and wife Lisa Schober of Maryland. He is also survived by many loving aunts, uncles, cousins, nieces, and nephews. He is preceded in death by his Grandmother Gloria Campbell Schober.
Friends will be received by his family from 12pm noon to 2pm on Monday, October 11, 2021 at the Charles F. Snyder Jr. Funeral Home & Crematory, 3110 Lititz Pike, Lititz, PA. There will be a Time of Sharing promptly at 2PM for friends to share a special recollection of Matt. His family will greet friends following the time of sharing as well, if need be. In lieu of sending flowers, please consider making a contribution to a GoFundMe account established to support the most cherished thing in Matt's life…his children at: gofundme.com/f/garman-family
Watch the tribute video
Leave a condolence on this Memorial Page
Condolences to the Family
October 11, 2021
Donna and I are saddened by the loss of Matthew. We are friends of his Grandparents and can't imagine 💔. He and his family will be in our prayers.
October 10, 2021
It was a pleasure being a colleague of Matt while working at Super Dog for 7 years. He always had a smile on his face and loved to make others laugh. Every time I ran into him at trade shows and events, he made a point to show me pictures of his kids and talk about them. He will be missed by all. My heartfelt condolences to his entire family.
October 10, 2021
Ann, I was so saddened to hear of your loss. You are in my thoughts and prayers.
October 09, 2021
Feeling Your Pain💔 Our Hearts are with You. Sending Our Love, Prayers and respect. Uncle Jimmy and Aunt Virginia Campbell 🙏🏻🙏🏻🙏🏻🙏🏻❤️💔
October 08, 2021
I am so sorry for your loss. My sympathy and prayers to your family.
Janice Feeley
October 08, 2021
Dearest Kylee and family,
There are no words I can think of to comfort you except to say that you are in my prayers and thoughts. I truly hope that reflecting all the happy times you shared as a family will help you through this very difficult time. Sending loving thoughts and prayers to you.
jo

October 07, 2021
I am deeply saddened by the loss of Matt, we became friends abiut 10 years ago when i first me him.
His gregairous and warm friendly personality shined every time you met him always smiling with that Grin that was classic Matt. you always knew he was going to say somthing real funny.
He and I always hooked up at any "Phillips" event that we both at trading jokes and laughing
He will be in my memories always as a great guy, Great Family Man, Great Dad
My heart and prayers go out the family in this time of absence of Matt
May he Rest in peace in the arms of the lord and god bless
Going to miss you brother "Gods Speed"
Dave

October 07, 2021
I am so so sorry for your loss. Sending love and prayers to the whole family
Brian Colón
October 07, 2021
So very sorry for your loss
Erv and Patti Smoker
October 07, 2021
Very sad to hear to hear of Matt's passing. Our deepest and most heartfelt condolences to the family.
Dave Terry & Renee King
October 07, 2021
We are so very sorry to hear of Matt's passing. He graduated High School with our daughter Crystal. Keeping you all close in our heart and in prayers. May God comfort you in this most difficult time. Dave & Connie Burkholder
October 06, 2021
My deepest sympathy to the entire family.
Rick Dippner
October 06, 2021
Our Condolences to you and your family 🙏
Jason and Reeny Bumbarger
October 06, 2021
I'm so very sorry for your loss hugs too ❤ all and my family and friends help you through this difficult time
Tammy Frey
October 06, 2021
To Tim, Ann and family: It breaks my heart to think of the pain you must be feeling. I am so sorry for your loss. May memories of happy days comfort you at this time and always.
Robin & Tim Ardinger
October 06, 2021
I am so very sorry for your loss. I'm keeping you and your family in my thoughts and prayers during this incredibly heartbreaking and difficult time.
Kelly Bricker
October 06, 2021
Dear Bob, Ann, Tim, Fred, Michelle, Timmy, Kylee, Logan, Mia, and Bo.
So Sorry to learn of Matt's passing. Our deepest condolences for the loss of your Grandson, Son, Nephew, Brother, Husband and Father.
Peace be with you now during this time sorrow.
Dennis Wenger and Family

October 06, 2021
We are very sorry for your family's loss. Sending you all of our deepest sympathies and prayers during this difficult time. Sincerely, Young's Inc.
October 06, 2021
Oh I'm so sorry to hear of your loss of your son. I know your heart broken. Look for the signs of Matt visiting you with his spirit that lives forever within His beautiful family! My sincere condolences to you all. Kristine Davis
October 06, 2021
Sorry for your looss, Our thoughts and prayers are with you at this dificult time.
Bob & Jeanne Pickett
October 05, 2021
I am so sorry for the loss of your son!! What a shock! Know that our Lord and Savior will be with you during this time.
Terry & Joyce Gehman
October 05, 2021
Sincerest condolences…strength and peace to you all.
Adam Andrusky
October 05, 2021
Ann and Tim, terribly sorry to learn about Matthew and such an untimely passing. Please accept my condolences.
Jim Cunningham
October 05, 2021
My deepest sympathies goes out to all that knew Matt. I didn't get the opportunity to know Matt as well as I would have liked. Time wasn't on our side. I do have a few memories that I will cherish the rest of my life. Words that I say or write cannot ease the pain but maybe just knowing we care helps .
Sally Green
October 05, 2021
So sad to read this. Brings back fond memories of time long ago when my kids swam together in winter and on competing teams during the summers.
Steve & Chris Troutman
October 05, 2021
It was evident how much Matt loved his children. I was fortunate enough to meet him while babysitting and he always made me laugh. Sending all my love and condolences to the family.
Lauren Novakoski
October 05, 2021
I'm so very sorry to hear of Matt's passing. I'm keeping all of you close in my thoughts, heart and in prayers. Much Love and many hugs ,Gail
October 05, 2021
My heart is breaking for you all! Sending prayers to each of you!
Kelly Knight
October 05, 2021
We are so very sorry to hear about Matt. May the happy memories carry you and your children through this challenging and sad time…Sending our sincere condolences…From Renee & Steve Carpenter and Henrietta Haarde
Visitation

Monday, October 11, 2021
12:00 PM - 2:00 PM
Charles F. Snyder Funeral Home & Crematory
3110 Lititz Pike
Lititz, PA 17543

Map and Directions

Services

Monday, October 11, 2021
2:00 PM
Charles F. Snyder Funeral Home & Crematory
3110 Lititz Pike
Lititz, PA 17543

Map and Directions