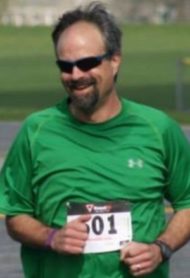 Matthew F. Adams, 48
March 05, 2018
Matthew F. Adams, 48, of Elizabethtown, passed away on Monday March 5, 2018 while doing what he loved, training for the Chicago Marathon. Born in Groton, CT, he was the son of Elaine (Dufour) Adams and the late George Howards Adams. For 10 short years, Matt was the loving and devoted husband of Leanne Lebo Adams.
Matt received a bachelor's degree in Bible and Counseling in 1993 from Lancaster Bible College. Since 2009, Matt enjoyed working for S. Clyde Weaver in various capacities. He thoroughly enjoyed his role of Cheese Buyer, and his friends and family benefited from his love of food. Matt was known as a gourmet cook who loved to entertain. He inherited his love of motorcycles from his Dad, it was well known that Matt's favorite transportation was his Gold Wing.
He was a long-time member of Calvary Church, where he enjoyed being involved in the leadership team for Marriage Builders ABF. Being a child at heart, he was often referred to as "Uncle Matt" by his friends' children.
In addition to his wife and mother, Matt is survived by his brother Mark and wife, Brenda.
Family and friends are invited to attend a celebration of Matt's life, which will be held on Saturday, March 10 at Calvary Church – 1051 Landis Valley Road, Lancaster, PA 17601. The family will receive guests from 3-4 p.m., followed by a memorial service.
In lieu of flowers, contributions in Matt's memory may be offered to Our Father's Hope, a missional community who seeks to support orphans and those who care for them. Donations should be made to McBIC Church, Attn: Our Father's Hope, 1050 South York Street, Mechanicsburg, PA 17055.
Leave a condolence on this Memorial Page
Condolences to the Family
March 21, 2018
I am so sorry to hear of your loss. I enjoyed talking to Mathew about cooking and getting his recommendations on various cheeses at S. Clyde Weavers. He will be missed. Nancy Kobrin

March 10, 2018
Leanne,so very sorry for your loss, i worked with Matt at SClydes. May God keep you in his loving arms n comfort you. Kay Brandt
March 10, 2018
Leanne, family & friends, As a regular customer of S.Clyde Weaver, we always looked forward to his presentations and advice on my cheese selections. He had a passion and bountiful knowledge of good eats. I will miss his professionalism and energy at the cheese shop.
A friend and foodie, Kathy & Jeff Heil
March 09, 2018
Leanne and family – So sorry to hear of your sudden loss of Matt – Praying for you all.
Dogg
March 08, 2018
Leanne:
You don't know me but Matt and I worked together many years ago at Panera Bread. I always felt like Matt took "me under his wing" during that time helping me realize my life goals and encouraging me and my finacee (at that time) to live a Godly life. Matt also gave spiritual and financial support to my husband and I when we were involved in campus ministries at Purdue University. My heart hurts to hear about his sudden passing. Even though we lost contact with each other over the years, he was one of the most genuine individuals I have ever met. You never had to wonder what Matt was thinking…he always let you know! Anyway, please know I am so sorry for your loss. Even though there is pain over his death, I know Matt is in heaven rejoicing with Jesus. We will be praying for you!
Mary and JP Flory
March 08, 2018
Leanne,
We cannot begin to tell you how very sorry we are for your loss. Matt was a really great guy. I enjoyed getting to know the both of you thru the years. He was always fun to work with. We are heartbroken for you. Please know, Lance and i will keep you in our prayers in this time of tremendous grief. Our faith tells us that we will see each other again.
Lance and Janika Mckinnon
March 08, 2018
Leanne,
Though I have never met you I had heard about you from our daughter, Emily Phipps. I just wanted you to know that since the morning Emily called to tell me of Matt's passing I have been praying for you. My heart is broken for you. I pray you will draw close to our Heavenly Father and that He would fill your heart with comfort, strength and courage. That He would lift your spirit with hope. That you would feel His presence and love through the hands of your church family. I will continue praying. Kathleen Welsh
March 08, 2018
Man, where to start….we met Matt and Leanne through the marriage builders ABF at Calvary four short years ago. He and Leanne became good friends and terrific mentors to Jon and I. I will always fondly remember the giant smiles that came across his face whenever he talked about the culinary masterpieces he was crafting during the week. He was also the one who convinced Jon and I that anything can be transformed on a grill—specifically zucchini in our case, ha! But what was even better than the steaks he made, or the spontaneous visits by motorcycle, was Matt's heart and love for his wife. What an incredible love to witness, and what an infectious personality he had. I am so thankful we have had the opportunity to fellowship and grow with this wonderful man. He was taken away from all of us much too soon. And while we sit here in shock and grief over his sudden departure from our lives, we rejoice and find piece knowing that right now he is probably chatting the ear off of his heavenly friends and family as he cooks in the presence of our savior. We will miss you deeply Matt.
Visitation

Saturday, March 10, 2018
3:00 PM - 4:00 PM
Calvary Church
1051 Landis Valley Road
Lancaster, PA

Map and Directions

Services

Saturday, March 10, 2018
4:00 PM
Calvary Church
1051 Landis Valley Road
Lancaster, PA

Map and Directions