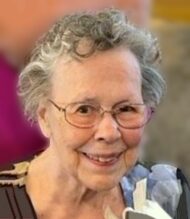 Mary Louise Snyczow, 94
November 6, 1928 - March 14, 2023
Mary Louise Snyczow, 94, passed away peacefully on March 14, 2023, in the home of her oldest son, William G. Haughery.
Mary Louise was born in Greensburg, PA on November 6, 1928, the oldest of five children. She attended high school at Seton Hill, Greensburg, PA, graduating in 1946. In lieu of college, she worked in a local glass company as a secretary to achieve her lifelong goal of becoming a wife and a mother. In 1954 she married her husband, William M. "Bill" Haughery, Jr. and together they had five children. Through 33 years of marriage they traveled from Pittsburgh, PA to Chicago, IL, Alexandria, VA, Miami, FL, Okinawa, Japan, Seoul, Korea and finally to Sterling Park, VA, where Bill died on June 3, 1987. In 1990 she married Nikolaj Snyczow and moved to Maytown, PA. She and Nick were married for 29 years until he passed on October 4, 2019. She lived at Paramount Senior Living facility for four years before moving into her eldest son's home prior to her death.
Mary Louise was a devoted mother and an independent thinker. To those who knew her, she was humble, authentic, and honest in her relationships. She was a woman of faith who loved her children, volunteering in her community, and found time for hobbies like gardening, reading, and the daily crossword puzzle.
Mary Louise was preceded in death by her parents, Theodore Rudiselle, Sr., and Helen (Hall) Rudiselle, her three siblings, Theodore Rudiselle (Ted), Anne Rudiselle, and Robert Rudiselle (Bob), her husbands, William M. Haughery, Jr. and Nikolaj Snyczow, a grandson, David Wesley Folta, and one great granddaughter, Alivia Rachel Haughery,
She is survived by her five children, William G. Haughery (Cynthia), Anne Bowden (Craig), Marcy Folta (John), Timothy G. Haughery, and Howard T. Haughery, her brother, William Maurice Rudiselle, sisters-in-law, Suzanne, and Carol, 12 grandchildren and 27 great grandchildren.
A Mass of Christian Burial will be held at 11 AM on Tuesday, March 21, 2023, at St. Leo the Great Catholic Church, 2427 Marietta Ave. Lancaster, PA 17601. A visitation will be held from 10 AM until the time of Mass. Burial will be at Quantico National Cemetery in Triangle, Virginia on Tuesday, March 28, 2023, at 1 PM.
Leave a condolence on this Memorial Page
Condolences to the Family
March 20, 2023
Ann,
in reading your mothers write up, it is quite clear to me that you seem much like her. I have always been amazed at your calm and kind demeanor, and your deep faith in Christ. I now see what a beautiful mother you were so fortunate to have,as her love has spread generations and she lives on in all of you.She is receiving her reward now❤️
March 19, 2023
Anne, I am so sorry about the loss of your mom. She was blessed to have you there to care for her. I pray that God holds you and your family tightly, giving you comfort and peace. Many blessings, Aunt Sue
March 18, 2023
Thank you Aunt Mary Louise for all the tremendous amount of work in being a beautiful Christian wife, Mother, and Aunt. You showed us all … how to live through beautiful moments, as well as difficult adversities. May you rest easy now, in the arms of God our loving Father and Creator. God bless and protect all your family and friends, with the peace that only God can give…love you always…Terri and Barry Santavy
March 18, 2023
From Doug, Diane and Carryn (Bellomo). We are so very sorry for your loss. Our hearts go out to you. She certainly raised a wonderful daughter (Anne Bowden)

Visitation

Tuesday, March 21, 2023
10:00 AM - 11:00 AM
St. Leo the Great Catholic Church
2427 Marietta Ave
Lancaster, PA 17601

Map and Directions

Services

Tuesday, March 21, 2023
11:00 AM
St. Leo the Great Catholic Church
2427 Marietta Ave
Lancater, PA 17601

Map and Directions