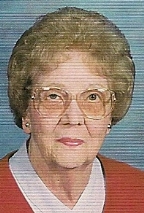 Mary Lee Geiter, 89
Mary Lee Geiter, 89, formerly of Millersville, passed away on Saturday morning, July 25th at Homestead Village.
She was the wife of the late John R. Geiter, Sr., who passed away in 1986. Born in New York City, she was the daughter of the late T. Boyd and E. Helen Gurrier Eckenrode.
Mary Lee graduated in 1939 from Lancaster Catholic High School. She was employed at Armstrong and worked for about 50 years in the banking business, retiring after 25 years at the Fulton Bank in downtown Lancaster.
Mary Lee enjoyed traveling, taking trips and cruises to Alaska, the Bahamas, Australia, and many other destinations. She also enjoyed sewing, making many of her dresses, and was a member of the Womens Club in Millersville. She also spent many hours playing bridge in several bridge clubs.
She was a member of St. Philip The Apostle Catholic Church.
She is survived by her son, John R., Jr. married to Peggy Geiter of Narvon; 4 grandchildren Sue Lynn Rocher, Danielle Y. Wesley, Robert K. Elmer II, and Renee L. Leonard; and 2 great granddaughters. She is also survived by her brother, Harold J. Eckenrode of Lancaster. She was preceded in death by her sister Anna B. Schweitzer and her 4 brothers, Thomas B., Henry L., William R., and James H. Eckenrode.
Friends will be received on Tuesday from 10-11AM at St. Philip The Apostle Catholic Church, 2111 Millersville Pike, Lancaster, PA 17603, with the Mass of Christian Burial to follow at 11AM, the Msgr. Mercurio Fregapane as Celebrant. Interment will be private and at the convenience of the family. In lieu of flowers, contributions may be made in her memory to St. Philip The Apostle Catholic Church. Arrangements by the Charles F. Snyder Funeral Home, Lancaster 393-9661. To send an online condolence, please visit www.snyderfuneralhome.com
Leave a condolence on this Memorial Page
Aunt Mary Lee has been such a rock for the Eckenrode family- she will surely be missed. She was my godmother, and I could always count on receiving a birthday card from her each year, and the first Christmas card of the season always came from her. I especially appreciate her genealogical research of the Eckenrode family, and I hope that someone will keep that information available to the family. I'm sorry that I'm unable to attend her services, as I will be out of town this week, but please know that I'm there in spirit, and will always cherish memories of this dear lady, from when I was a little girl, to being a Millersville College student, to my adulthood.
Peace and blessings to you, Zita Angelo