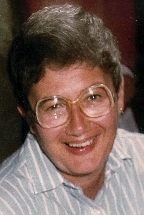 Mary Jane Gabriel
Mary Jane Gabriel passed away peacefully, surrounded by her family, on Monday, July 23, at her home in Lancaster. Born in Red Lion, PA, she was the daughter of Henry and Verna Neff, and grew up in Lititz. She was predeceased in 2004 by her husband of 49 years, James K. Gabriel, Jr., and by their daughter Mary Katherine, in 1965.
Mary Jane was a graduate of Warwick High School and the Jefferson School of Nursing in Philadelphia, and worked as a nurse at Lancaster General Hospital for 24 years until her retirement in 1989. She enjoyed an active retirement volunteering at the Mountville Public Library, working for Lancaster General Hospital Community Services, doing crossword puzzles, and visiting with her family . She is survived by her daughters Ellen Vogel of Summerville, SC; Jeanneine Gabriel, married to James Van Huss, of Summerville, SC; Anne Sanford, married to Michael Sanford, of Los Angeles, CA; and Claire Gabriel, married to Anthony Camardella, of Pelham, NY. She is also survived by her grandchildren Gary and Claire Vogel, Ali and Ada Sanford, Jackson and Edward Whitmore, Matthew Camardella, and Questie, Benton, and Emma van Huss.
Kindly omit flowers. Please send contributions in her name to the Mountville Branch of the Lancaster Public Library, 120 College Avenue, Mountville, PA 17554.
Friends will be received on Friday, July 27, 2012 from 2-3PM at the Charles F. Snyder Funeral Home & Crematory, 414 E. King St., Lancaster, PA , with the Memorial Service to follow at 3PM, the Rev. Dana Statler officiating. To send an online condolence, please visit SnyderFuneralHome.com. Charles F. Snyder Funeral Home & Crematory 393-9661
Leave a condolence on this Memorial Page
May peace and comfort be with you all now. My thoughts are with all of you during this very difficult time.
In God's Peace,
Jessica Spohn Kilgore
Dear Annie, Ellen, Claire, Jeanniene and Family,
I am so sorry to hear about the loss of your mom. I have so many lovely memories of a kind, gentle, and loving person who always made me feel welcome in your family home. I hope you can find comfort that after all these years she is still thought of so fondly by so many.
You are all in my thoughts and prayers,
Janice Rankin Bofinger
My Heart is heavy and I`m very sad over the loss of my Dear Friend, Mary Jane, but I`ve been very Blessed to have been able to help her and visit with her during her recent illness. We shared many years working together at LGH and then after we retired from full time, we enjoyed immunizing the children in the Child Protect Program. I prayed regularly for Mary Jane during her illness and now I pray that the love and grace of God be with her family as they grieve of their loss.
Ruth M. Hepler
"Hep"
I so wish we could be with you at this time. Dad and I are thinking of everyone.We are so sorry for your loss.
Dear Ann and Family,
I was so sorry to hear about the loss of your mom. My thoughts are with you and all of your family at this sad time. I hope that your good memories help
to comfort you and ease the pain.
Karen Gorlaski Shiley
Mary Jane and I worked together at LGH for many years. What a wonderful person, friend and mentor she was to me in Nursing!
May God 's blessings bring you comfort at this sad time. Keeping you in my thoughts and prayers.
Love,
Julie Silsdorf