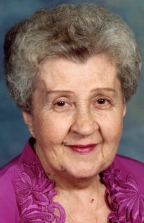 Mary Ellen Rebman, 78
Mary Ellen Rebman, 78, born in Lancaster, the daughter of the late Earl R. and Mary C. (Judith) Adams, passed away on Saturday, April 9, 2011 at Lancaster General Hospital.
She was married to the late Henry E. Rebman, who passed away on October 1, 2005. She is survived by four children: Jacquelyn M. wife of Scott J. Sheely, Richard E. husband of Elaine M. Rebman, Lucinda J. wife of Bradley K. Haldeman all of Lancaster and Michael P. husband of Loretta S. Rebman of Ephrata. She is also survived by 11 grandchildren and 20 great-grandchildren; a sister, Kathleen E. Harnish of Quarryville and 10 cousins, to whom she was very close. She was preceded in death by a sister, Anna M. Dangro, a brother, Paul J. Adams, a great-grandson and twin great-granddaughters.
Mary Ellen was a 1950 graduate of Lancaster Catholic High School. She was a member of St. Philip the Apostle Catholic Church, the Resurrection Choir and The Women's Auxiliary of St. Philips. She was also a Rosary Leader over the years. She retired from the County of Lancaster in 1994, where she was the Deputy Clerk of the Orphans' Court. She was formerly employed by the Lancaster Bar Association as the first Executive Director. She was a Legal Secretary for 35 years and was a member of the Lancaster County, State and National Associations of Legal Secretaries. She served as President of the Lancaster County Lancaster Secretarial Association and as Vice-President of the Pennsylvania Association of Legal Secretaries. She was a member of the Missionary Associates of Mary Immaculate and of the Sacred Heart League. She was also a member of the Lancaster Liederkranz and a former member of the Liederkranz Auxiliary.
A Mass of Christian Burial will be held at St. Philip the Apostle Catholic Church 2111 Millersville Pike, Lancaster, PA 17603 on Thursday, April 14, 2011 at 10 AM with Rev. Peter Hahn as Celebrant. A viewing will be held at the Charles F. Snyder Jr. Funeral Home & Crematory 3110 Lititz Pike Lititz, PA 17543 on Wednesday, April 13, 2011 from 7-9PM. There will be no viewing on Thursday prior to Mass. Interment will be at St. Joseph New Catholic Cemetery, Bausman, PA. In lieu of flowers, contributions may be made in Mary Ellen's memory to St. Philip the Apostles Catholic Church. To send online condolence, please visit SnyderFuneralHome.com. Charles F. Snyder Jr. Funeral Home & Crematory 717-560-5100
Leave a condolence on this Memorial Page
Please accept my condolences. I always enjoyed the opportunity to interact with Mary Ellen. She was a wonderful lady who had a way of bringing a smile to the face of everyone she met.
Jack Smith
I remember Mary Ellen when she worked in the Register of Wills Office. She was such a lovely lady, and we had many chats. My deepest sympathies to the family.
Kathy Kilkuskie
Dear Jackie, Rick and Cindy,
I would like to express my sincere sympathy to all of you for the loss of your mom. She was like a mother to me and even though I didn't see her much, I will miss her because I loved her dearly. Again I am sorry for your loss. She will greatly be missed.
Sincerely,
Vickie Gerontonis
So sorry to hear of your loss. May it comfort you to know she is out of pain and in a much better place. Although the final time you had with her seems short, may you know she left you exactly how she wanted too. May the memories of all the good times you had with her be with you as you cope with your loss.
My thoughts and prayers are with the family through the next few days and as you slowly get back to your normal routine. My sympathy to all in your loss.
Joyce Lenox
I only met Mrs Rebman once at St Phillips Church Bazaar, but I spoke to her on the phone often when I was employed as a CSR at Red Rose Access. She was the most charming and friendly customer every time she called and all the CSR were happy to help her. I was sorry to see she had passed away and I will always think of her fondly.
Maria Lennon
To Mike, Jackie, Rick and Cindy,
Your mother and I were friends from the time she learned to walk until now. Although I am a first cousin our association was that of brother and sister. In my travels all over the world, she never failed to find me and wish me well. Many times she and Henry bolstered my feelings and my outlook. She was such a good person to all of which she came into contact and their is no doubt that her place in heaven is reserved. With loving remembrances and condolences…
Skip and Peggy Adams
It is with great sadness that I read of the passing of your mother. I have known Mary Ellen since 1971. She was instrumental in getting me my first job on "the row". It was also such a pleasure to have worked with her at the Lancaster Bar Association. She taught me so many things. She was truly a wonderful lady and will be greatly missed.
Cindy Ibaugh, Florida
Me deepest sympathy to all–I knew your Mother as a very special customer at Wiley's Pharmacy. She was always so cheery and upbeat and I will miss her kind words and charming smile. She was such a special person. Heaven has gained a special angel.
Bernice Redcay