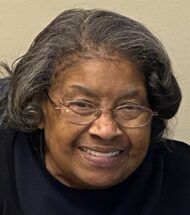 Mary Elizabeth Williams, 86
February 22, 2023
Mary Elizabeth Williams, 86, of Lititz, passed away February 22, 2023, surrounded by her loving family. Born in Bluefield, WV, she was the daughter of the late John H. and Florence Menefee.
After moving to Lancaster, she became a staple in many local nursing homes and private care facilities. Caring for others was something Mary excelled at and was treasured for.
Her day started with a cup of coffee and reading the newspaper; to say she was well read in local and national news would be an understatement. Politics were a topic of conversation that could always get her going. Most importantly, Mary enjoyed spending time with her friends, family, and neighbors.
Her spirit will live on in her children, Carl R. Menefee of Hazel Crest, IL, Antoinette E. Watson of Lancaster, Rodney J. Watson of Mount Prospect, IL, Robert D. Williams (Kathleen) of Lancaster, Jennifer Williams of Durham, NC, and Phillip A. Williams (Heather) of E. Stroudsburg; grandchildren, LaTrina Menefee, Carl Menefee, Jr., Crystal Menefee, Paul Menefee, and Jeremy Menefee, Angela L. Thomas, Anthony K. Thomas, Antoine Thomas, Julian W. Williams, Myles E. Williams, Ethan R. Williams, Emma K. Williams, Hope O. Williams, Haley J. Williams, and Haden R. Williams, as well as 17 great grandchildren and great-great grandchildren, and 6 siblings. She was preceded in passing by her son Gary W. Williams, and a great-grandson.
A Memorial Service will be held at the Charles F. Snyder Jr. Funeral Home & Crematory, 3110 Lititz Pike, Lititz, PA on Saturday, March 4, 2023 at 11 AM. Guests will be received from 10 -11 AM. In lieu of flowers, memorial contributions may be made to Hospice and Community Care.
Leave a condolence on this Memorial Page
Condolences to the Family
March 13, 2023
I was so sorry to learn of Mary's struggles after her surgery and now of her recent passing. She was a dear friend to my mother, Florence Bellack, looking out for her as my mother's health deteriorated last year. The last time I saw Mary, I was dropping off a small desk and rocking chair the day before her surgery. She said they reminded her of my mother and that made me happy. Mary was a generous, kind, and loving woman, and she was a comfort to my mother as she struggled with the onset of dementia. I know Mary is at peace and with God. There was never a more kind soul. I will always remember her for her kindness and friendship to my mother. May Mary's memory always be a blessing to all of her loved ones.
March 05, 2023
Love you Mary Elizabeth Williams ( Soon ) ,
Rest In Paradise
From Cynthia English Joanne daughter

March 04, 2023
I'm so very sorry to hear of Mary's passing, I was so looking forward to her coming back to VG as we had a conversation to finish. She was such a happy person with a winning smile, and very wise. I will miss her. May God bless you and comfort you all at this time off great loss. 🙏☦️👑✨🕊
Kay Brandt
March 03, 2023
Jen, Bob and Phil my heart aches for you all. Miss Mary was like a second mother to me. Her and my mom ( Maxine) would talk for hours! Miss Mary was there for me after my mom died and helped me get thru it. I am so happy my son Robbie got to know her and visit with her. He adopted her as his second nana. We both loved her so. Now Miss Mary and my mom are together talking up a storm. Hugs and prayers to you all.
Lisa Broam
February 28, 2023
I am very sorry to hear of Mary's passing. I knew Mary when I worked at Kohls when I was in college. She always had the biggest smile on her face. She was such a sweet person and I enjoyed talking with her. You knew how much her family meant to her when she would talk about them. I hope your memories will ease your pain. My sympathies and prayers to you all during this time.
Sarah Traphagen
February 27, 2023
I'm sorry to hear the loss of your mom I loved her it's strange how things happen didn't see Mary for yrs then we both worked private duty and talked about our families and everything else and then when I heard she was at Brethren Village she was right down from my mom so made it a point to visits her as well your mom was such a sweet lady she will be missed my condolences to you all 🙏🏻 🙏🏻 ❤️
Stacy Williams
February 27, 2023
It was a pleasure to have known Mary while a resident of VGA. She will be remembered for her kindness, every-ready smile and her great sense of humor! Our condolences to the family. — VGA residents.
February 27, 2023
To the Williams family,
So sad to read about Mary. What a sweet lady. I first met Mary about 7 or 8 years ago when I was her Employment Specialist at AARP in Lancaster. She was one of my very favorite enrollees, if not the best. She always had a smile on her face, and we could talk about anything. What a tremendous loss.
Fran Lombardo Spangler
February 27, 2023
My condolences and prayers to the family of Miss Mary. I had the pleasure of working with her years ago at Kohl's. She had a phenomenal work ethic. If you paid attention, you definitely learned something, if you didn't, she'd let you know. (smile) She was hilarious, and the customers loved her! So did I! Thank you Miss Mary for all the life lessons, I was paying attention. Thank you for the laughs and guidance. Miss Mary, Rest In Power. I'm so happy and blessed that God allowed our paths to cross.
Charmaine Williams
February 27, 2023
So sorry to ready of Mary's passing. We been friends for many years but the last two years getting in touch with sickness and surgeries going on. It was either her or me. I waited.d for her call. I last talked with her shortly after her return from knee surgery and I told her I would wait for her call! I've missed her and thought about her and her where abouts everyday! This was a shocker but now I know she's in heaven and all better. Surely God needed an angel and he sure got one! I loved this lady. I often told her I wish I would have known her many years ago! She gave good advice! To you all,her family. My sincerest heart felt sympathy to you all her memory will live on . Yous were so blessed to have each other. And I was so blessed to have "my dear friend Mary!" God bless you all!
Sue Welcomer
February 26, 2023
I'm so sorry for the loss of your mother, grandmother. I worked with Mary at Goodwill. I keep in touch with her even talked to her while she was in rehab with her knee . She will be missed. She was such a nice person, I'll never forget her. Take care ❤️
Karen Miller
February 26, 2023
Mary worked with me at Kohl's park City. She was a pleasure to work with, and she always had a smile on her face, when interacting with people. I will always rember her, and she will be missed, by me and the people who got to know her. I will keep her & her family in my prayers.
Francis J Melan
Visitation

Saturday, March 04, 2023
10:00 AM - 11:00 AM
Charles F. Snyder Funeral Home & Crematory
3110 Lititz Pike
Lititz, PA 17543

Map and Directions

Services

Saturday, March 04, 2023
11:00 AM
Charles F. Snyder Funeral Home & Crematory
3110 Lititz Pike
Lititz, PA 17543

Map and Directions