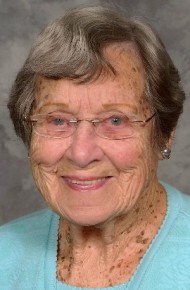 Mary Elizabeth "Jane" Warfel, 98
August 21, 2013
"Jane" Warfel, 98, of Lancaster, entered peacefully into the presence of her Savior on August 21, 2013, after a short stay at Conestoga View.
Born in Lancaster, she was the wife of the late Norman Andrew Warfel and the daughter of the late Benjamin and Mary (Robinson) DeVerter.
After retiring as head decorator at Keppel's Candy, Jane was a long-time volunteer at Meals on Wheels and the Auxiliary of Conestoga View. She was an avid camper and enjoyed many family camping trips across the U.S. as well as swimming and boating on the Susquehanna.
Known as "Jane" to her friends and as "Supernan" to her family, she lived a long life of selfless service and dedicated faithfulness to her family and to her Lord.
She was a charter member of Westminster Presbyterian Church and served in the past as a deaconess. She valued all the visits from the pastors and deaconesses during her illness.
"Supernan" will be lovingly missed by a daughter Dr. Joan, wife of Rev. Jonathan Tompkins, and a son Donald Warfel, companion of Darlene Garreth, of Lancaster, sister Evelyn DeVerter and two brothers, Benjamin and Richard (Marie) DeVerter, of Lancaster; 5 grandchildren, 11 great grandchildren, 1 great, great grandchild; and many nieces and nephews. She was preceded in death by a son, Larry Warfel, sister, Anna Hickey, and brother, Charles DeVerter.
A Tribute to her life will be held on Monday, August 26, 2013, 11:30 PM, at Westminster Presbyterian Church, 2151 Oregon Pk. Lancaster, PA 17601 with The Rev. Dr. Michael Rogers officiating. Interment will be held at 10 AM at Conestoga Memorial Park, with The Rev. Jonathan Tompkins, a son-in-law, conducting the service. There will be an opportunity to greet the family following the service at the church. Memorial contributions in Jane's memory may be made to the Westminster Presbyterian Church c/o Building Fund.
Leave a condolence on this Memorial Page
Condolences to the Family
August 27, 2013
Dear Joan and Don,
Im glad I had the pleasure meeting supernan at Conestoga View. She would always make my day there and always put a smile on my face. The day she told me I was part of the family now, so now I can call her my supernan. She will be sadly missed by not just me but alot of us CNA's.
Love ya supernan, Marci Barrage
August 26, 2013
Dear Don and Joan,
We wish we could have been there to celebrate the long and wonderful life of your Spirit-filled mother. I know you will all miss her tremedously. She was so faithful to her family in modelling Christ. Isn't it breath-taking to picture her at the nail-pierced feet of the One who carried and comforted her throughout her life?
Love and peace,
The Dickman's. Jim, Carla, Sarah and Christy.

August 26, 2013
To the entire family my thoughts & prayers are with you. May you all find great comfort in our Lord.
Ray Shissler
August 25, 2013
To Donald and Family, I send my sincere heart felt condolences on the loss of your Mother, Grand Mother, and Great Grandmother, your precious loved one. She was an amazing woman, with such a terrific long rich life. She was blessed to have you as a son Donald, helping her all these years. I hope earh of you can find peace and comfort during this time of loss knowing she is at rest with the Lord. Thinking of you and the entire family. Regards, Tracy S. Leed (Holly's friend)
August 23, 2013
Dear Joan and family, I am so sorry to hear of the death of your beloved "Supernan". You are in my thoughts and prayers. Take Care!
Caren Sebastian
Services

Monday, August 26, 2013
11:30 AM - 11:30 AM
Westminster Presbyterian Church
2151 Oregon Pk.
Lancaster, PA 17601

Map and Directions