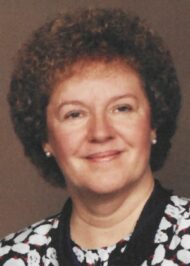 Mary E. Nieczyporuk, 82
October 04, 2021
MARY ELIZABETH (VERES) NIECZYPORUK, 82, absent from the body, and present with the Lord, October 4, 2021. Elizabeth was born in Kipling, Saskatchawan, Canada, the daughter of the late Louis and Pearl (Kepiro) Veres. At age 9 she and her family moved from rural Saskatchawan to Toronto, Ontario. At age 15, Elizabeth met Jacob Nieczyporuk at a Billy Graham Crusade, who she would marry 3 years later. Elizabeth loved children deeply and spent several years as a 1st and 2nd grade teacher in the greater Toronto area. She was also a 65+ year supporter of World Vision International helping children around the world. Elizabeth was a talented vocal soloist and highly sought after to perform at church services, weddings, and other social gatherings. In 1966, Jake and Elizabeth moved to Lancaster, Pennsylvania, where she and her husband embarked on a new adventure in tourist hospitality; constructing and then operating the Canadiana Motor Inn for over 50 years. She was also an excellent home-maker, often spoiling her family with her Hungarian cooking and apple sour cream pies on special occasions.
To know Elizabeth was to know that there was always someone ready to listen and encourage you along your way. Every relationship was of value to her and she always took advantage of an opportunity to tell people about the love of Jesus. If you ever sent Elizabeth a note or a card, know that she kept it, neatly filed away by year, because those memories and relationships were her "treasures".
Elizabeth is survived by her Daughter and son-in-law, Laura and Duane Zielonko, her grandchildren Jacob and Alyssa Nieczyporuk and Daniel Zielonko, her brother and sister-in-law Paul and Judy Veres, and Niece, Sharon Steinfield and family. She is now in heavenly reunion with her predeceased husband of nearly 64 years, Jacob Nieczyporuk, and son, David Nieczyporuk and other extended family members.
Visitation will be October 15th at Charles F. Snyder Funeral Home, 3110 Lititz Pike, Lititz, PA. from 2:00-3:00pm followed by a joint service for both Elizabeth and her late husband Jacob Nieczyporuk, who passed away in April of 2021
In lieu of flowers, please consider making an honorary donation to World Vision International ( www.wvi.org ) or Agape International Ministries which provides support for orphans in Ukraine ( http://www.agapefororphans.org ).
Watch the tribute video
Leave a condolence on this Memorial Page
Condolences to the Family
October 17, 2021
Laurie
My deepest condolences to you and your family
I spent may summers with your mom and dad in Lancaster during my formative years
I must say that Jake and Elizabeth were very supportive of my choices and encouraged me and helped me become the man I am today
Your dad was a "one of a kind" man with a gentle soul and a heart bigger than the sky
He was a survivor who appreciated and fully used the opportunities given to him after his ordeals as a child
Every minute in his life mattered to him and needed to be applied to a constructive cause
I watched and then adopted his life style and work ethic. The last time I saw him was in Port Credit. I took him to lunch and enjoyed his company
When the bill was delivered to the table I insisted on covering it as I always do, and because that's what he always did. He thanked me and looked at me knowing that I was carrying on his ways
I will miss him but he will always be remembered fondly

Laura
Your mother taught me many things in the time I got to spend with her. She was funny and had a deep incite into life
She focused on the positive and was the other half of the "power couple" they were
She introduced me to Peaches, who used to make me jump out of my skin when she rubbed past my leg under the dinner table. This always made your mom to laugh
I got less squirmy over time and Peaches and I became buddies
I'm still raising stray cats to this day
Please know that we are thinking about you and your family and will always remember the life and times of Jake and Elizabeth
Mike and Lisa

October 16, 2021
Our sincere condolences to you Laura and your family. May the Lord give you all comfort and peace during this difficult time and always. Our thoughts and prayers are with you.
Elaine & Wayne Hargrave (Canadian Friends)
October 14, 2021
Dear Laura
My heart is breaking for you right now and all that this year has put you through. Your dad and mom were wonderful, a lifesaver for me and a blessing to many. Right now the image that is in my mind is of their hands. Your father's large and strong, and your mother's graceful and beautiful. And they helped so many with those hands too! Praying for you and yours.
Susan (Melnichuk) Virtue
October 12, 2021
Dear Laura & family, We were so blessed to have known your dear mother & father. Our prayers are with you and your family. Blessings, Jim & Connie Friedman
October 11, 2021
Laurie, Our thoughts and prayers are with you and your family in the loss of your mother. We have fond memories of the times we spent with them, as far back as Country Day. Love, Larry and Sue Kepner
October 10, 2021
So sorry for your loss, Laura and to your family, you have been in my thoughts and prayers, love you
October 09, 2021
Sincere condolences to you Laura and your family. May the Lord bring you all comfort and peace at this sorrowful time.
October 09, 2021
Sincere condolences to everyone. Mike and I were privileged to be in the company of Elizabeth and Jake while visiting Lancaster in 2005. We had such a lovely time together. I will always cherish the time we had together. May God wrap His loving arms of comfort around you all, during this difficult time.
Ruth Calyn
October 09, 2021
Jake and Elizabeth were two genuine selfless friends and supporters during the time we lived and pastored in the Lancaster area in the early '70's. We will always treasure them as true friends and wonderful folks that we will reunite with in the not-so-distant future. Ken and Ginger Levin.
October 09, 2021
We will miss our beautiful friend of many years. We count it a blessing to have known Elizabeth. God grant her family strength to carry on her legacy.
Visitation

Friday, October 15, 2021
2:00 PM - 3:00 PM
Charles F. Snyder Funeral Home & Crematory
3110 Lititz Pike
Lititz, PA 17543

Map and Directions

Services

Friday, October 15, 2021
3:00 PM
Charles F. Snyder Funeral Home & Crematory
3110 Lititz Pike
Lititz, PA 17543

Map and Directions