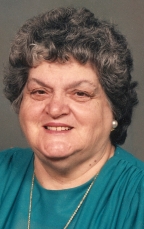 Mary D. Gallagher, 81
Mary D. Gallagher, 81, of Lancaster, died Thursday, January 15, 2009 at Essa Flory Hospice Center after an illness. Born in Ashland, PA, Mary was the daughter of the late Vincent and Catherine (Barbush) DiZio. She was the wife of the late Eugene D. Gallagher, who died in 2007.
A homemaker, Mary was a 1946 graduate of Ashland High School. She was a loving, friendly devoted mother and wife, who enjoyed cooking and dancing the polka, and spending time with her children and grandchildren.
Mary was a very active member of St. Anthony of Padua Catholic Church parish, where she participated with the Bereavement Committee, Senior Club, the Mothers' Club, while her children were at school. She also was a member of the Knights of Columbus Womens' Auxiliary Lancaster Council.
Mary is survived by her children, Eugene D. Gallagher, Jr., Michael Gallagher, husband of Jean, John V. Gallagher, husband of Deborah, and James Gallagher, all of Lancaster, Anthony R. Gallagher, husband of Sharon, of Lake Wales, Fl, Thomas Gallagher, husband of Wendy, of Elizabethtown, and Mary Anne Hevener, wife of Dwayne C., of Mount Joy, 13 grandchildren, 10 greatgrandchildren, and siblings, Joseph DiZio, husband of Ann, of Lansdale, Thomas DiZio, husband of Concetta, of Gordon, PA, and Dolores DiZio of Ashland. She was preceded in death by her brother, Louis, and sister, Anna.
Relatives and friends are respectfully invited to attend the Mass of Christian Burial at St. Anthony of Padua Catholic Church, 501 E. Orange St., Lancaster, PA 17602 on Tuesday, January 20, 2009 at 10 AM with Rev. Daniel J. Mitzel as celebrant. Interment will be in St. Anthony Catholic Cemetery. A viewing will be held at Charles F. Snyder Funeral Home, Inc., 414 E. King St., Lancaster, PA on Monday evening from 7 until 9 PM, with recitation of the Rosary at 8:30 PM, and a second viewing at the funeral home on Tuesday morning from 8:30 until 9:30 AM. Memorial contributions in Mary's memory may be made to St. Anthony of Padua Catholic Church or Hospice of Lancaster County, P.O. Box 4125, Lancaster, PA 17604. To send an online condolence, please visit www.snyderfuneralhome.com
Leave a condolence on this Memorial Page
Mike: I'm very sorry for your loss.
Donnie Bowers
To the entire Gallagher family, I send my deepest sympathies. Aunt Mary was a warm and loving person immeasurably devoted to her family and friends. She will be missed greatly.
Sincerely and with much love, Angela DiZio Ryan
Please accept my condolences at the loss of your mother. I will always remember her strength and warmth. May God be your strength.
Tom Discavage
My thoughts and prayers are with you. I know you will all miss her deeply, no one can take the place of "MOM" in your heart but know that you were all "her life" and she was very proud of you.
Therrie Butz
Dear Mary Anne and Family,
My heart is with all of you. I have so many good memories of your Mom. She was so good to me and I always felt welcome in your home.God Bless you all, Monica Kerek
Gene and Mike.
I know that she was a women of faith and so I know she is in a happy place. I know as a Mom, if you can't be with your children then with the Lord is the Best. I hope your memories will be your comfort for a very long time.
With sincere sympathy. My thoughts and prayers are with you both.
Patti and Mike Stephens