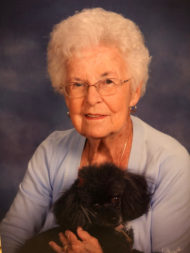 Mary C. (Parsons) Ranck, 92
January 30, 1927 - January 22, 2020
Mary Caroline (Parsons) Ranck, 92, after more years than she wanted or expected, peacefully joined her loving husband, Jim, and daughter, Cheryl, in Heaven, where we are certain she is rearranging things to her liking.
Mary is survived by her son, Gerald Ranck (Bette), and son-in-law, Albert Sykes (Sandy), and was Mommom to grandchildren, Susan Ranck, Sarah Layton (Mark), Jeremy Sykes (Dana), and Jessica Repp (Tim). She leaves a legacy of great grandchildren, Josalyn, Rosalyn, Tenana, Ava, Titus, Brennan, Claire, Alex, Hannah, and Abigail; and two great-great grandchildren. Mary also leaves behind a host of relations and friends-that-are-family in Lancaster County, Harrisburg, and Minnesota.
Mary followed her career military husband, Lt. Col. James B. Ranck, across the country and the globe including years in Germany, Kansas, and other locations. When not able to follow him on tours of duty, Mary kept the home fires burning, raising Gerry and Cheryl.
Keeping busy included memberships in Eastern Star, DAR, and Daughters of 1812. She was honored as a 20+ year dedicated Meals-on-Wheels volunteer, often delivering meals to people much younger than herself. She was a member of Trinity UCC in East Petersburg.
Mary was an avid and winning golfer and member at Meadia Heights and Overlook, and a competitive party bridge player well into her 80s, feared by many in both endeavors.
Her love of animals was something to behold, raising many dogs throughout her life and feeding and caring for many feral cats.
For these reasons, in lieu of flowers, please honor Mary's remarkable life by considering donating to the Humane League of Lancaster County, 2195 Lincoln Hwy. E, Lancaster, PA 17602 or Meals-on-Wheels of Lancaster, 1085-B Manheim Pike, Lancaster, PA 17601.
Our family would like to express our sincere gratitude to the Long Community at Highland staff, particularly those on the 2nd floor, who cared for our Mary with so much love and kindness.
A service celebrating Mary will be held at Trinity UCC, 2340 State St., East Petersburg, PA 17520 on Friday, February 7 at 1pm. Stay and greet the family after the service when light refreshments will be served.
Leave a condolence on this Memorial Page
Condolences to the Family
March 09, 2020
I grew up on Maxson Rd. and my heart hurts for you over Mrs. Ranck's passing. I always admired her love and treatment of all animals. What a kind heart. Condolences from the Hawke family (George, Jim, and Donna(Webster)).
February 13, 2020
Mary was a very classy lady! I worked with her many, many years ago at the bakery in Park City. She was sending lovely Christmas cards to me just a few years ago. I've always loved her..such a sweet lady! My deepest sympathies to her family, Ellen Aronson
February 09, 2020
We would like to send you our deepest sympathy. Sorry for the loss of your mother. Diddie and Sandy

February 03, 2020
At this time of sorrow may you find comfort in your memories.
Jeanne Lehmann Corresponding Secretary
Donegal Chapter DAR
Services

Friday, February 07, 2020
1:00 PM - 2:00 PM
Trinity UCC
2340 State Rd.
East Petersburg, Pennsylvania 17520

Map and Directions