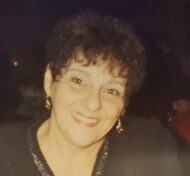 Mary Ann Keares, 81
July 09, 2022
Words of love overflow like a fountain for our MaryAnn, wife, mother, grandmother, great-grandmother, and friend who lived a beautiful, fulfilled life from start to end, emanating love and happiness everywhere she went.
MaryAnn (Manno) Keares passed away on July 9, 2022 following a lengthy illness. She shared an amazing life and legacy with her loving husband, Harry T. Keares of 56 years. MaryAnn was born in Lancaster, PA on August 29, 1940 to her parents, Joseph and Carmelina Manno, both deceased.
MaryAnn unselfishly and unconditionally loved her children, grandchildren, and great-grandchildren making them always her focus and priority. Along with her husband Harry, she is survived by her four sons: Joseph Goodling (husband of Leslie), George Goodling (husband of Brenda), Theodore Keares (partner of Brian Martin), and Demetrius Keares (husband of Dana). Her pride and joy were her 6 grandchildren: Jessica Briedenstein (wife of Michael), Tony Goodling (husband of Kelly), Joseph Goodling, Nicholas Goodling, Austin Keares, and Parker Keares, as well as 2 great-grandchildren Charles(C.J.) Briedenstein and Katelyn Briedenstein. She was preceded in death by her brother, Nicholas Manno and a grandchild, Jeremy Goodling.
Anyone who came in contact with MaryAnn can attest to her warm, positive, and often humorous personality about her. She was an amazing listener, making those of us who were fortunate enough to be in her presence, always feel loved and important. One of her biggest joys in life were the weekly Sunday family gatherings at her home where she would sit for hours with a hot cup of coffee reminiscing and laughing with family about fun times in her life, and hearing about the accomplishments of her family members. These are the fond memories that are remembered by those who loved her.
Outside of her family being her primary love and joy, she was a lifelong reader, enjoyed game shows, and always stayed up to date on current events. Furthermore, she loved travelling to the beach, spending numerous warm summer days soaking up the sun at the Jersey shore. Her formative years include growing up in Lancaster, PA and graduating from Lancaster Catholic High School in 1957. She held several careers in her life including in sales at Pennsylvania Scale, in banking at Hamilton Bank, in operations at Donnelly Printing, as well as managing a bingo hall, at what was previously known as Station Square Bingo.
There will be a small service for immediate family members only. The family asks that in lieu of flowers, donations be sent to Hospice & Community Care at www.hospiceandcommunitycare.org or 685 Good Drive, Lancaster, PA 17601.
Leave a condolence on this Memorial Page
Condolences to the Family
July 20, 2022
Hello Harry and family,
I remember Mary Ann from our early days before I moved to California.
She was funny, happy and full of life. May her memory be eternal.
Nick and Nancy Angelos
July 12, 2022
Harry and family, I want to express my feelings of sadness for your loss. From what I've read. Mary Ann sounded like such a lovely person. I know she will be missed. Cherish the fond memories.
July 11, 2022
I remember my cousin Mary Ann as a loving, caring, funny person who was always so sweet to me growing up. We, her cousins, Mary Ann, Nick and Joe are very sorry to hear about her passing. Our condolences to the family.
July 11, 2022
On behalf of the Kendrick family, I would like of our condolences and prayers for the Kears family. Maryann was a kind a wonderful neighbor to grow up next too.
July 11, 2022
Dear Harry and Family,
We are truly sadden by the passing of your Beloved Mary Ann – she was always a kind loving person, who
would always be friendly,cheerful, and just had a wonderful way with peoople. MAY HER MEMORY BEETERNAL. Love Carl & Mary McClune
July 11, 2022
Those of us that worked withi Mary Ann LOVED her joyful and kind spirit- the obituary describes her perfectly. We have many happy memories laughing and dealing with work issues at Pennsylvania Scale. She spoke so fondly and lovingly of 'my Harry' and her boys. Deepest sympathy in her loss to all of you. She was all that and more!
July 11, 2022
I loved working with Mary Ann she was a great person and friend always wondered about her after all the years she was my boss at bingo I would love to have a memory card sorry for your loss I would of loved to see her
July 11, 2022
Dear Harry and Family,
On behalf on my entire family (Barry, Diane, Mom, Dad and myself), I send you and your family, heart felt sympathy for the passing of Mary Ann. May all of the good memories help minimize the sadness of losing your loved one. I will keep you and yours in thought and prayer during this difficult time, and I wish you peace and comfort during this difficult time and in all the days that follow.
July 10, 2022
I wish we had met . We have a lot in common! We would have been great friends. I'll keep Ted up on current General Hospital goings on!