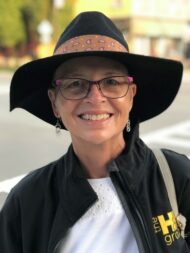 Mary A. (Huepenbecker) Kohler, 60
February 2, 1962 - August 27, 2022
Mary A. (Huepenbecker) Kohler, 60, of Lancaster, passed away at home on Saturday, August 27, 2022. Born in Saratoga Springs, NY, she was the daughter of Camilla (Prestidge) Huepenbecker and the late Philip Huepenbecker. She was the loving wife of Frederick John Kohler, with whom she shared 21 years of marriage. Mary grew up with animals and horses. She also enjoyed the challenge of golf, tennis, and swimming. Her competitive spirit and love of horses led her to participate in three-day eventing, which challenges the horse and rider in dressage, cross-country, and show jumping. After graduating from Penn Manor High School in 1980, she spent four years working at Hidden Acres Horse Farm in Southern Lancaster County.
Her business life began in earnest when she returned to Lancaster to work at her mother's Sir Speedy franchise. Mary learned all elements of the print business from handwork to finance.
She then took a job with corporate Sir Speedy as a Business Management Consultant. Her responsibility was to visit Sir Speedy franchises, meet with the owners and develop plans to improve their operations. She did this for three years before returning to the family's Lancaster operation, now known as H&H Graphics, 20+ years ago. Since returning, she became the leader, president, and owner. Her leadership was defined by her skill at developing a positive work environment and culture. Mary loved the print business, loved the company, and loved working with the people.
Mary had a passion for business and a desire to give back to the community. This led her to work with the Lancaster Chamber of Commerce where, in 2017, she served as Chairman of the Board. More recently she served for three years on the Tenfold Board.
Mary was simultaneously committed to her Christianity, her family, her business, and her community. All of this was tied together by her attitude of servant-leadership. Daily Bible study and devotions led to developing a strong family which then led to leading her business with the same servant-leadership model. This model also extended into the community. Examples of her serving include Worship Leader and Youth Chaperone at Long Memorial UMC. It was in this role that for 10 years she helped lead the Youth attending the annual Creation Festival. She was subtle in many of her generous deeds. She always carried what she called 'God's Pocket' in which she kept money meant to be given to anyone she found in need. She had rock solid values and lived her life by those values.
In addition to her husband and mother, Mary is survived by her children Katelyn Coty (husband, Maxon) and Chandler Elliott; her step-sons Brian Kohler (wife, Ellen) and Kevin Kohler; her grandchildren Lillian and Josephine; and her brothers Mark Huepenbecker and John Huepenbecker (wife, Lisa); nephew Chris Huepenbecker; her extended family includes step-mother Barbara Huepenbecker; step-sisters Wendy Hewitt (husband Bill) and Deann Spitler (husband Shake); ex-husband Mike Elliott (wife Jean).
Mary's family will greet friends from 5 to 7 PM, followed by a celebration of her life at 7 PM, on Wednesday, August 31, 2022, at the Charles F. Snyder Jr. Funeral Home & Crematory, 3110 Lititz Pike, Lititz, PA 17543. Interment will be private.
In lieu of flowers, kindly consider a memorial contribution in Mary's name to the Pancreatic Cancer Action Network, 1500 Rosecrans Avenue, Suite 200, Manhattan Beach, CA 90266. https://pancan.org/
Watch the tribute video
Leave a condolence on this Memorial Page
Condolences to the Family
September 06, 2022
I am so sorry for your loss. I knew Mary Ann when she was a kid living in Conestoga. Her parents had bought a "Gentleman's Farm" and proceeded to rehab the farm house. Mary Ann had a pet goose and one spring someone hit and killed her pet goose. She was devasted and painted on their shed along the road that said "someone killed my goose". I never knew if she found out who did it but the memory has stuck with me for over 40+ years. I'm so glad she had a full and happy life and followed in her parents footsteps in the world of Sir Speedy. Fond memories of both Phil and Cam. May she rest in peace.
September 02, 2022
My deepest sympathy to the family of Mary Kohler. Mary was always such a lovely person who truly cared about others. Her smile was always warm and engaging. She will be dearly missed, but never forgotten.

With deepest sympathy





September 01, 2022
So sorry to hear of the loss of Mary. My condolences are extended to the entire family. Cherish your memories of your loved one!
August 31, 2022
I am so deeply sorry for your loss. She was is an amazing women and her absence will be noticed! I know she will be looking over all of you. Healing prayers to the whole family!
August 31, 2022
Forever sisters in Christ and of course Sir Speedy.
August 31, 2022
Dear Cam, John, Katelyn, Chandler and the Kohler Family I so wanted to stop by this evening to personally express my condolences. Unfortunately, I'm not very mobile due to impending hip surgery. I was shocked to read of Mary's passing. I have such wonderful memories of her from my time at Sir Speedy's, she was not only my boss, but my friend as well. These past few days, one of these memories will pop into my mind and I'm left smiling for a long time afterwards. I'm also thinking of how she's one of the good guys and she left all too soon. I do wish I could be there to give you a hug ,Cam and tell you how special Mary is. May she rest in peace and may her memory be a blessing to all. Love, Ginny Bowman
August 31, 2022
Dear Katelyn, Max and Kohler Family. I am deeply sorry for your loss. Mary was a light in her home, work and the community. In the short time I knew Mary and conversations we had, made an impact on me and others and left lasting memories about her great personality. Our thoughts and prayers are with you. Igor and CBA family.
August 30, 2022
Dear Kohler Family: Mary was always with a smile. Many memories of all of you at Long Memorial UM. My heart goes out to all of you as face this most difficult time. Prayers for peace and understanding.
August 30, 2022
Our Condolences to you John, Lisa and the family. Our hearts are with you and sending strength your way through this difficult time. Jim, Cindy and Jeff Hallowes
August 29, 2022
I am so sorry to hear of Mary's passing. I worked with her and many members of her extended family at Sir Speedy. I know she will be sorely missed and fondly remembered. Wendy Hepler
August 29, 2022
I'm so sorry to hear of Mary's passing. I consider working for and with Mary to be an absolute honor. Mary's devotion to her Faith, her family, and her business were from a pure heart and soul. I didn't know Mary very long, but you had only to spend a few minutes with her to know what a beautiful lady she was. Rest in Peace, Mary. May God Bless and comfort your family during this difficult time.
August 29, 2022
So sorry to hear of your loss. I worked with Mary helping to staff Sir Speedy with printing professionals Mary. She was such a great customer to work with – tough but upfront with what she required. She made a great impression on me both professionally within the printing industry and also in general business, she will be missed by many.
August 28, 2022
Our deepest sympathy is with you. May your memories give you strength.
Penny and Tod Miller
August 28, 2022
Mary was one of the most wonderful people I've encountered In this life. I'm devastated.😭😭😭😭
August 28, 2022
An amazing lady taken to soon. I will miss her dearly💜
August 28, 2022
Mary was a loving fun woman. I didn't recall she had a love of horses until I read her obituary. No wonder I loved her. Peace and comfort to her family💕.
August 28, 2022
Our sincere sympathy and prayers go to all of Mary's family. We are so very sorry for your loss. It is hard to understand why some are taken at such a young age, but she is now in the arms of her Heavenly Father and celebrating the reunion with her earthly father. May you find peace and comfort in God's love and strength. Our prayers are with you.
Wendy and Bill Hewitt
August 28, 2022
Mary was always willing to help out anyone who needed something. I enjoyed being involved at church meetings and seeing her business character show through her input. she was also a great prayer warrior. She will be missed she always had a bright smile. We will all miss her
Larry
August 28, 2022
I will always remember Mary so, so fondly as one of my mentors, and now, one of my cloud of witnesses. She reached out to me at a challenging time in my work life, assuring me that she was ready and willing to listen or help, if I wished. I took her up on the offer. We met just once privately for coffee. She listened so well as was so encouraging. Thanks to her example and act of caring friendship, I was able to meet my challenges. I'm forever grateful. I love you, Mary. God bless you, her loving family. –Deb Strubel
Visitation

Wednesday, August 31, 2022
5:00 PM - 7:00 PM
Charles F. Snyder Funeral Home & Crematory
3110 Lititz Pike
Lititz, PA 17543

Map and Directions

Services

Wednesday, August 31, 2022
7:00 PM
Charles F. Snyder Funeral Home & Crematory
3110 Lititz Pike
Lititz, PA 17543

Map and Directions