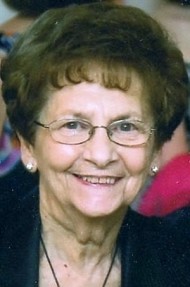 Mary Ann Arcudi, 80
August 25, 2014
Mary Ann Arcudi, 80, of Lancaster passed away Monday, August 25, 2014 at her home surrounded by her loving family. Born in Lancaster, she was the daughter of the late Anthony L. and Jennie M. (Voci) Caterbone. She was married to Anthony T. Arcudi for over 60 years.
She was a 1952 graduate of Lancaster Catholic High school. After high school she worked in the family business Deluxe Cleaners with her father and brothers. Mary Ann was a homemaker and took great pride in raising her family. She eventually returned to her beloved alma mater LCHS where she worked as a study hall monitor and teaching aide for many years. She was actively involved in many of the sports teams along with her husband Tony and was involved in the annual Lancaster Catholic carnival for over 25 years.
Mary Ann was a member of St. Anne's Catholic Church in Lancaster where she was the former vice president of the Mothers club.
She loved spending time with her friends and family, and especially adored her grandchildren and great-grandchildren.
In addition to her husband, she is survived by two daughters, Antonia M., wife of David W. Wimer, of Sinking Spring, PA, and Nancy J., wife of Michael B. Shenk, of Willow Street; two sons, Stephen A. Arcudi, of Torrance, CA and Michael J. Arcudi, of Lancaster. Also surviving are six grandchildren, Jennifer, Nicki, Emily, Eric, Renee, Ian; 7 great-grandchildren and three brothers, Anthony, Vincent, Patrick and one sister, Patricia.
A Mass of Christian Burial will be held at 10AM on Friday, August 29, 2014 at St. Anne's Catholic Church, 929 N. Duke St, Lancaster, PA 17602 with Rev. Norman Hohenwarter as Celebrant and Rev. Peter Hahn as Concelebrant. A visitation will be from 6-8PM on Thursday, August 28, 2014 at the Charles F. Snyder, Jr. Funeral Home & Crematory, 3110 Lititz Pike, Lititz with a Prayer Service at 8PM. Entombment in St. Joseph New Catholic Cemetery Mausoleum. In lieu of flowers, contributions in Mary Ann's memory may be made to the Lancaster Catholic High School Athletic Dept., 650 Juliette Ave, Lancaster, PA 17601.
Leave a condolence on this Memorial Page
Condolences to the Family
September 06, 2014
We read with sadness the loss of Mary Ann. She will be missed. Our condolences to the entire Arcudi family.

Dr. and Mrs. Robert Krissinger
August 30, 2014
Dear Tony,
Sorry for your loss.
Larry Carroll
August 29, 2014
Tony,
My deepest synpathy to you and your family. Mary Ann was such an Angel.
Ken Gerber


August 29, 2014
Dear Tony and Family,
Our love and prayers to you and your family in this time of sorrow. Mary Ann, your beloved wife and mother was such a warm and loving person. She made such a beautiful and lasting impression on the lives of our whole family. We will miss her smiling face.
May God bless and keep you always,
The Giblin Family
August 29, 2014
RIP Mrs. Arcudi! You were one of the best study hall monitors and substitute teachers! you were a blessing to have a LCHS!


August 29, 2014
Dear Mr. Arcudi and family,
Our deepest sympathy at this time. Know that Mrs. Arcudi was my favorite substitute throughout high school. I will miss always seeing you at Giant when back in Lancaster and being able to exchange a few words.
~The Gallagher's
August 28, 2014

Dear Tony and the Arcudi Family – My deepest sympathy to you and your family in this time of sorrow.
Larry Roskos

August 28, 2014
Dear Arcudi Family,
Our condolences to you and yours. Growing up down the street from you brings back many, many memories of all of you.
Mary Ann was a role model for all the girls in the neighborhood.
God Bless.
Valerie Capp and Pop

August 27, 2014
Dear Tony and family….
My condolences on the loss of your wife and mother, Mary Ann. You were all so kind
and good to me in the days when I especially needed that. Speaking for myself, I say
that when Mary Ann was around I felt nothing but kindness and gentleness from her.
Tony Sciotti
August 27, 2014
Mr. Arcudi,
Our sincere condolences to you and your family. Our sons always mentioned how wonderful Mrs. Arcudi was while they were @ LCHS!
The Wanchalk Family

August 27, 2014
Dear Tony,
You and your family are in our thoughts and prayers! Sue and Tom Matroni
August 27, 2014
To Nancy and family,
We are thinking of all of you during this difficult time. Your mom was a sincere and caring person. She was always interested in how "everyone" was doing in our family. I never saw her without her wonderful smile and hearing her kind words.
Peace, love and memories,
Mary Lynn and Mike DiPaolo

August 27, 2014
You have my condolences.
Sincerely,
John Palmer
August 27, 2014
Dear Toni and Dave:
We are so sorry for the loss of you beloved Mother. I know you have been very caring and concerned for her in recent times of need. Find comfort in all that you were able to do, and find strength in your continued faith in this time of sadness. Our prayers are with you and your family at this time.
Love,
Si and Mary Mario
August 26, 2014
Mr Arcudi & family
We are very sorry of hearing of MaryAnn's passing- she is at peace and has no more suffering- A beautiful angel being sent to heaven and accepted with open arms – when she was my dads room mate buddy during their transfusions -although it was a sad time they were very comforting for each other- may you all find comfort and support during this difficult time-
Best Regards
Teresa Madonna & Dr Stacey Maxzacco
Visitation

Thursday, August 28, 2014
6:00 PM - 8:00 PM
Charles F. Snyder Funeral Home & Crematory
3110 Lititz Pike
Lititz, PA 17543

Map and Directions

Services

Friday, August 29, 2014
10:00 AM
St. Anne's Catholic Church
929 N. Duke St.
Lancaster, PA 17602

Map and Directions