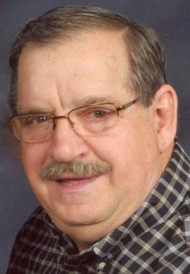 Marvin J. Albert, 68
December 22, 2014
Marvin J. Albert, 68, of Mount Joy, passed away suddenly of natural causes on December 22, 2014. Born in Leola, he was the son of the late Charles and Mary (Gockley) Albert. Marvin was the loving husband of Dayle (Gentel) Albert.
Following his high school graduation, Marvin took some college classes for accounting before entering the Navy in 1965 during the Vietnam War. He attained the rank of CTT2 during his time in service.
After being honorably discharged from the Navy in 1969, Marvin began a long career with the US Postal Service as an accountant, retiring in 2005 with over 30 years of service. He then went on to work for Kelly Cadillac as a driver for 10 years.
Marvin enjoyed spending time making maple syrup, was an avid Lancaster Barnstormers fan, and belonged to the Penn Dutch Pacers. He volunteered for the Meals-on-Wheels of Mount Joy.
He was a member of the National Association of Postal Supervisors, the US Naval Cryptologic Veterans Association, and the VFW and American Legion of Lititz. He was also very civic minded and enjoyed working at the polls as an election judge.
In addition to his wife, Marvin is survived by his children: Margaret Walmer, wife of Scott, of Lititz, Pam Pierce, of Denver, PA, Marvin Albert, II, husband of Laura, of TX, and Andrew Albert, husband of Nancy, of WA; and 3 grandchildren: Shyla, Miranda, and Wyatt. He is also survived by 6 siblings: Ruth, Mary Jane, Lois, Melvin, Robert, and Doris. Marvin was preceded in death by 3 siblings: Rhoda, Miriam, and Lloyd.
A viewing will be held for Marvin from 6-8PM, on Tuesday, December 30, 2014, at the Charles F. Snyder Funeral Home & Crematory, 3110 Lititz Pike, Lititz, PA 17543. Funeral Services will be held at 11AM on Wednesday, December 31, 2014, at the funeral home, with the Rev. Sean Rajnic officiating. A viewing will take place from 10-11AM prior to the service. Interment will follow at Millport Mennonite Cemetery, Leola. In lieu of flowers contributions in Marvin's memory may be made to Water Street Rescue Mission, 210 South Prince Street, Lancaster, PA 17603.
Leave a condolence on this Memorial Page
Condolences to the Family
February 26, 2015
I'm very saddened to learn of Marv's death. We served together in the Navy in Japan in 1968 and 1969 at the Naval Security Group Detachment in Misawa, Japan. Marv was my Supervisor and taught me a lot about being a Professional and about life to this Ohio Country boy from as Marv termed it "out west". I was planning to come up to visit him but waited too long. The last time I saw Marv was in 1971 I believe when I was stationed in Philadelphia. I stayed in the Navy and retired in 1991. I always remember and used one of Marv's phrases – "You don't have anything to do – what is your Function? You can be replaced you know! My wife passed away last month from Lung cancer. I just wanted to pass along my condolences. I live in Northern Virginia. I am sorry for your loss – Marv was truly a Great and kind Man and I will never forget him. Thanks
Ken Moore LT USN, (Ret.)
January 13, 2015
So sorry to hear about Marv's passing….I worked with him at the Lancaster Post Office/District Office, and remember him as a kind man, a sincerely dedicated postal employee, and one of the nicest people with whom I came into contact in my career. I will keep the family in my thoughts and prayers.
January 13, 2015
My condolences to the family during this difficult time. May the memories of your time together providing everlasting peace and comfort. It was a pleasure working the election polls with Mr. Albert. He will be missed.
Jeff Clouser and Family

December 31, 2014
We're thinking of you at this sad time. After being at the Memorial Service today, memories of Marv came back. He would be the one to drive us to and from Helen & Harold's beach house. He drove their boat even though it had been years since he was on the water. There was light hearted laughter and good times.
Yes if you told him that you had a project to do and no one else volunteered, he would offer.
Learned so much more about Marv's life story today. Was blessed to have known him. With our prayers,
Steve & Diane Mowrer
December 30, 2014
Our condolences to the Albert Family. We always enjoyed seeing Marv at the Penn Dutch Pacer walks and meetings. His presence will be dearly missed.
With our prayers,
The Barber Family (David, Monica, Tiernan, and Maura)
December 30, 2014
Dayle,
It was only six(6) weeks ago when you were extending condolences to me and now here I am extending them to you. I was so saddened to hear the news. Please know that my thoughts and prayers are with you and your family.
Scott albert
December 30, 2014
I worked with Marv from 1993 to 1997. I enjoyed his fellowship.
I'm very sorry to hear of his passing.
Korena & Glen Maurer
December 30, 2014
Thinking of all of you at this sad time. Remember the good memories, there are lots. So many people are praying for your strength.
Mike and earlene Lamb
December 29, 2014
Hy heartfelt condolences to Marv Albert's family. Marv's charm and sense-of-humor made him one of my favorite co-workers. He was very generous with his knowledge and time. – Marita Hines
December 29, 2014
I am sorry for your lost Peg Pam Little Marv and Andrew Uncle Marv was and is a great Uncle.He will truly be miseed until we meet again.One of my favorate times with Uncle Marv was when we went white water rafting together.Good times
December 28, 2014
Dear Peg,Pam,Marvin(baby marvin) and Andrew,
Uncle Marv was truely a kind man…you were lucky to have sich a father…I remember his compassion n kindness he showed Tina once helping her with a cooking project for school…his patience was adoring his laughter hearty….wishing each of you peace… he will e greatly missed ..savor the memories.Nancy Gockley
December 28, 2014
I am so sorry to hear of Marvs passing. He was one of my favorite co-workers- always diligent and thorough and much appreciated. Marv always took the time to ask me about Jerry (my fiancé) after his health scares which was very kind. ay time help heal your wound and fill the loss.
Services

Wednesday, December 31, 2014
Charles F. Snyder Funeral Home & Crematory
3110 Lititz Pike
Lititz, PA 17543

Map and Directions