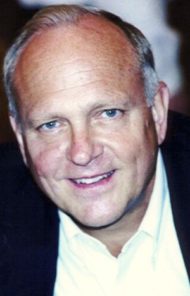 Martin Y. "Marty" Sponaugle, 74
March 24, 2019
On Sunday, March 24, 2019, Martin Yohn Sponaugle of Rye Beach, NH, formerly of Lancaster, passed away at the age of 74. He was the loving father of four children and eight grandchildren.
Marty was born September 13, 1944 in Lancaster, PA to the late Solomon Woodrow 'Woody' and Dorothy (Yohn) Sponaugle. He graduated from McCaskey High School in 1962 and received a bachelor's degree from Cornell University in 1966. He earned his law degree from Villanova University in 1969. In the early 1970s, he moved his family to Bangkok, Thailand to join his brother in the zinc business for several years. He returned to Lancaster in 1977 where he practiced law at Sponaugle Law Offices and worked as a real estate developer over the course of his 40-year entrepreneurial career. He and his first wife, Andie Sheaffer, raised four children, Kristin, Wendy, Jim and Becky.
Marty had a passion for family history and enjoyed sharing pictures and family stories with his children. He also loved to watch his children and grandchildren play a variety of sports and was known to cheer passionately from the stands. Marty played football at Cornell and especially enjoyed participating in football team alumni reunions. In 2014 his four children joined him for a memorable road trip for the reunion festivities. This past fall, he proudly celebrated the 55-year reunion with many of his former teammates. His children remember him as someone with an uncanny sense of direction who always made an extra effort to get them safely to where they needed to go and who always did whatever he could to help them achieve their goals. Marty enjoyed the relationships he had developed during his many years in Lancaster and treasured his breakfast outings with friends.
Marty is survived by his four children, all of Lancaster, PA: Kristin Kopp, married to Brian, Wendy Booker, married to Tim, Jim Sponaugle, married to Tedi (Decker), and Becky Trayers, married to Chris, and his eight grandchildren, who range in age from 3 weeks to 13 years. He is also survived by his brother, Woodrow Sponaugle, of Rye Beach, NH.
A visitation will be held Sunday, March 31st, 2019 from 4:00 PM – 5:30 PM followed by a Memorial Service at 5:30pm, all at the Charles F. Snyder, Jr., Funeral Home & Crematory at 3110 Lititz Pike, Lititz, PA 17543. The family requests that in lieu of flowers, donations be made to the S. Woodrow Sponaugle Scholarship, which supports Franklin & Marshall students with outstanding character, athletic involvement, and an interest in youth development careers.
To contribute, go to www.fandm.edu/giving and select "give online." Under designations, select "view all giving opportunities," "other," and enter "Sponaugle Scholarship" in the designation field that appears. Mailed contributions should include "Sponaugle Scholarship" in the memo line and can be sent to: F&M Advancement Office, PO Box 3003, Lancaster, PA 17604-3003.
Watch the tribute video
Leave a condolence on this Memorial Page
Condolences to the Family
May 01, 2019
I first met Marty via a Camp Hill vs Lancaster basketball game in 1962. We both went to Cornell, played
football together for four years, and took some Economics classes together. Marty was a superb athlete
and a great friend. At the 2014 Cornell football reunion game I sat with Marty and Jon Stanat, and met
some of his children who had driven him to Ithaca. I was fortunate to spend time with Marty again at
our 2018 reunion. He seemed to be doing well. To his family I extend my heartfelt sympathy.
Tom Guise Cornell '66
April 24, 2019
Sponaugle Family,
I just learned of your loss of Marty. I am deeply saddened. He was a great football teammate at Cornell.
My prayers go out to the Sponaugle Family. He will be remembered with fond thoughts
Warm Regards,
Lou Ferraro Cornell U 1965
Maj Gen USAF (Ret)
April 01, 2019
Dear Sponaugle family: As the Director of Athletics at Franklin and Marshall College back in the 70's and 80's, I came to know Mrs. Sponaugle and Marty through their participation in the Sponaugle Basketball Tournament that was held annually at F&M. They were wonderful people and it was my honor to consider them friends. Unfortunately, a family commitment prevented me from attending Marty's funeral service. May he rest in peace.
Respectfully: Dr. William Marshall
April 01, 2019
Bill and I want to express our sincere and deepest sympathy. We are so sorry that we were not able to attend his service. We hope that memories of good times spent together bring you peace as you mourn his loss. Our thoughts are with you at this difficult time.
Love,
Bill and Gale Kendall

March 31, 2019
So sorry for your loss. My prayers to all
John Dusty Rees
March 30, 2019
Jim,
I thought I would see your dad again when he moved back to Lancaster. I'am sorry that I will not be able to say goodbye during the service either. My hip was replaced on Wed. and have limited mobility. I will miss him. Will call you at Riley in a couple of weeks. Take care.
John Biese
March 30, 2019
I was stunned to hear the news of Marty's passing.We'd shared a multitude of experiences as children and through our junior and senior high school years.He was a fine athlete and as good a friend as anyone ever had. He will be sincerely missed by so many. It is impossible to put into words the void that is caused when such a bright light is dimmed. My sincerest sympathies to his family. We've lost a wonderful father, grandfather, brother and friend. So many memories.
Bob Barsumian, Newburgh, Indiana
March 30, 2019
This is Susie (Martin) Schubert. I am writing for my 2 siblings, Paul Martin and Sally Martin, and myself. We are very sorry for Marty's family and friends and your loss of him. When we heard about Marty's passing, we were all feeling sad, but we also shared among us several great memories of Camp Shand and our families, who were quite connected. We all loved Woody and Dot (who was Sallys and my wonderful 6th grade teacher). Woody was always so kind to us, and Dot ran our lovely water shows. I'm enjoying thinking of Marty when we went swimming for hours, danced to records, had sing-alongs, and did KP duty in the kitchen. He was funny and nice to us, the younger ones. Peepie recalls some crazy times hanging out with Marty in the woods, the lodge, and the tent cabins, including one wild time up on the roof. We are thinking of you with sympathy and prayers. Susie, Sally, and Peepie
March 29, 2019
I am saddened to learn of Marty's passing. I knew Marty as a child, a friend of my brother Bob. I remember his mom as my substitute teacher, bible school teacher, and my mother's good friend! I knew his dad and his brother, Woody, too, and have fond memories of the whole family! All of them wonderful, giving people. My sympathies go out to his brother, wife, children, grandchildren, and all his many friends.
Jane Barsumian
March 29, 2019
I was saddened to read about the passing of Marty. I dealt with him numerous times of the years. He was always a gentlemen. My thoughts and prayers are with the family.

Barry Solodky
March 28, 2019
Dear Kristen, Wendy, Jim, Becky, Woody and Families,
How saddened I was to read of Marty's death. He was truly a special person, a competent and well-meaning leader on so many fronts. I think fondly of three generations of the Sponaugle Family, first meeting Marty and Woody as children at Bethany Presbyterian Church. Later, Woody and I were friends and classmates at McCaskey High School. Years afterward, I came to know your family as "around the corner" neighbors in School Lane–my children were the Shertzers: Carolyn, David and Kathryn who rode the school bus with some of you to Manheim Township.
Our deepest sympathy to each of you in the loss of your Dad and Brother. We will keep you close in our thoughts and prayers.
Deborah Benson Everett, North Andover, MA

March 28, 2019
Marty was very kind and gracious to me while I was on staff with Young Life in Lancaster. Thank you for opening your home and your office building to help support the ministry to reach kids for Christ. I have fond memories of Becky and Jim and am excited to see how well they are doing now.
Brian Fletcher
March 28, 2019
I'm so sorry to hear of your Dad's passing. It's easy to see in his daughter and grandsons that he was a very special man. I hope you and your family can find some peace and comfort over the coming days.
Bob Garvin and family.
March 28, 2019
Becky
The Genentech JLL team and I are so sorry to learn of your loss. Our toughts and prayers are with you and your family at this time. Your dad had quite a full life and many were touched by his presence. You can tell he made his mark on mankind. I know this will be a sad time, but from my own experience of losing my dad at the exact same age of your father I hope with each family, friend or collegues that you see and speak with over this time you have the opportunity to celebrate your dads life and get to hear some stories and learn some aspects of his life that you might not have been aware of. It was one of the things that made the experience that we all go through as humans bearable for me.
You and your family are in our thoughts
The JLL Genentech team

March 28, 2019
Dear Kopp, Sponaugle and Trayers Families, So sorry to hear of your Father's passing. May your memories of him and time spent together bring you and your children comfort. Sincerely, Lonna Hoffman, Schaeffer Elementary
March 28, 2019
Lary and I send our deepest condolences to you all at this time of your loss. We have known Marty since we were kids…..I first met Marty when our families lived on Elm Avenue and Lary met him later in Junior High and JP McCaskey. He was also our personal and corporate attorney for several years. Will remember the junior and high school reunions where we would reminisce and "catch up" ……he will be missed. God bless and comfort you all during this time of your loss.
Lary and Cheryl(Kegel) McCowan
Mike ,Mark and Deborah McCowan, L.C. Insulations, Inc

March 28, 2019
So sorry to hear of Marty's passing. He was a very special man and did a lot of work for our family. My deepest symathy to the family.
March 27, 2019
So sorry, Kristin, to read of your father's death. Gordie and I send our deepest sympathies to you and your family.
Linda and Gordie Groome
March 27, 2019
We recall many wonderful years with Marty and Andy at CFO . We Express God's grace to the family knowing your hearts are sad, memories are wonderful and hope remains.
Visitation

Sunday, March 31, 2019
4:00 PM - 5:30 PM
Charles F. Snyder Funeral Home & Crematory
3110 Lititz Pike
Lititz, PA 17543

Map and Directions

Services

Sunday, March 31, 2019
5:30 PM
Charles F. Snyder Funeral Home & Crematory
3110 Lititz Pike
Lititz, PA 17543

Map and Directions