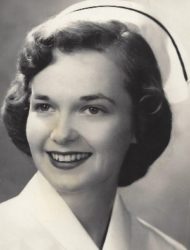 Martha Anne "Marty" (Lyon) Thoner, 85
September 15, 2016
Martha Anne "Marty" (Lyon) Thoner, 85, was received in Heaven by her Redeemer Lord on Thursday, September 15, 2016 (2 Cor. 5:8) at Mennonite Home in Lancaster, PA.
Born April 29, 1931 in Morristown, NJ, she was the daughter of the late William R. and Lelah (Waddelow) Lyon. She and her husband William (Bill) celebrated 64 years of marriage on June 25, 2016.
After graduating from West Side High School in Newark, NJ, she began nurse's training at Orange Memorial Hospital School of Nursing in Orange, NJ. She graduated in September, 1952 and received her Registered Nurse Certification from the New Jersey Board of Nursing in January, 1953.
She practiced her nursing skills at Harford Memorial Hospital in Havre de Grace, MD and did some private duty nursing. Then she began to work at the Veterans Administration Hospital, Perry Point, MD and retired from there in 1997 after 29 years.
Marty loved her Sunday school children. She taught Sunday school at Bible Baptist Church in Aberdeen, MD for 40+ years and would often take an hour or two of annual leave to teach her class, when she had to work on Sunday.
She will be remembered for her love for the Lord and for her love and concern for others. She often prepared meals and volunteered nursing care for those who were homebound or in need.
In addition to her husband, she is survived by her three sons: Stephen Alan and his wife Sharon, Little Deer Isle, ME; Thomas Scott and his wife Laurie, Havre de Grace, MD; and Mark Timothy, Bel Air, MD; 6 grandchildren: Stephen, Jr., Michael, Timothy, Rachel, Abbey, and Marcus; and 9 great-grandchildren: Jessica, Sophia Grace, Timothy, Jr., Rowan, Tyler, Makayla, Carlee, Corban, and Jasmine. She was preceded in death by 2 sisters and a brother.
The family would like to thank the medical personnel, nurses, doctors, aides, and staff at the Mennonite Home for their wonderful care making Marty's last years comfortable.
Funeral services will be held at 11 AM on Friday, September 23, 2016 at the Mennonite Home Chapel, 1520 Harrisburg Pike, Lancaster, PA 17601 with Pastor Gerald Brown officiating. Family and friends will be received one hour prior to the service. Burial will be at 11 AM on Monday, September 26, 2016 in Darlington Cemetery, Darlington, MD.
In lieu of flowers, memorial contributions in her honor may be made to the Benevolent Fund at the Mennonite Home at the address above or to Hospice & Community Care, PO Box 4125, Lancaster, PA 17604; or to the charity of your choice.
Leave a condolence on this Memorial Page
Condolences to the Family
September 23, 2016
Dear Bill, This is Ruth Ann Smith, who worked with you at APG Contracting all those years ago. I am so sorry to hear about your wife. I just wanted to let you know I'm thinking about you and praying for you and your family. I didn't know your wife, but knowing you means that Martha was a special person. You were always a gentleman and it was a priviledge working with you at APG. God Bless you and your family.
September 23, 2016
Please accept my most hearftelt sympathies, Bill, for your loss…my thoughts are with you and your family during this difficult time.
Martha Hughes Co-worker
September 22, 2016
Mrs. Thoner was one of my first Sunday School teachers at Bible Baptist Church in Aberdeen, MD. I accepted the Lord as my Saviour after her presentation of the Gospel talking about the Crucifixion during Vacation Bible School when I was 5 years old there at Bible Baptist Church. I remember she asked us to bow our heads and raise our hand if we wanted to accept Jesus into our heart. Pastor Hamilton then talked with us upstairs in the church auditorium and helped us to pray asking Jesus into our hearts. I can still remember that day. There are so many friends from Bible Baptist Church there is Heaven already. Mom, Mrs. Robson, Miss Lockett, Miss Hill, Miss Helen Cronin, Miss Florence Cronin, and on and on. I can imagine the welcoming committee for Mrs. Thoner and now they are taking her on a tour of Heaven. Randy Weber
September 22, 2016
Mrs Thoner was such a sweet lady! I have such wonderful memories of her and have thought of her many times throughout the years, sending my love and prayers to the Thoner family. Diana Hamilton Lockner
September 22, 2016
Marty Thoner was my very first Vacation Bible School teacher. I remember making African huts out of clay and twigs sixty years ago when I was seven years old ! She was precious and a strong presence in our family for all these years and one of my mother's dearest friends. Heaven now has the treasure of her presence. Nancy Zuber
September 20, 2016
Marty was such a wonderful, giving nurse who would sing to our Veterans. I worked with Marty for many years at the Perry Point VAMC. My sincere condolences to all of her family during this time of pain. My you gather strength in knowing that she is enjoying the blessings of our Heavenly Father.
Respectfully,
Denise L. Santoni (Brown)
Visitation

Friday, September 23, 2016
10:00 AM - 11:00 AM
Mennonite Home Chapel
1520 Harrisburg Pike
Lancaster, PA

Map and Directions

Services

Friday, September 23, 2016
11:00 AM
Mennonite Home Chapel
1520 Harrisburg Pike
Lancaster, PA

Map and Directions