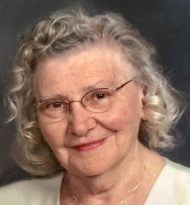 Martha Agnes Armbrect, 98
April 07, 2020
Martha Agnes Armbrecht, 98, of Lancaster, passed away peacefully Tuesday, April 7, 2020 at Brethren Village, Lititz.
Born October 25, 1921 and raised in Philadelphia, she was the wife of the late Harvey Haywood Armbrecht whom she married June 1, 1945. She was the daughter of the late Arthur and Martha (Hildman) Rodemann.
Harvey and Martha spent 60 years in Audubon, NJ raising two sons before moving to the Lancaster area in 2010, where they resided at Brethren Village. They were of the Baptist faith and were active members of Haddon Heights Baptist Church, Haddon Heights, NJ for over 60 years. Martha's strong faith sustained her and encouraged her family throughout her 98 years.
Martha loved gardening, sewing, and cooking as well as teaching Sunday School and Vacation Bible School. She worked as a bookkeeper at the Holland Laundry in Philadelphia and the Peoples National Bank in New Jersey.
She is survived by her two sons: Harvey James Armbrecht of St. Louis, MO and Donald William Armbrecht and his wife Susan L. of Washington's Crossing, PA; 5 grandchildren and 7 great-grandchildren.
Internment will be private at the convenience of the family.
In lieu of flowers, memorial contributions may be made in Martha's memory to Brethren Village, Attn: Development Dept., 3001 Lititz Pike, Lititz, PA 17543.
Leave a condolence on this Memorial Page
Condolences to the Family
April 18, 2020
Dear Jim and Don,
Your mother was a very "special" lady to me, we met in Fieldcrest, I would see her when I went to get the mail and I soon learned we were both Christians and we became close friends. I feel like I know you two because over the years I heard much about you. She was so proud of you. Then the last year or so when I would go see her I would not be able to get her awake, one time though she was awake, she was in like their church service and they were singing hymns and she knew every word of the hymn with out looking at the book! I was so amazed and thanked God for this blessing that she could do this at 97 yrs old. But Praise the Lord she is with her Savior and her dear Harvey now! Martha's friend, in Fieldcrest
June Hodges